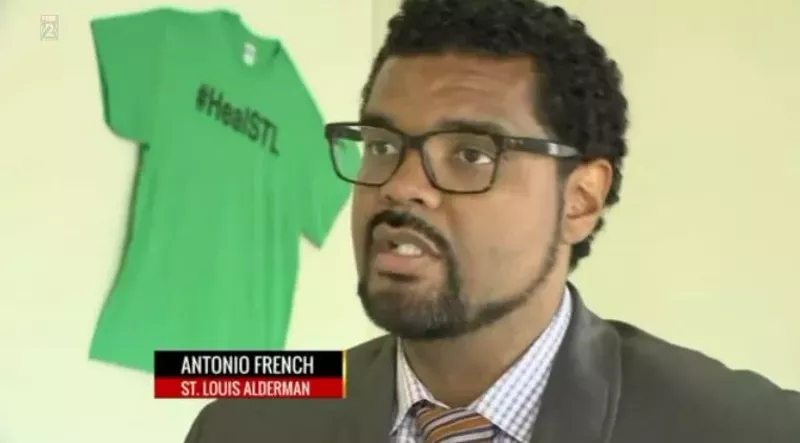 KTVI (Channel 2)
Alderman Antonio French
St. Louis' homicide crisis is complicated. Sure, parsing the data can sometimes reveal the reality behind the blood-soaked headlines,
but as we explained in this week's cover story
, even our best research is limited. The influences of poverty, policy and race combine with a host of other factors in ways that frustrate academics, city officials and law enforcement alike.
Which is why it seems laughable that a petty scheduling mix-up almost derailed a much-needed meeting between Mayor Francis Slay and Alderman Antonio French, an outspoken critic of the city's current crime-reduction strategies.
See also: St. Louis Is Headed Toward the Most Homicides in Decades. How Can We Stop The Bloodshed?
As our cover story detailed, French has been tweeting for weeks on end that Mayor Slay needs a "comprehensive plan" to stop the violence. And last week, he threatened to filibuster any financing deal for a proposed $1 billion dollar NFL stadium unless Slay sits down with aldermen to discuss just that.
French timed his gambit perfectly, as Slay and the stadium's supporters are under
mounting pressure
to solve the financing of project. So it's no wonder that a meeting between the two politicians would make headlines. The problem is that media spin appears to have briefly overtaken actual plans.
Here's what happened. On Monday, KTVI (Channel 2)
reported that the mayor's office had scheduled a meeting with French for this Friday
. But although the broadcast featured interviews with both French and the mayor's chief of staff, Mary Ellen Ponder, French later appeared caught off guard by news of the meeting.
"There is currently no meeting scheduled,"
French tweeted Monday night
. "Not sure where @FOX2now got this info from."
KTVI did not contact him to confirm the meeting before the story aired, French tells
Riverfront Times
.
In fact, French says he didn't receive an invite from the mayor's office until Tuesday afternoon, long after the KTVI segment aired. He provided us with a screenshot of an email sent by the city's Assistant to the Chief of Staff with the subject line, "Meeting w/Mary Ellen Ponder, etal."
"Mary Ellen would like to meet with you, and a few other Aldermen, on Friday, October 9th at 4:15 p.m. in the Mayor's office," the email read. "Would you be able to make that meeting?"
French replied several hours later: "I requested a meeting with
the mayor
, not his chief of staff. This matter requires his personal attention. Will be there?"
As of Wednesday morning — a day and a half after the KTVI segment — that was where things stood, he told us. No reply.
French sent us the screenshots Wednesday at 9:30 a.m. Hoping to clear up the crossed wires, we emailed Slay's spokeswoman, Maggie Crane, and asked her to clarify if the proposed meeting would also include Slay. Crane responded by insisting both Slay and Ponder would be in attendance, along with other aldermen.
About 40 minutes later, French finally got a response to his query from the mayor's office. Slay plans to attend the Friday meeting.
"Then I'll be there. Thank you," French replied.
So.
It's great that our city officials are actually going to come together. With any luck, they'll emerge from the meeting with meaningful actions to make St. Louis safer for everyone. But seriously:
come on, you guys.
As much as we like to be a part of things, you might want to talk a bit more to each other and a bit less to various journalists and intermediaries. We're probably going to be too busy to untangle your next evite snafu. After all,
we have some baseball to watch
.
Follow Danny Wicentowski on Twitter at @D_Towski. E-mail the author at

[email protected]