Image Via St. Louis Metro Police
This tan or gold Chevy Silverado is believed to be tied to a double homicide in North St. Louis, police say.
Recognize this truck? You could help solve a pair of drive-by killings that have puzzled investigators for weeks.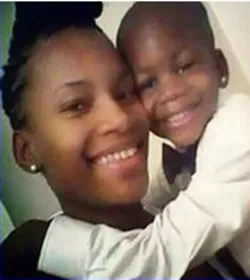 Image via St. Louis Metro Police
Whitney Brown was one of two people killed in an Aug. 13 drive-by shooting.
Gunmen in the tan or gold Chevy Silverado ambushed a group of people shortly after midnight on August 13 in the Walnut Park West neighborhood, fatally wounding a 28-year-old man and a 24-year-old woman, authorities said. It happened in the 6000 block of Shulte Avenue, just a few blocks from the intersection of Riverview Boulevard and Florissant.
Devon Fletcher was shot in the abdomen, and Whitney Brown was hit in the chest. Both were rushed to the hospital but later died, police said.
Brown's mother, Erica Jones, claimed that her five-year-old grandson, Brown's son, was out there that night and just missed getting shot.
"My grandson was in the back seat, the bullet went through nearby,"
Jones told KMOV shortly after the killings
. "It was a blessing that he didn't get hit. He's five, what am I supposed to tell him now? They didn't deserve that. No mother should have to suffer that, no mother at all, especially when someone sees something."
Image via St. Louis Metro Police
Devon Fletcher was one of two people killed in an Aug. 13 drive-by shooting.
Brown and Fletcher two of four people killed in the city that night.
SEE ALSO: St. Louis Has the Highest Murder Rate in the Nation
Jones begged witnesses to come forward, but Metro police are still searching for leads. They're hopeful the newly released photo of the suspect's truck will jog memories, or maybe the consciences and lead to an arrest.
"Someone knows who killed Devon Fletcher & Whitney Brown," cops posted online. Police ask anyone with information to call CrimeStoppers at 866-371-TIPS (8477). All calls are anonymous and tipsters could earn as much as $5,000 for clues leading to an arrest.
We welcome tips and feedback. Email the writer at [email protected]