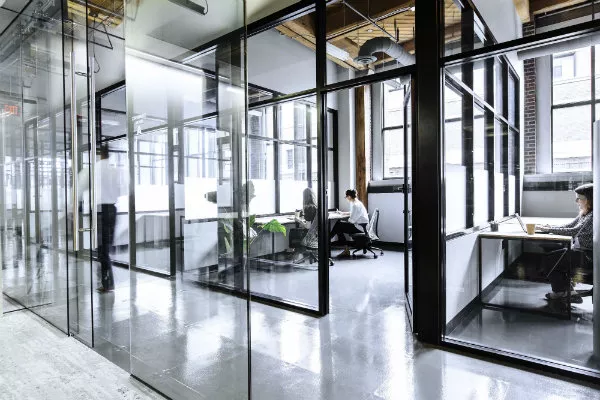 Courtesy of Industrious
The Industrious space downtown is located above the Convention Center MetroLink Station, which makes commuting a breeze.
A man in a navy blue, polka-dotted shirt, mustard yellow sweater and patterned paisley tie calls out from across the common area. "Is that the
Riverfront Times
guy? Would you like some bruschetta and a Coke, or ginger ale? Maybe some strawberry water?" His name is Mario Hunt, and he is the unofficial ambassador for Industrious, a new "social office space" on Washington Avenue in downtown St. Louis.
With his sister Sheena, Hunt was among the first people to rent space from
Industrious
(
555 Washington Ave., industriousoffice.com
) when it opened on the third floor of a midrise near Edward Jones Dome and the convention center in April. Sheena Hunt heard about Industrious' first location in Chicago via social media and decided to look into the St. Louis location when it was announced last year. Their company, brand management firm Empowered Strategy, now resides in Office 24. Sheena Hunt is owner and CEO, while Mario Hunt is COO.
Social office spaces like Industrious – perhaps better known as co-working spaces – are a bit different than the usual formal office suite. Different companies, and even individuals, work out of the same shared space. And at Industrious, there are no cubicles or break rooms. Instead, there's a vast lounge area and open bar, filled with snacks, fresh coffee and juices and even a keg of beer. Tired of working 9-5? Industrious is open 24 hours.
"We all tend to bounce ideas off of each other that help each other's company, when it comes to advancement and growing in certain areas," Mario Hunt says.
In addition to the networking opportunities, the price point offered by Industrious may be its biggest selling point. Plans start at just $300 per month for access to community spaces, including a large lounge filled with tables, couches and armchairs, and two conference rooms. That fee also includes the free Internet access, free printing and free snacks, coffee and beer, while $600 a month gets you access to community space plus a single-person private office. Pay $950 a month, and Industrious will upgrade your private office to a double.
Once you begin to rent space at Industrious, you are locked into your starting rate until you upgrade offices or decide to leave. Private offices can also be shared between individuals or companies in order to split costs and save even further. The walls of each private office are made of glass, which helps to reinforce the idea of a social office. The people inside are always visible, though the glass is frosted at eye level to help prevent uncomfortable eye contact. (Offices come with a desk and chair for each person; the rest of the furnishing is up to the individuals.)
Industrious is not the kind of co-working space that has a pingpong table in the lounge or a video game room. Instead, it offers an equally open but more sophisticated environment. Ethereal pop music plays softly over the speaker system, while clients scrawl on note pads, talk with each other or sample snacks from the bar. The atmosphere is comfortable, yet professional.
Emma Dively, a Saint Louis University alumna, has been the St. Louis Community Manager for Industrious since October 2014. As the sole Industrious employee working on location, Dively is in charge of everything from putting coffee on in the morning, to troubleshooting printer errors, to meeting with potential clients. Industrious currently has 19 tenants whose industries range from accountants to fashion designers to Garbshare, a virtual closet app.
Co-working is not brand new to the St. Louis area – in addition to TechArtista and Nebula, the city also is home to incubators like T-REX, which is located just two blocks west of Industrious. But Industrious believes its idea of the social office sets it apart.
"Our goal is not to fit as many people in the space, to therefore have as much return on the investment as possible," Dively says. "We want it to be a space that is comfortable, is productive and is beautiful."
"When you think 'co-working' you think of big, open seating … but more than anything, we're offering the private office space, which was missing, aside from T-REX … from the downtown entrepreneurial scene," Dively adds.
The "robust entrepreneurial community" and the established co-working market drew Industrious to St. Louis, says Dively. Now the company hopes to fill its remaining vacancies in its St. Louis office as it continues to expand nationwide. In addition to its St. Louis location, Industrious has five offices across the country, including one in Chicago and two in Atlanta. It is in the process of expanding to six more cities, including Denver, Nashville and Minneapolis.
In just a few short months at Industrious, Mario and Sheena Hunt have already decided that wherever they end up, Industrious will be the home base for Empowered Strategy. "This will be our space, even when we move to the West Coast, or if we go to the East Coast," Mario Hunt says. "We are going to find an Industrious there and centralize ourselves in that facility. … This is it for us."
We welcome tips and feedback. Email Joshua Connelly at joshuakconnelly@gmail.com

Editor's note: A previous version of this story mischaracterized the relationship between Sheena and Mario Hunt. They are siblings. We regret the error.