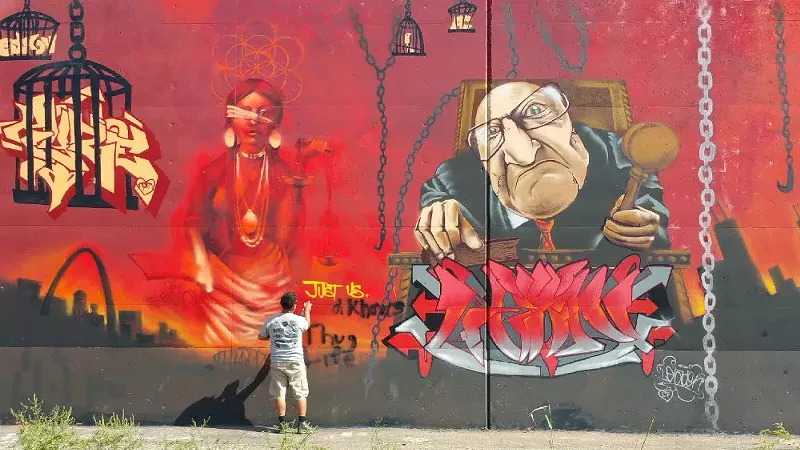 Photo by John Harrington
An artist works on his Paint Louis piece — part of an annual event to paint the flood wall at the riverfront.
Paint Louis – which brings street artists from all over the world to St. Louis for a city-sanctioned weekend of graffiti on the riverfront's flood wall – might be in trouble. The event's organizer, John Harrington, says he fears the city may not reauthorize the event next year after some graffiti artists decided to "bomb the city" during the 2015 gathering, held September 10 through 12.
The annual three-day event is thought to be the largest gathering of street artists in the world. Originally started in 1994, it was canceled in 2001 after artists left their sanctioned canvas and began painting all over the city.
It took Harrington, a former graffiti writer who was part of the original crew that started Paint Louis, to bring the event back to life in 2011. But he now fears for its future.
"Most definitely I'm worried," Harrington says. "Some of those people I think did it on purpose because they're like, 'Fuck Paint Louis. They didn't put us on like we wanted to be on, or we didn't get on at all – we're going to go out and bomb the city and get the thing canceled.'"
Photo by John Harrington
Graffiti artists "bombed" the city, Harrington says, with vandalism like that depicted above.
Before Paint Louis begins each year, artists are asked to submit a rendering of what they would like to paint. Based on these submissions, the flood wall is sectioned off into parts, one for each writer. This year, 200 writers were invited to participate, Harrington says, but approximately 375 showed up – some of whom were unhappy they did not get the respect they felt was due. A number of locals were among this group, Harrington says – locals who did not go through the submission process but rather just expected to be given space.
Yet Bero, a local graffiti writer, said his aversion to the application process had less to do with entitlement and more to do with fear of police. Members of the painting community believe that undercover police officers hang around Paint Louis taking photos of writers and their work. After that, police can then link writers to their tags in other parts of the city.
Whatever their reasons for not participating, a number of artists took it upon themselves to host their own party – painting unsanctioned areas all over town, or "bombing the city," as Harrington and Bero describe it.
Photo by John Harrington
Another Paint Louis creation.
One motivation, Harrington says, was likely the need for writers to "get up." Getting up involves placing art on structures that can be viewed by both other writers and the general public. "You get up on places you can see from the highway," Harrington says. "You get up on the places where the most people can see you – and that's what they did."
In painting parts of downtown, however, the writers drew the attention of one of the city's revenue generators – the St. Louis Cardinals. "We all know you don't hit anywhere in Redbird land," Harrington says. "You don't hit anywhere on Seventh Street, you don't hit Chouteau, you don't hit Broadway, you don't hit Market or Clark. You don't hit anywhere around the baseball stadium because that's where the city's money comes from. So when you got the Cardinals people calling the city and the Cardinals people calling Brightside and then you got Brightside calling me. ... It caused a big hubbub."
Brightside, a local community beautification group, began to receive complaints from businesses that had been painted, says Executive Director Mary Lou Green. And after Green contacted the mayor's office, Harrington heard from the city.
Harrington has vowed to clean up the unsanctioned work. He says he told the city, "Send me the addresses or send me pictures of where it is, and me and the crew will go and take care of it. I got 30 people now on Facebook who are going tomorrow to help me clean it up because they want to see the event keep going." Interviewed Friday evening, Harrington said he planned to get up early Saturday morning to begin the process of painting over any unsanctioned graffiti.
Photo by John Harrington
Here's the same space depicted on the first page — only this time, after Harrington's cleanup crew got done with it.
Harrington believes the sanctioned art created legally on the flood wall during Paint Louis has real value – and serves as snapshot of the community's concerns at this moment in time.
"If you go down there," he says, "you'll see stuff that represents people's lives. … You'll see futuristic stuff, you'll see a lot of old-school stuff, you'll see things that deal with the judicial system, you'll see stuff that deals with the 'hands up, don't shoot' movement, you'll get to see stuff that deals with the LGBT community – loving people and it doesn't matter what your sexual preference is – stuff with color, race. I mean, it's really a sign of the times."
Though he did not officially participate in Paint Louis, Bero also says he hopes the event can sustain itself despite the actions of those who painted outside the flood wall. "My initial reaction," he says, "was that you fucked it up for the rest of us.
"I paint St. Louis illegally year round," he continues. But on the event weekend, he consciously limited his work to secret areas only known to graffiti writers, outside the view of the general public, in order to not jeopardize Paint Louis. People within the community know to avoid certain places, including churches and schools, to avoid attracting too much attention from law enforcement. By painting graffiti across downtown, he says, some artists have led the event to a similar fate.
Maggie Crane, a spokeswoman for the mayor's office, declined to say exactly where the event stands. However, she says, "past actions are always considered on any permit."
As for Harrington, he's prepared for whatever the outcome might be. "Hopefully we're going to come back in 2016," he says. "Maybe we won't. But if we do come back we're going to invite specific people… It isn't a big deal to me, I'm not going to lose sleep over it either way. I do this for the love. I'm not getting paid for it."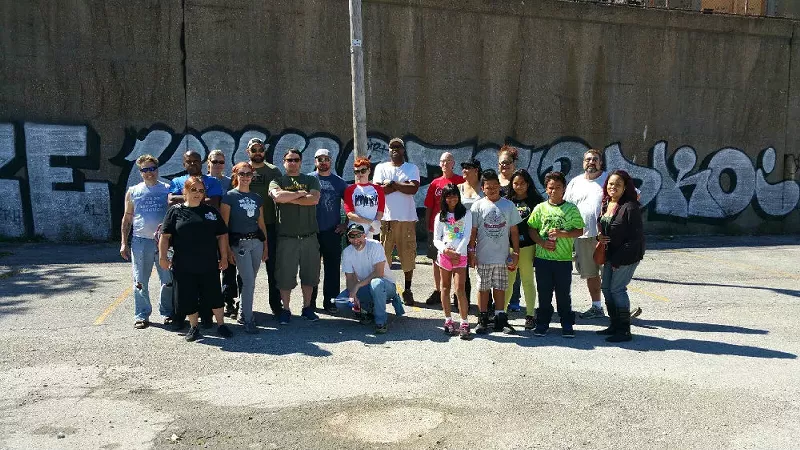 Photo courtesy of John Harrington
The Paint Louis cleanup crew.
We welcome tips and feedback. Email the writer at jeressig@gmail.com.
<!————EndFragment————>