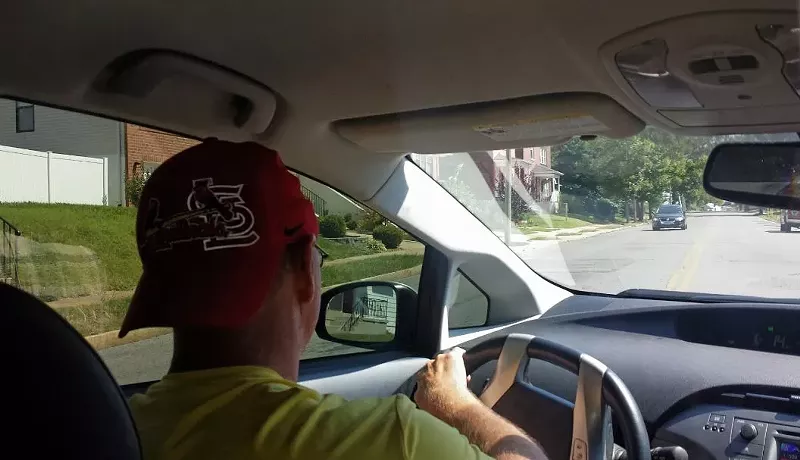 Danny Wicentowski
A view from the backseat of St. Louis' brave new world of ride-sharing.
A black Chevy Suburban pulled up to my apartment building this morning.
Oh, boy! I thought. The future is here!
More accurately, my Uber driver had arrived. It was 11:20 a.m., a little more than an hour after the the ride-sharing service launched its UberX coverage in St. Louis —
in defiance of the Metropolitan Taxi Commission
, or MTC. Uber is in effect daring the city to arrest its drivers for not undergoing the
extensive background checks
mandated by regulators. An anti-trust lawsuit has been filed.
See also:
Uber Launches in St. Louis, Defying — and Suing — the Taxi Commission




It's still unclear how Uber's unilateral decision will play out. But as I entered the Suburban, I wasn't concerned about lawsuits or taxi commissions or background checks. All I cared about was getting to my favorite meat stand outside City Hall downtown. Could UberX get me there and back in one piece?
In the end, the answer was "no." But that's because I'm an idiot.
Having never used the Uber app before, I failed to toggle my ride request off the default option of Uber Black, the company's pricier limo service. (It's been around for nearly a year, with its drivers conforming to MTC's standards.) Basically, I was disappointed to learn that my driver wasn't actually a proletariat representative of the shared-economy zeitgeist, but rather a career limo driver who had made the switch to Uber Black in February. Rats!
The ride downtown via Uber Black took a quick fourteen minutes. The time was largely filled by my driver, Enea Kuraj, who offered remarkably patient explanations on the various differences between Uber Black and UberX, and how I could order the correct service on my way back. The fare came to $35, but a discount code knocked it down to $15 (thanks, random stranger spamming the RFT's Facebook page!). Of course, the fare was automatically deducted from my credit card.
Kuraj dropped me off at City Hall, and I thanked him for dealing with my awkward and badly formed questions. I found the meat stand at its usual spot, on the corner of Tucker Boulevard and Market Street. I bought a beef frank, which I then proceeded to slather with barbecue sauce and ketchup because I am a shameless, uncivilized boor.
Logging back into the Uber app, I toggled the order to UberX (thanks, Enea) and awaited my ride home. Even the waiting felt slick and futuristic, as my screen showed the geo-tagged location of the driver and a description of the car.
Fifteen minutes later I spotted an arm waving from a black Toyota Prius stopped at the intersection. I ran over and hopped in.
The driver (who asked that I refer to him solely by his first name, Matt) told me that he's been working as an UberX driver for the past four months in the Metro East, where the ridesharing service has been legal since March. He said business is good, that he picks up around 80 people every week and covers about 500 miles a day.
In fact, Matt continued, he woke up before 5 a.m. this morning to pick up a customer. At 9:45, Matt got a call from a supervisor.
"He said, 'Hey, can you head to St. Louis? We're getting ready to launch, but keep it quiet till it gets announced'," Matt recalls. "I've been out here ever since."
When I ask Matt how much money he takes home, he hesitates.
"Ah, I don't know if i want to say that because I don't want to get other Uber drivers excited," he said. He laughed good-naturedly. "I like the market right now. I'm driving a Prius, and if I was driving an SUV it might not be so lucrative."
After further prodding, Matt relents. He tells me he brings home somewhere between $1,000 and $1,500 a week. With the St. Louis market now open, he expects that number to double, at the very least.
Matt took seventeen minutes on the return trip, slightly longer than the Uber Black drive to downtown. The fare was much lower, totaling $18.98. It's worth noting, however, that the longer drive wasn't really Matt's fault — my incessant questioning made him miss our exit. (Sorry, Matt.)
"My first pickup today was from New York, and he didn't even know that Uber was an issue in St. Louis," Matt said, pulling to the curb in front of my apartment. "Most people just expect Uber to be here." <!————————EndFragment————————>
Follow Danny Wicentowski on Twitter at @D_Towski. E-mail the author at Danny.Wicentowski@RiverfrontTimes.com