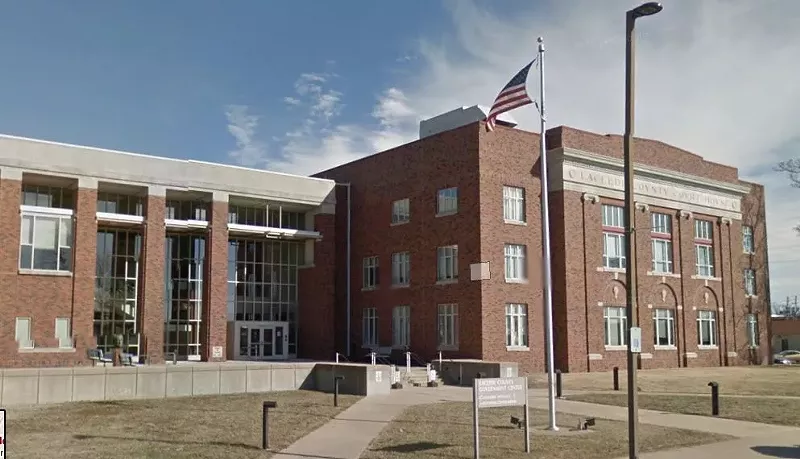 Google Maps.
The Laclede County courthouse, marriage-free since June 29.
It's been more than two months since the U.S. Supreme Court legalized same-sex marriage, and the aftershocks continue to rumble. While Kim Davis has made international headlines over her refusal to grant marriage licenses in Rowan County, Kentucky, she's not the only government official pushing back.
Of course, Missouri doesn't boast an openly defiant clerk like Davis. (In fact,
St. Louis' Recorder of Deeds was defiant in a different way — long before the Supreme Court ruling, she played a key role
in challenging the state's ban on same-sex marriage.) What we do have are judges who've chosen to opt out of the marriage game altogether.
In Laclede County, some 60 miles northeast of Springfield, Associate Court judges Steve Jackson and Larry Winfrey
announced
just days after the Supreme Court ruling that they would no longer perform
any
marriages. In a statement, the judges explained their reasoning behind the ban: "In light of the divisive impact of the recent United States Supreme Court decision on our society relative to the issue of marriage, we elect to not allow the integrity and respect of your local court to be tarnished by being caught up in the dissension created."
A court clerk on Monday confirmed that the policy is still in effect.
An associate circuit judge in Montgomery County, Kelly Broniec, made the same decision months before the Supreme Court ruling, in January, but a clerk we reached yesterday wasn't able to tell us if the ban was related to same-sex marriage. Messages left for Broniec were not immediately returned.
To be clear, these judges aren't banning same-sex couples from obtaining marriage certificates — the judges don't have that power. They just don't want to solemnize unions any more. Gay or straight, you can get your license; you just can't get married at the courthouse.
It's a tactic that seems to be growing in popularity among opponents to same-sex marriage, says Washington University law professor Gregory Magarian.
Magarian points to Oklahoma, whose legislature passed
a law
this year that allows anyone who performs marriages — such as judges or clergy — to refuse to do so on religious grounds.
Another bill
, which passed the Oklahoma House of Representatives, would abolish state-issued marriage certificates. A
similar law
has been proposed in Alabama.
As for the Missouri judges, Magarian says they are standing on firm legal ground. Performing marriages is only a discretionary part of a judge's job, meaning they can stop the practice at any time and for any reason.
"I think if the judges came out and said, 'We hate gays and therefore we're not performing marriages,' that might be a legal problem, but it would be an amorphous one. Ultimately, they're treating gay and straight couples alike," Magarian says. "My initial take is that as long as the system is non-discriminatory, as long as getting a marriage validation from a notary is easy enough to do, then lot of these jurisdictions chafing about same-sex marriage are going to rearrange their systems."
Magarian stresses that counties may find themselves facing lawsuits if other avenues of validation (like notaries) aren't available to couples seeking secular marriages. But even then, the burden would be on the county to fix its system, not the individual judges.
"I think they [the judges] are in a very different posture than Kim Davis is in," he says. "Kim Davis is a gatekeeper for marriage. As long as marriage is an institution that has legal benefits attached to it, marriage cannot be an institution where access is defined by religious belief."
Follow Danny Wicentowski on Twitter at @D_Towski. E-mail the author at Danny.Wicentowski@RiverfrontTimes.com