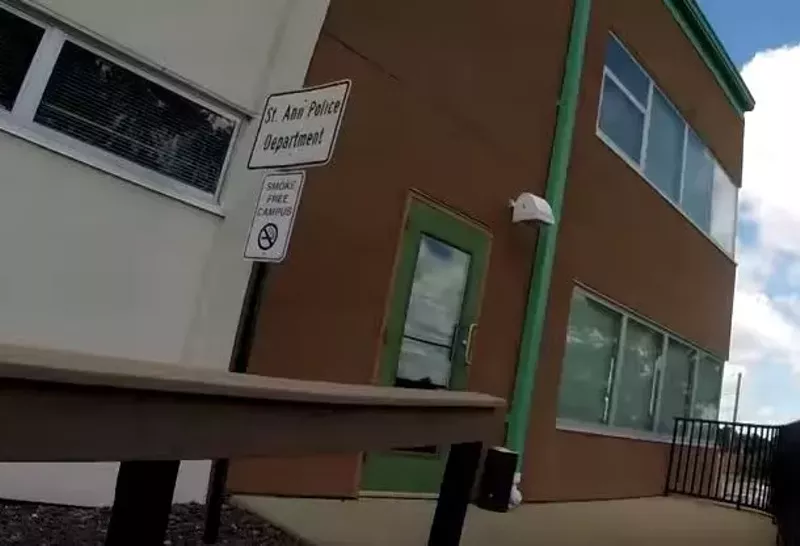 The St. Ann Police Department.
After stealing $7.38 worth of wine coolers from a convenience store on July 21, 2009, a "quite intoxicated" Danielle Hollingsworth found herself sitting in a processing cell in the St. Ann police station. A male officer entered the cell and gave Hollingsworth some paperwork to fill out. He also dropped off an orange jumpsuit and told her to disrobe to her bottom underwear and put it on. <!—————EndFragment—————>
Hollingsworth balked. She reportedly told the officer that she was scared and wanted a woman in the room while she changed.
What happened next became the subject of a lawsuit against the city of St. Ann and three of its officers. According to court documents, Hollingsworths' refusal to strip and change into the orange jumpsuit prompted another officer, Joseph Mayberry, to enter the cell with a Taser at the ready. He told Hollinsworth that she had to change her clothes and then left.
Moments later, however, a female officer monitoring a video feed of the cell signaled to Mayberry that their new inmate was still not complying. Mayberry returned to the cell and tasered Hollingsworth twice. Hollingsworth would later testify that she experienced "excruciating pain" through her legs and subsequently suffered leg spasms that required a trip to the hospital and a prescription for muscle relaxants.
As for Mayberry, he testified that he hadn't been in fear for his physical safety but deployed the taser against Hollingsworth anyway. He justified his actions by citing Hollingsworth's noncompliance and the need to check her street clothes for contraband "of any type."
Unsurprisingly, the ensuing lawsuit, filed in August 2013, accused Mayberry of using excessive force. The lawsuit also targeted two officers who were on duty at the time for failing to stop Mayberry; it further alleged that the city of St. Ann was liable because its policies enabled Mayberry's actions.
Last week, a federal appeals court sided with St. Ann and its officers.
The appeals court found that although "the actions of one or more officers might have been unreasonable, their conduct did not violate clearly established law at the time of the incident." It also cleared St. Ann of liability.
"We're startled at the outcome," says Bevis Schock, Hollingsworth's attorney. "We can't figure out how you go after a woman who's just sitting on a bench and be constitutional."
Schock wasn't the only one disturbed by the circumstances of the case. In fact, Eighth Circuit Judge Jane Kelly, who concurred with the appeals court's majority ruling, wrote a separate opinion that leveled blistering criticism at Mayberry's treatment of Hollingsworth.
From Judge Kelly:
Officer McCallum made no attempt to resolve the situation with Hollingsworth in a non-violent manner. He did not assure Hollingsworth that the only person watching her change was a female officer, he did not answer her requests for a female officer to be present, and he did not allow her time to cool down or sober up. The amount of time that passed between his initial order to Hollingsworth to change out of her clothes and his use of the Taser was a matter of minutes. The second time he entered her cell he gave no warning and instead deployed his Taser three seconds after entering. From the perspective of a reasonable officer on the scene, this was an unreasonable and excessive use of force.
Given Judge Kelly's issues with the case, why did she side with the majority in ruling in McCallum's favor? The answer has a lot to do with the timing of the incident and how the law treats tasering. In the majority ruling, the court determined that in 2009, when the incident occurred, it was still legal for officers to taser unarmed, non-threatening inmates. (That law has since been changed.)
"The court boxed in themselves in with their findings about tasing," Schock says. "There's a line of cases that say they can use a little bit of force and it's not a violation. But there's another line of cases that say you can't use any force, and that's been my position in this case all along."
Most bafflingly, the court ruled that since taser injuries are legally considered as
not significant ("de minimis"), McCallum cannot be sued for excessive use of force. It's a consideration that seems to fly in the face of reality, as tasers have repeatedly been shown shown to be fatal in some circumstances. According to
Amnesty International
, more than 600 people have died in the U.S. since 2001 after being tased either during their arrest or while in jail. <!—————EndFragment—————>
Schock says Hollingsworth isn't giving up and that he's asked the court to rehear the case.
Follow Danny Wicentowski on Twitter at @D_Towski. E-mail the author at Danny.Wicentowski@RiverfrontTimes.com