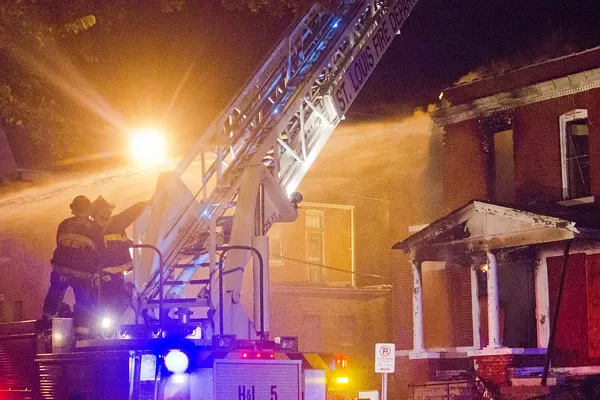 Photo by Danny Wicentowski
Fires burned on August 19 — and stores were looted.
Last week, residents angry about the police shooting 18-year-old Mansur Ball-Bey
marched in the Fountain Park neighborhood
, setting homes and cars ablaze.
Given less attention was the looting that apparently accompanied the protests. But police now say that a group of 30 to 40 people broke into three businesses located at 1330 Aubert, a low-slung strip mall just off Kingshighway and Page. The businesses — Kings Beauty Supply, STL Custom Designs and Nail Spa — were then looted.
The St. Louis Metropolitan Police Department has since released a video of the looting, hoping for the public's help identifying the people in question. Anyone with information about anyone depicted is asked to call CrimeStoppers at 866-371-TIPS (8477).
We've embedded the video below. Recognize anyone?


We welcome tips and feedback. Email the writer at sarah.fenske@riverfronttimes.com.