Google Maps
A quiet cul-de-sac in a St. Charles subdivision is the scene of a bitter dispute between neighbors.
Oh, subdivisions.
If you've got the money, these cookie-cutter communities offer wide driveways, pristine lawns and gargantuan houses (even if they all kind of look the same). More importantly, they present a kind of fantasy neighborhood, a perfect image of affluence far removed from the grime of city life.
And, for at least one resident of the Manors at Glen Brook subdivision in St. Charles, that fantasy definitely doesn't include black people walking their dogs.
On May 13, an anonymous resident contacted the St. Charles County Police Department to report suspicious activity: "Several [black male] subjects walking down the street with dogs and snapping pics of homes. Caller [advised] that this is an all white neighborhood and they do not belong."
The dog-walkers were the three children of Maritha Hunter-Butler, who'd moved her family into a 2,600-square-foot home just four days before the anonymous complaint. According to a police report, officers were dispatched to the area and took no action.
"If the caller calls back," the report concluded, "[advise] them that a black family lives in the neighborhood."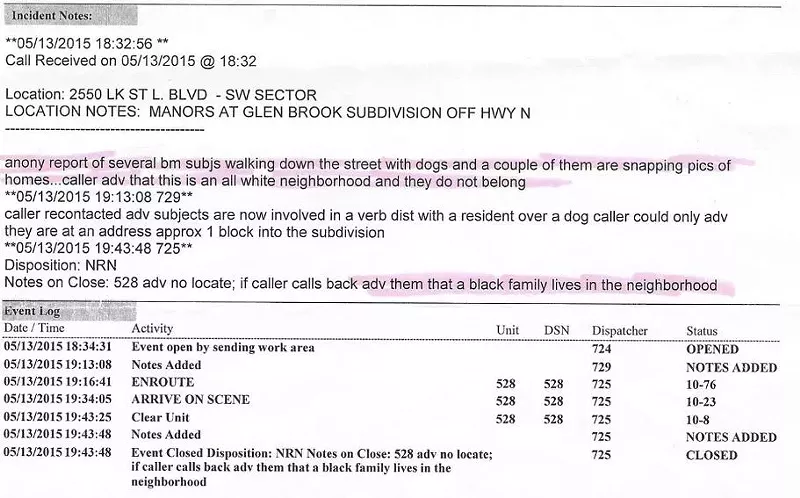 The incident has become part of an escalating conflict between Hunter-Butler's family and her new neighbors. And while it's not known who called the cops on May 13, other neighbors have since called in formal complaints to animal control about Hunter-Butler's dogs barking. More than a dozen requests for protection orders have been filed between Hunter-Butler and her backyard neighbors, the Chamblees. (A judge dismissed them all last month "for failure to state a cause of action.") <!———————————————EndFragment———————————————>
"All we did was try to move to a nicer neighborhood," says Hunter-Butler, who shares the house with her three sons, her female partner and four dogs. She believes her neighbors are harassing her for being black and because she and her white partner are living in an openly lesbian relationship.
In an interview with the
St. Louis Post-Dispatch
, which features a lengthy story about the neighborhood dispute this morning, Jana Chamblee insisted that her requests for protection orders and complaints to animal control had nothing to do with Hunter-Butler's race or sexual orientation. "It's so far from that," she said. After eleven years in the subdivision, the Chamblees have put their house up for sale.
The subdivision squabble came to a head earlier this month, when third-degree assault charges were filed against Hunter-Butler for allegedly striking another neighbor, Rebecca Scudder, in the face during an argument on July 1.
According to a police report, when an officer arrived to take Scudder's statement she appeared to be uneasy on her feet and using furniture to stabilize herself. Scudder, who had a "bloody nose, a severely swollen lip, and a bruise to the bridge of her nose," said she had a mixed drink with vodka before the confrontation with Hunter-Butler. The officer noted that Scudder's eyes were glassy and bloodshot, and he wrote that he was unable to determine if it was from crying or "consumption of alcohol."
[Editor's note: This paragraph was changed after publication; see note at story's end.]
When officer questioned Hunter-Butler, she denied striking Scudder. She also said she wasn't at home at the time of the alleged incident and had surveillance video to prove it, but then couldn't tell the officer where she had been and declined to provide the footage.
Now, in fairness to Scudder, this won't be Hunter-Butler's first tangle with the law. She is a convicted felon. In 2005 she tried hiring a cousin to kill her ex-husband, but instead of carrying out the plan
he went to the cops
. Hunter-Butler pleaded guilty to first-degree murder and armed criminal action in 2007 and was sentenced six years in prison. She served two years and ten months.
Things escalated once again this weekend, when Hunter-Butler reached out to Umar Lee, a writer, cab driver and Ferguson protester who views St. Charles County as a stronghold
of racism and intolerance
. Lee interviewed Hunter-Butler and uploaded a video of her statements to YouTube.
Afterwards, Lee and another activist, Talal Ahmed, attempted to speak with some of the neighbors who had made complaints about Hunter-Butler. One man opened his door and told Lee, "Get the fuck off my porch."
Lee's investigation ended after a St. Charles police officer showed up. The two men got into a shouting match after the officer said Lee was trespassing. Lee called the officer a racist.
"I didn't do anything wrong, I just knocked on three people's doors." Lee says. "When we went back to [Hunter-Butler's] house all of a sudden police showed up, wanted to see my ID, and I said no, I wasn't trespassing. The police were very belligerent."
Lee says he's organizing a protest in St. Charles to combat racism and harassment of black families there.
Update 6 p.m.:
Umar Lee announced this afternoon that he'd been fired from his job at Laclede Cab, seemingly in response to his activism. See our followup coverage
here
.
Editor's note: We updated the story after publication to include additional information from the police report filed by Scudder.

We also changed the story on August 26 after hearing from Rebecca Scudder's husband. He disputed our characterization of one part of the police report, so rather than a paraphrase, we've gone with a direct quotation in the area in question.

Follow Danny Wicentowski on Twitter at @D_Towski. E-mail the author at Danny.Wicentowski@RiverfrontTimes.com
<!————————————EndFragment————————————>