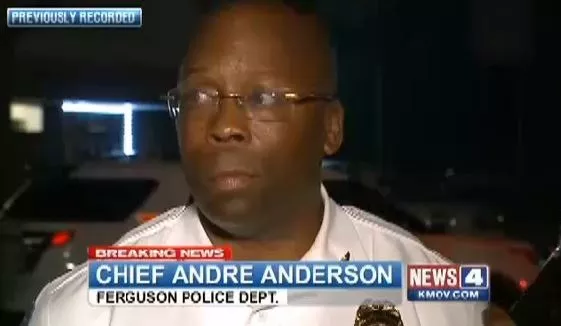 Andre Anderson, Ferguson's interim police chief.
How much progress has Ferguson really made in reforming its police department, court system and city administration over the past year?
Even putting aside this week's protests and arrests, recent news indicates the city still has a long way to go. And while some may have been optimistic about last month's hiring of Andre Anderson as interim police chief, a report in Vocative has revealed that in the '90s Anderson was suspended three times in less than twelve months while working for the Glendale, Arizona, police department.
Citing documents obtained through a Freedom of Information Act request, Vocative also reported that Anderson's 24 years with Glendale police were marred by an accusation of falsifying official documents in 1996. That same year, a woman filed for an order of protection against Anderson, claiming he'd punched her in the eye.
The order of protection did not lead to criminal charges, Vocative found, and a judge quashed the order about six weeks later. Regarding the falsified documents, a Ferguson spokesperson told Vocative by email, "The allegation about falsifying documents actually involves a situation where Chief Anderson provided information on a mileage report in error, not out of an intentional, malicious action."
It's unclear what specific actions led to the suspensions, but a 1996 internal affairs review stated that Anderson was being punished "for conducting personal business on city time and falsifying official documents" while serving on a Drug Enforcement Administration task force.
You can read the full Vocative report here.
Anderson isn't the only high-profile hire made by Ferguson this summer. In June, the city announced that Ed Beasley, the former city manager of Glendale, Arizona, would helm the same position in Ferguson for the next six months. As we reported at the time, Beasely has his own scandal-laden history with Glendale.
See also: New Ferguson City Manager Ed Beasley Dogged by Missteps at Previous Job
Follow Danny Wicentowski on Twitter at @D_Towski. E-mail the author at Danny.Wicentowski@RiverfrontTimes.com