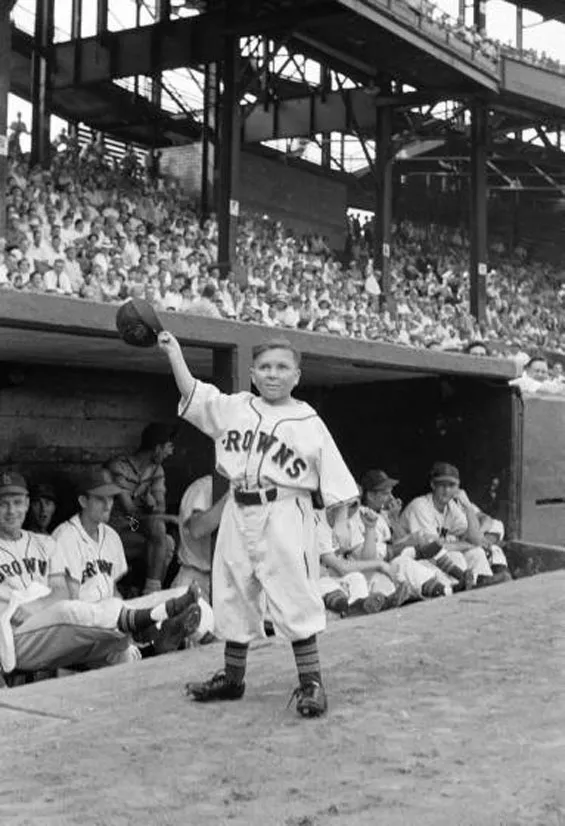 Eddie Gaedel, all three feet and seven inches of him.
By the time you reach the age of thirteen, you ought to be responsible for what you do. Be that as it may, I went to about 40 home games of the hapless St. Louis Browns in 1951. I never mentioned it to the priest during confession, but maybe I should have.
You could go to your local police station, sign up to become a member of the Browns Knot Hole Club, and get a card for the season that got you in free for all 77 of the games. Scorecards were a dime, and so were peanuts and sodas (except root beer that was fifteen cents). Ice cream and hot dogs were fifteen cents apiece.
The hoity-toity Cardinals shared Sportsman's Park with the Browns (actually, the Browns owned the joint), but members of their knothole club could only get into seven games free. So the kids I knew either rooted for the Browns and cried themselves to sleep, or followed the more fashionable Cardinals and budgeted allowances so they could afford a few more games.
For me, blind loyalty paid off on August 19, 1951. The Browns played a doubleheader against the Detroit Tigers, and in the first inning of the second game, Bill Veeck, the Browns' ingenious owner, sent Eddie Gaedel, a three-foot-seven, 65-pound midget, to the plate with an eighteen-inch bat in his hand. Top to bottom, Gaedel's strike zone was as short as a Manx cat's tail, and he walked on four pitches. At once, Gaedel became famous and infamous without swinging, and I had witnessed one of the most bizarre sports happenings of all time.
Gaedel (pronounced guh-DELL) never stepped into a major-league batter's box again. Reportedly the victim of a mugging, he died in 1961 at age 36. He's buried in a cemetery in Evergreen Park, Illinois, not far from Brian Piccolo, the cancer-stricken Chicago Bears star whose tragic story inspired the film Brian's Song.
All but one of the principals in that surreal Gaedel tableau -- Veeck; Detroit pitcher Bobby "Sugar" Cain; Cain's catcher, Bob Swift; Jim Delsing, who pinch-ran for Gaedel after he blithely jogged to first base; Ed Hurley, the flabbergasted umpire -- are also with the dust. The only chief participant still breathing is Frank Saucier, the scheduled batter when Gaedel was sent to the plate.
Yet there remains a fascination, even a borderline obsession, with what Bill Veeck wrought. Sixty-four years after Gaedel's lone Major League Baseball at-bat, and 54 years after his death, Gaedel-a-mania has reached a zenith. The little guy is seemingly everywhere, his fifteen minutes of fame stretched to encompass decades.
Consider:
The Eddie Gaedel Society in Spokane, Washington, will hold its fifth annual meeting-cum-celebration on August 19. There are also chapters in Elburn, Illinois; Los Angeles and Dublin, Ireland.
Also on August 19, the Baseball Reliquary, an educational organization devoted to the history of the sport, is planning a Gaedel celebration in South Pasadena, California.
A bar in Elburn, near Chicago, is called the Eddie Gaedel Pub and Grill. Closer to home, a mural of Gaedel decorates the Tiny Bar, a newly opened establishment on Locust Street downtown.
Memorabilia is everywhere, if you know where to look. Gaedel's toothpick of a bat sold at auction for more than $44,000. His original uniform, which was loaned to him by Bill DeWitt Jr. when DeWitt was a nine-year-old Browns' batboy (he's now the Cardinals' principal owner) resides in Ballpark Village.
When a library in Pasadena, California, presented a Gaedel exhibit last month, one of the items was Gaedel's jockstrap. Meanwhile, the St. Louis Browns Fan Club, which has 340 members, sells a Gaedel montage for $50. And for $155.99, an online company will sell you a replica of the Gaedel uniform jersey (in another stroke of genius, Veeck put the fraction 1/8 on the midget's back).
Bill McCurdy, a Browns diehard in Houston, has written the words for "The Ballad of Eddie Gaedel," sung to the tune of "Rudolph, the Red-Nosed Reindeer." In 2009, Bob Costas hosted a TV special about Gaedel for the Major League Baseball Network, and the Gaedel game is included in Jon Leonoudakis' 2012 documentary, Not Exactly Cooperstown.
Finally, a member of a national club that still plays the old Cadaco Baseball All-Star spinner game created a Gaedel disc that has only one number instead of the usual fourteen: the number nine, for a base on balls. Fittingly, any time you hit the spinner using the Gaedel disc, you get an automatic walk.The attendance on August 19, 1951, was 18,369, a monster crowd for the sad-sack Browns, who lost 102 games that year. The day before, they drew fewer than 2,000 for a game against the Tigers, and their average for the season was about 3,500 -- far below Veeck's break-even point. (The Cardinals, in the same ballpark, drew more than three times as many.)
The Gaedel appearance was sub rosa. By Veeck's count, only five others knew about the stunt. Had word leaked out, the American League surely would have cold-watered the caper posthaste.
As it was, Will Harridge, the stuffed-shirt president of the league, proclaimed that Gaedel in particular, and midgets in general, were banned from batting. Veeck wondered what height would make a player a non-midget. "Does that mean that Phil Rizzuto can't play anymore?" Veeck asked. Rizzuto, the star shortstop for the New York Yankees, was five-foot-six.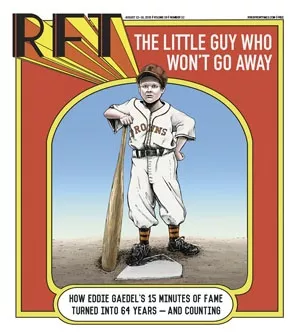 Illustration by Corey Montero.
The cover of the August 13, 2015, Riverfront Times.
Veeck had hyped attendance on August 19 by promoting the doubleheader as the 50th anniversary of both the American League and Falstaff Brewery, which was the Browns' radio sponsor. The anniversary of the league was legit, but Veeck had fudged a little about Falstaff. Well in advance -- but not knowing one scintilla about Gaedel -- Falstaff distributors aggressively pushed tickets all over Missouri and Illinois.
August 19 was a Sunday. Late Friday, Veeck had wired a copy of Gaedel's contract -- $15,200 for the season, but broken down to only $100 per game -- to Harridge's office, which was closed on weekends.
As my friend Marvin and I settled into our seats for the first game, we noticed, in small type, "1/8 -- Gaedel" leading off the numerical listing of Browns' players in the scorecard. "What's this?" Marvin asked.
"Must be a printing mistake," I said. "They left his position off, too. Never heard of that guy. They must have just called him up from the minors."
After the Browns lost the first game, during the 30-minute intermission we saw Gaedel for the first time. Brandishing his little bat, he popped out of the top of a seven-foot-high papier mache anniversary cake that filled the infield.
"Ladies and gentlemen," said Bernie Ebert, the public-address announcer, "as a special birthday present to manager Zack Taylor, the management is presenting him with a brand-new Brownie." Never mind that Taylor's birthday was actually three weeks before. Gaedel, 26, had been flown in from Chicago, where he worked as an entertainer. Veeck found him through a Cleveland talent agency. After popping out of the cake, he hammed it up, and about an hour later he became a big-leaguer.
In the bottom of the first inning, Gaedel pinch-hit for Saucier, the Browns' rookie right fielder. Red Rolfe, the Tigers' manager, bolted from the dugout to ask Hurley what was going on.
Hurley turned in the direction of the Browns' dugout. Zack Taylor met him with a copy of the Gaedel contract in hand. Hurley had no choice but to let Gaedel bat.
The little guy crouched, reducing his strike zone to just a couple of inches. "Stand up!" somebody shouted from the Tigers' dugout. Swift went out to Cain and said with a straight face, "Keep it low."
Back behind the plate, Swift went to his knees, trying to give Cain a low target. Laughing, Cain almost fell off the mound as he made four pitches, all well high of the zone. Gaedel went to first base.
When Jim Delsing, a pinch-runner, arrived, Gaedel playfully patted him on the rear, and trotted to the dugout, waving his cap as the crowd cheered. Later that inning, Delsing was left on base. The Browns ultimately lost the game, 6-2. What else was new?
But Saucier was furious, as batboy Fred Buchholz would relate years later in an interview with Bob Costas. Saucier was from Washington, Missouri, and his family and friends were in the stands. He threw his bat, sore that he had been replaced by a midget.
His pique subsiding, Saucier sat down beside Taylor, the manager, and Gaedel.
"What were you thinking out there?" Saucier said.
"Man, I felt like Babe Root," Gaedel said.
Dr. Charles Brondos, a retired neurologist who grew up in West Frankfort, Illinois, attended the game with his parents and brother even though he had undergone surgery for polio in an East St. Louis hospital only a month before. Brondos' father had written the Browns' owner, and as Veeck's guests, Brondos and his family had choice seats, downstairs in Section P, Row 6.
Some of the questions I asked Brondos about the Gaedel game went unanswered. Brazenly, rudely, I chided the good doctor.
"I was only nine," he finally said, good-naturedly. "If I knew then that you were going to call me 64 years later, I would have paid more attention."
Brondos now lives in Spokane, Washington. It wasn't until last year that he discovered the Eddie Gaedel Society, which was founded at Spokane's O'Doherty's Irish Grille and Pub in 2011.
The fact that the Eddie Gaedel Society is based in Washington is pure coincidence. The group is the brainchild of 67-year-old Tom Keefe, a one-time trial lawyer and county chairman for the local Democratic party. Keefe read Veeck's autobiography, Veeck -- As in Wreck, when his father gave him the book for his fourteenth birthday.
Years later, in 2011, he and a few friends were playing a noontime baseball trivia game at O'Doherty's bar. After Keefe asked a question about Gaedel, somebody blurted, "Who the hell is Eddie Gaedel?"
Keefe had a eureka moment. He decided to answer the question by organizing the Gaedel Society.
The society currently has more than 100 members, including a few luminaries from outside Spokane -- among them Mike Veeck (son of Bill) and Bill DeWitt. Since then it has become popular enough that its founder has granted chapter charters in other cities.
Appropriately, tiny Elburn, Illinois, joined the fray because Gaedel played in an exhibition game there three weeks after he pinch-hit for the Browns.
"The society was a chance to merge my love of baseball with my advocacy for the underdog and the little guy," Keefe says. "I'm helping Gaedel achieve the immortality he was promised by Veeck. He showed a lot of courage that day. Without wearing a helmet, he went up there against a pitcher who was six feet tall, in front of a big crowd, and let him throw four pitches at him. Look at that photo of Eddie batting. Check that stance! That look in his eyes! I rest my case."
Atop the bar at O'Doherty's is a fifteen-inch copper-and-brass statuette, featuring Gaedel in his diabolical home-plate crouch. (It was made by Paula Turnbull, a 92-year-old nun who lives in Spokane.) And on August 19, the bar will unveil Take Four, Eddie!, a 30-by-60-foot acrylic mural that Keefe commissioned from Jennifer Ettinger, an artist in Vancouver, British Columbia.
In Elburn, the Gaedel Pub opened in 2013. Richard Theobald and his wife, Annette, co-own the place.
"[Richard] was making breakfast for us, flipping pancakes, when the name came to him," Annette says. "He had remembered Eddie Gaedel. We wanted something that was sports-related, but meant small, since we have room for only 42 people. We wanted something that wouldn't discourage women from coming, but would also appeal to the true sports fan. Eddie Gaedel, with his Elburn connection, was a perfect fit."
On September 5, 1951, shortly after he batted in St. Louis, Gaedel came to Sycamore, Illinois, one of Elburn's neighboring towns, for an appearance fee. Two amateur teams were playing. Playing for the Sycamore Sons, a team that was formed in 1925, Gaedel struck out in his only time at bat. Unlike when he faced Sugar Cain of the Detroit Tigers, this time rival pitcher Gene Davis had managed to pitch with a low arc.
Gaedel disagreed with two of the three called strikes.
"You're nuts," he said to the umpire after strike one. After the third strike, he said, "You're the worst umpire I ever want to see."
Morrie McPherson was a ten-year-old batboy at the game.
"I think the byplay with the umpire was part of an act," McPherson said. "I think [Gaedel] just wanted to get it done and get out of there. He acted like he was happy it was over with."
McPherson, who lives in Phoenix, Arizona, still has the autograph that Gaedel gave him in the dugout. He began collecting autographs when he was eight, and says that his collection has reached 15,000. "I hardly ever sell any," he says. "I'm just a collector."
Two days after batting in Sycamore, Gaedel was supposed to be the grand marshal for the Elburn Days parade, the kickoff for the town's annual festival, but he arrived too late to participate. Afterward, there was a game between two teams of teenaged players, sponsored by the American Legion. Gaedel didn't play in the field -- there's no record that he ever owned a glove -- but he was allowed to bat three times. He notched two strikeouts and a walk. He never scored, though: Kenny Johnson, the opposing pitcher, picked Gaedel off first base after he took too long of a lead.
After Veeck sold the near-bankrupt Browns to Baltimore interests after the 1953 season, he ran the Chicago White Sox. He used Gaedel for a few promotions in the midget's hometown. Gaedel also appeared on Ed Sullivan's and Bing Crosby's TV shows, did some commercial work for Buster Brown shoes, worked for the Ringling Bros. circus and appeared in rodeos. But he never batted in another professional game and was a hard-drinking, embittered figure in the final years of his short life.
He was living with his widowed mother when he was found dead in his bed, possibly from a street beating.
"It got to be," Veeck later said in an interview, "that the only time Eddie was happy was when he was bombed. When he got a few drinks in him, he thought he was six-foot-nine." News accounts of Gaedel's death, in Chicago on June 18, 1961, were sketchy, a reflection of a cursory police investigation which produced few details. The coroner said that he died after suffering a heart attack. Paul Dickson, who published a biography of Veeck, wrote that Gaedel had lost $11 in the yoking.
Bill McCurdy, the songwriter in Houston, wrote about Gaedel's death almost a half-century later on his personal website, the Pecan Park Eagle. "Someone got away with murder," McCurdy concluded.
Kelly Glueck
Eddie Gaedel's spot in the Cardinals Hall of Fame.
The entertainer Max Patkin was more or less a member of the Browns' team for a while. If Bill Veeck hadn't found Max Patkin, Patkin probably would have found Veeck.
Patkin was an angular, double-jointed, rubber-faced comic, who spent most of his life entertaining fans in baseball's major and minor leagues. The day Gaedel batted, Patkin wore a zero on his back and was listed in the scorecard as a coach.
Patkin never met a ballpark he didn't like. Occasionally, he would actually man the first-base coaching box for the Browns.
"The poor kid was scared to death," Patkin told reporters a few days after Gaedel batted, according to the Associated Press. "He had never had a bat in his hands. He didn't weigh any more than my nose. Some of the Browns frightened him. They said that Gene Bearden, who threw a knuckleball, was going to take over pitching for the Tigers." (In reality, this wouldn't have been likely, since Bearden had pitched the first game of the doubleheader, which the Browns also lost.) "They said that if Bearden got out there, Eddie should watch out -- one of those knuckleballs might hit him in the head."
As for Frank Saucier, who was displaced so that Gaedel could pinch-hit, the event was more bittersweet than comedic.
Today he's remembered solely as an asterisk, a supporting player to Gaedel's big at-bat. At the time, though, he was full of potential. A standout at Westminster College, he had had a brilliant minor-league career, including a .443 average in 1949.
But Saucier played only a half-season in the majors. He suffered from severe bursitis in the shoulder and batted fourteen times, mostly as a pinch-hitter. He had one hit. After the 1951 season, he was called up by his Naval Reserve unit for two years. Twenty-six when he was discharged, he was too old to make a baseball comeback, and besides, he had wisely invested in Texas oil. One of his wells was pumping 150 barrels a day. The Browns hadn't been paying him much more than the major-league minimum of $5,000 a year.
The St. Louis Browns Fan Club, which has been honoring former players with a luncheon or dinner every year since 1985, has unsuccessfully asked Saucier to speak several times. This year, at its dinner on September 10, attendees will receive a specially printed Frank Saucier trading card. Because of his limited career, Saucier never had a card made by any of the bubble-gum companies.
Bill Rogers, president of the Browns Fan Club, said he had made one more entreaty for Saucier to attend a few years back.
"Sorry," Saucier told him, "I've got some clients I have to be with then."
"Frank," Rogers said, "you're 85 years old. Come on. Can't you let your clients go for a few days?"
Saucier was unmoved. The fan club's dinner, on September 10, will have to once more make do without Saucier, even though his baseball card will be a featured give-away item. Rogers is taking the high road: He will mail Saucier a few cards.Two years before his death, in 1959, a fan sent Gaedel some money to say thanks for the fun he had provided in St. Louis eight years before. Gaedel wrote back and said he would buy a birthday gift for his mother. In the letter, a delusional Gaedel referred to Will Harridge, president of the American League, as a "little bastard" (never mind that Harridge was a six-footer) who "ruined my career."
It is a long, type-written letter. Gaedel went on to say: "I get in fights, because they don't believe I played ball. A cop in Cincinatty arrested me once and said I swore at him. That's a lie. I broke a guy's nose in Chicago when he called me a lier. Sometimes a guy has to do that. Just because I'm a short guy, I aint afraid to use my fists. Sometimes I think maybe I should of never worked for Mr. Veeck. I got a hundred bucks, but it wasn't all good. Even my mother says maybe I should of staid in Chicago. My mother says I have a bad temper and its gonna come to no good."
He typed his full name, Edward Carl Gaedel, and signed it "Eddie Gaedel."
Because Gaedel didn't do many autographs, the price on his signature was once listed as $20,000 in a collectors' magazine. On eBay, the Gaedel scorecard was selling for $1,200 several years ago. And of course, Gaedel's bat fetched the highest price of all, to an anonymous buyer on the Internet.
The seller was Bob Gaedele, Eddie Gaedel's nephew. As it turns out, Eddie was the only one in the family who shortened his last name by one letter. Growing up, the diminutive boy was bullied and ridiculed, and often called "guh-delly." He thought that by dropping the third "E," at least his irritants would say his name right.
Bob Gaedele, 57, wasn't even born when his uncle batted. He was ten when his father, who was Eddie's average-sized brother, gave him the bat.
Bob Gaedele, in a recent phone interview, says that he decided to auction the bat when he was told that it might cost $5,000 to get it appraised, after which insurance might run $200 a month. Heritage Auctions, the company that sold the bat, estimated it might bring $100,000. The final bid was for less than half of that. Gaedele says he doesn't know the identity of the buyer.
Attempts to locate the bat for this article were unsuccessful. A spokesperson for Heritage didn't know if the bat had been resold: "In two years, the bat would not have increased much in value."
Bob Gaedele is continuing his uncle's heritage in another way: His son, Kyle Gaedele, is an outfielder who was drafted by the San Diego Padres.
Kyle Gaedele, 25, is playing for the San Antonio Missions of the Texas League -- a team that Frank Saucier played for 65 years ago.In St. Louis, between 10th and 11th streets on Locust Avenue, is the Tiny Bar, which was opened by Aaron Perlut and three partners in May. The bar is so named for a dimensional reason -- it has three stools and a few tables crammed into its 250 square feet.
The name of the bar has other connotations: The owners hired Phil Jarvis to do the ten-by-twelve-foot Gaedel-inspired mural, and on its drink menu, for $10, is the "1/8" -- an insane combination of rum, orange curacao, pineapple syrup, grenadine, lime juice and bitters. Play it safe and order an Alka-Seltzer for a chaser.
The Tiny Bar's Wi-Fi password is Gaedel-related. Another drink on the menu is the "Yellow Brick Road," which must have something to do with Oz and the Munchkins.
"There's enough big in the world, so we decided to go small," Perlut says. "So here's to the little guy, and nobody in St. Louis exemplifies the little guy better than Eddie Gaedel. He exemplified the underdog spirit that we're trying to acknowledge."
In another bar, the famed Sardi's in New York City's Theater District, a 1984 discussion about Eddie Gaedel's Browns game led to the notion that the Gaedel caper might be developed into a skit for Diamonds, a baseball revue that my friend Steve Martin was producing.
Not that Steve Martin. This Steve Martin was a marketing and advertising executive, and such an impassioned baseball fan that he once traveled to Germany to fungo a ball over the Berlin Wall.
For his Broadway show, Martin was hardly working on the cheap. His team included Betty Comden, Adolph Green and the Tony Award-winning director Harold Prince.
"See what you can give us about Gaedel, and we'll take a look," Martin told me.
In the 1950s, Prince had co-produced Damn Yankees, a musical baseball fable that was a rousing success. But my undoing with Diamonds was Prince, who confessed that he knew little about baseball. Martin was counting on baseball fans as a built-in audience, but for the show to have legs he also needed the non-fan. Prince's sensibilities, he thought, would be an asset.
But when Prince looked at my sketch, he didn't get it. Like Eddie Gaedel's mother, Prince didn't think a midget batting in a baseball game was man-bites-dog.
It's my word against Prince's, perhaps; this is my alibi for missing out on Broadway, and I'm stuck with it. Diamonds opened without my work, but at least Steve Martin paid me a kill fee and sent an invitation to the premiere.
The show ran for sixteen weeks, but they still took a bath. They needed Bill Veeck with Eddie Gaedel in front of the theater, hustling people in.