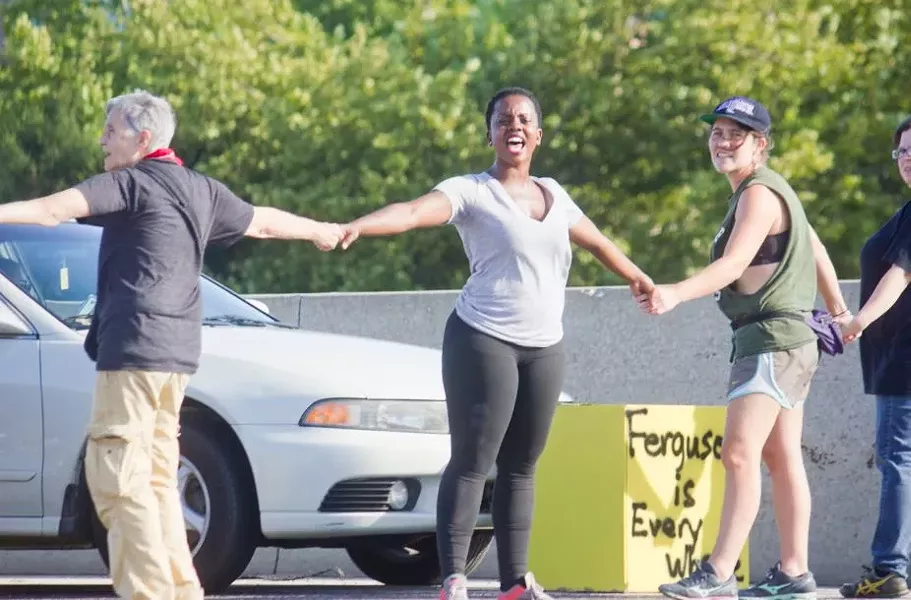 Danny Wicentowski
Brittany Ferrell, a cofounder of Millennial Activists United, lead protesters in chants while blocking I-70 on Monday.
There was a woman collapsing in my arms. Her legs buckled, as if unplugged, and suddenly my hand under her back was the only thing keeping her upright. I guided her to the ground as gently as I could. That's when the seizure hit. I could feel her back arching. Her head jerked, scraping her scalp across the pavement. Her breathing came out in gasps and gurgles.
The sound of this stranger's distress was drowned out by a mass arrest taking place several feet away. Looking up for a moment, I could already see dozens of protesters in various stages of detainment. The area swarmed with police uniforms.
It was "Moral Monday," a day of planned civil disobedience to mark the one-year anniversary of Michael Brown's death, and I was there, in a church parking lot in Earth City, trying to take photos and gather reporting on the arrests. Earlier, a group of 57 protesters — including prominent clergy members and several leaders of the Black Lives Matter movement — stationed themselves in front of the St. Louis federal building and demanded the Department of Justice do more to fix the racial biases poisoning the justice system. They were all arrested.
I spent the rest of the day following a group of activists, led by Alexis Templeton and Brittany Ferrell, who sought to pull off a much bolder act of protest: They aimed to block all eight lanes of I-70 during rush-hour traffic. During a planning meeting, organizers said their strategy would place white allies at the frontlines of the highway shutdown. There they would likely be arrested first, thus providing time for others to escape. The message was both bitter and powerful: For once, white bodies would protect black ones.
The woman in my arms, Melissa Ritchey, was one of those white allies. I cradled her head as tremors shook her body. I didn't know what to do. All the street medics had been arrested.
Danny Wicentowski
More than 60 protesters were arrested Monday after blocking rush-hour traffic on I-70.
I had arrived at the staging area around 4:30 p.m. Although I've reported on two previous highway shutdowns (only one that succeeded), this one already felt different.
The plan called for coordinated maneuvers between two teams of protesters. First were the drivers. They would each occupy a lane and slow to a stop, bringing traffic in both directions to a standstill. The second team would meet at the parking lot of Faith Church in Earth City, which borders a grassy hill abutting the highway. Once the drivers were in position, the protesters would quickly run up the hill and link arms across the lanes.
The plan, it turns out, worked quite well. When I got to the top of the hill, fifteen or so protesters had already formed a human chain across the eastbound lane, and dozens more were arriving. They set down yellow-painted cardboard boxes stenciled with "Ferguson Is Everywhere," creating a rough picket line stretching across the highway. Protest chants competed with car horns.
But not all drivers were content with just venting their anger. I watched a middle-aged woman in an SUV nudge forward into the line of protesters, who then surrounded the vehicle and began shouting through her driver's side window. The SUV accelerated, plowing through the line and crushing a "Ferguson Is Everywhere" box beneath its tires.
Danny Wicentowski
An unidentified female driver plowed her SUV through a line of protesters.
The police weren't far behind, either.
Roughly twenty minutes after the protesters took the roadway, a contingent of officers from St. Louis County Police Department and the Missouri Highway Patrol troopers arrived to push them back. More police cruisers seemed to arrive every second. Shouting orders to disperse, officers quickly corralled the still-chanting crowd to the shoulder. At first, only a few protesters were arrested.
I hung around taking photos of the action, and then headed down the hill. Police cruisers had already arrived in the parking lot, cutting off the protesters' escape route. But it wasn't until most of the protesters had cleared the highway and were walking back to their cars that the mass arrests began. I watched officers trip a legal observer to the ground. By the end of the afternoon, more than 63 people had been arrested.
A few protesters ran. Among them was Melissa Ritchey, a 36-year-old married mother from west county and a frequent protester. When I arrived at the edge of the parking lot, she was there too, watching the arrests and sobbing. Then she began shaking, and I put down my camera and placed a hand on her back. Then she fell into my arms.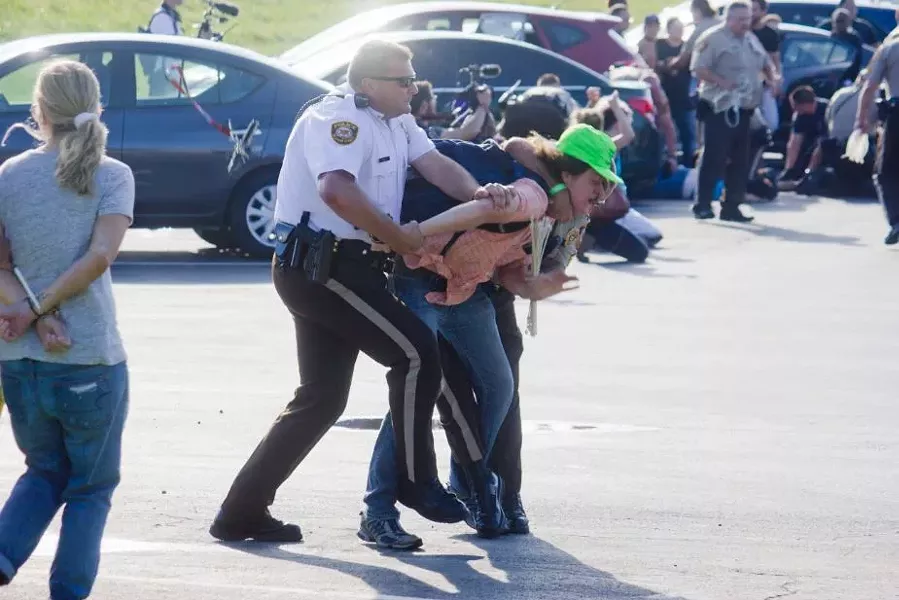 Danny Wicentowski
Several legal observers (easily identifiable by their green hats) were arrested in the aftermath of the highway shutdown.
"Don't try to restrain her," Keith Rose told me from somewhere behind my left shoulder. An activist with the St. Louis Legal Collective, Rose was filming the arrests in the parking lot as I tended to Ritchey.
Two officers approached and asked about her condition. Rose told them the woman was having a seizure and that she had a serious brain condition that required surgery. She needed specialized help. As the officers called for an ambulance, Rose urged them to release one of the street medics on the scene to treat Ritchey. They refused.
A burly St. Louis County officer walked over to Rose.
"Mr. Rose, you didn't get on the highway this time?"
Rose gave no answer. The officer asked again, then grinned.
"I'll check his Twitter real fast and see if he posted anything from on the highway."
The officer returned a few moments later.
"You're under arrest," he told Rose. "You were on the highway with everybody else. You already put it on your Twitter!"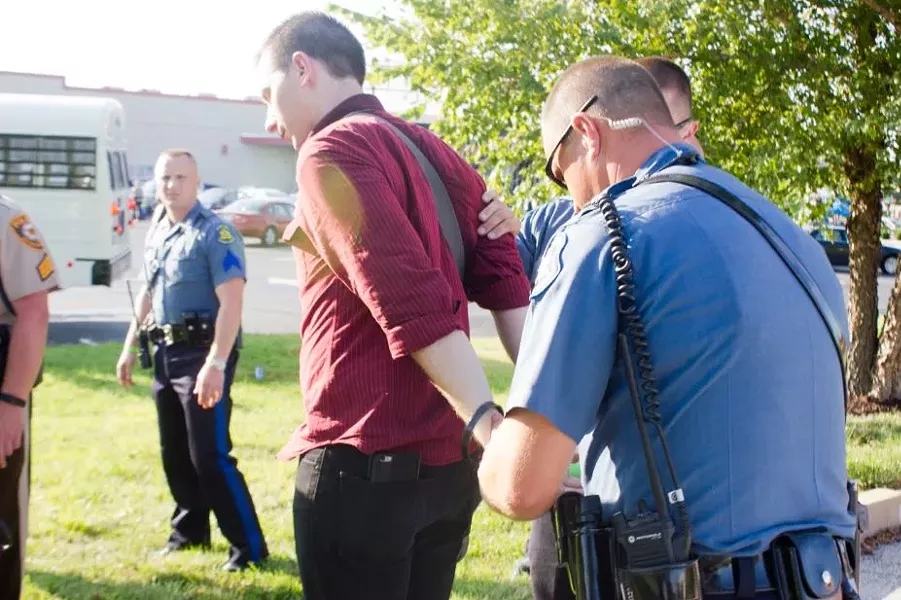 Danny Wicentowski
Keith Rose gets arrested.
Rose was restrained with zip-ties and led to the bustling parking lot, where dozens of protesters now awaited transport to to the Clayton Justice Center. I was left with Ritchey, who was just coming to some sort of consciousness. But her problems were far from over. As she began getting her bearings, a trooper knelt down near her with more zip ties in his hand. He told her she was going to be arrested, too.
Ritchey began to wail.
"They're going to arrest me?" she asked me, her voice thick and groggy.
"I think so," I said. "I'm sorry."
As EMTs arrived, Ritchey handed me her phone and told me to to call her lawyer. She pointed to a text message from him, and I called the number, giving the lawyer the name of the hospital she was to be taken to. Looking through her contact list, I found her husband and called him too.
By now, however, the officers were asking Ritchey for her name and information. She balked.
"Please," she cried, "explain to me why I'm under arrest. Why are you doing this to me?"
A St. Louis County lieutenant stepped into the fray.
"Ma'am, you will give us all the information that we need," he said. "If you don't, I'll follow you from the hospital and when you're released and I'll lock you up. If you cooperate with our officers than we wouldn't have to do that."
This only made Ritchey more distraught.
"Why," she wailed again, "am I being arrested?
"We ain't gonna explain it to you," snapped the lieutenant. "You're a grown woman with intelligence. You know why you're under arrest."
They went back and forth for two more rounds.
"She's under arrest," the lieutenant finally declared. "Follow her. She goes to jail when she's released. Done. Very simple."
Ritchey was taken to the ambulance, but she emerged fifteen minutes later. She walked over and asked a nearby a legal observer for a cigarette.
"They're not going to arrest me," she said. "They don't want to fuck with my head thing."
Ritchey then asked me what had happened after she'd passed out. She said she had no memory of me catching her, Rose's arrest or the officers' demands for her information.
She took a hard drag on the cigarette.
"Fuck them motherfuckers," she said to no one in particular, her voice shaking. "They think I'm going home? Motherfucker. Fuck you. I'm going to Ferguson. Fuck you."
Danny Wicentowski
Melissa Ritchey.
Ritchey did not go to Ferguson that night.
"All of my family tells me not to do it, the protesting," she told me over the phone early this morning. "That it's not safe, that I'm going to end up really hurting myself."
Her family kind of has a point. After living for years with minor, daily seizures, Ritchey said she had recently been diagnosed with intractable epilepsy. She suffered her first grand mal seizure in November during a protest in downtown St. Louis. She's due for brain surgery next month, to remove part of her brain's temporal lobe.
"I've had it since it since childhood, but it's progressively gotten worse and worse," she said. "In Ferguson, I had seizures when they had the weird lights and sound cannons. But those seizures would be, like, I would just stop and stare. Those are my normal seizures that I have eight to ten times a day.
"I'm not allowed to drive," she adds. "I have people that come and help me because I can't use a stove or knives, and I'm not supposed to go outside by myself. My existence with this type of epilepsy, it's almost like you're a toddler. There are people in the movement that volunteer to help me, and so when they go out, I go out with them."
But why, I asked, would you put your health at risk by attending protests that you know could set off another seizure? Wouldn't it be safer to take a behind-the-scenes role?
"It's just something that calls me out to do this," she said. "I just have to do it. I mean, every day you go on your Twitter feed and it's another black or brown life that is being killed by the police. And we have to stand up against that."
I asked her about the highway shutdown, and she said she'd been a passenger in one of the cars intended to block an eastbound lane. But the car ended up getting stuck in traffic far behind the protest line, and so she ended up walking to join the main group. She insists that she never set foot on the highway or blocked traffic herself.
"As a white ally, we have to get out there," she added, rebuffing another of my worried questions about her health. "We can't just say 'Black Lives Matter' and then not get out there and support it. You need to get your feet on the ground. Get your hands dirty. I just wish that there were more of us. More white people out there yesterday. There could have been more white people out there."
Follow Danny Wicentowski on Twitter at @D_Towski. E-mail the author at Danny.Wicentowski@RiverfrontTimes.com