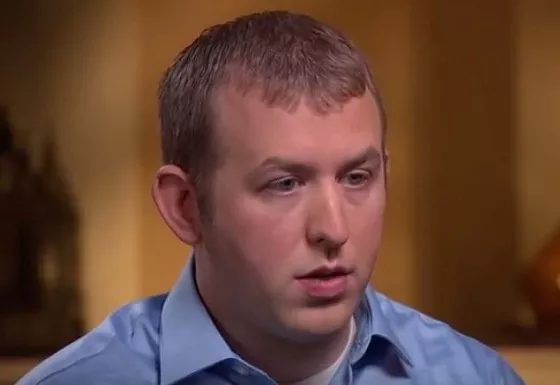 Former Ferguson officer Darren Wilson
The first anniversary of Michael Brown Jr.'s death in Ferguson is still six days away, but the "One Year Later" stories are already rolling in. Riverfront Times has a couple coming out shortly.
Perhaps the most engrossing coverage so far has been a long piece by Jake Halpern in The New Yorker that profiles Darren Wilson, the white police officer who fatally shot Brown.
If you care about what happened that fateful day in Ferguson last August, you need to read this article.
This isn't Darren Wilson's first interview, mind you; he spoke to ABC's George Stephanopoulos in November. But there are tons of interesting takeaways. Here are just six.
1) As a Kid, Wilson Had To Hide His Money From His Own Mother
The fact that Wilson's own mom was not exactly a model parent has been reported, but not at this level of detail:
When Wilson was thirteen, he stopped trusting his mother altogether, because she stole funds that she had helped raise for his Boy Scout troop. He worried that she would steal what little money he made working summer jobs, so he opened two bank accounts. The first, which had almost no money in it, was a decoy. He put his real earnings in the second, secret account.
2) Wilson Wanted to Work in Ferguson Specifically for Its Racial Make-Up
Wilson used to patrol in Jennings, but when that department was shut down in 2011, he actively sought out a new job in a place like Ferguson, which is about 67 percent black.
"When I left Jennings, I didn't want to work in a white area," Wilson told me. "I liked the black community," he went on. "I had fun there. . . . There's people who will just crack you up." He also liked the fact that there was more work for the police in a town like Jennings--more calls to answer, more people to meet. "I didn't want to just sit around all day," he said.
3) He Considers Himself a Cop, Not a Psychologist
Part of the diversity training that some area police departments have undergone since Ferguson involves changing the initial framework of an encounter. Instead of asking, "What the hell is wrong with this kid?" officers are urged to ask, "What the hell happened to this kid?" Wilson doesn't sound all that interested in such an approach.
"I am really simple in the way that I look at life," Wilson said. "What happened to my great-grandfather is not happening to me. I can't base my actions off what happened to him." Wilson said that police officers didn't have the luxury of dwelling on the past. "We can't fix in thirty minutes what happened thirty years ago," he said. "We have to fix what's happening now. That's my job as a police officer. I'm not going to delve into people's life-long history and figure out why they're feeling a certain way, in a certain moment." He added, "I'm not a psychologist."
4) He Doesn't Think The Lack of Good Jobs in Ferguson Causes Crime
This is an issue that came up in the hubbub surrounding the viral video of St. Louis city Alderman Jeffrey Boyd reacting to the murder of his nephew. Wilson doesn't seem to see unemployment as destiny.
"There's a lack of jobs everywhere," he replied, brusquely. "But there's also lack of initiative to get a job. You can lead a horse to water, but you can't make it drink." He acknowledged that the jobs available in Ferguson often paid poorly, but added, "That's how I started. You've got to start somewhere."
5) Wilson Believes Culture Leads to Crime
Wilson recalls dealing with one Ferguson woman who had several "wild" kids.
Once, he arrested some of the woman's kids, for damaging property, but usually he let them go. In his telling, there was no reaching the blind woman's kids: "They ran all over the mom. They didn't respect her, so why would they respect me?" He added, "They're so wrapped up in a different culture than--what I'm trying to say is, the right culture, the better one to pick from."

This sounded like racial code language. I pressed him: what did he mean by "a different culture"? Wilson struggled to respond. He said that he meant "pre-gang culture, where you are just running in the streets--not worried about working in the morning, just worried about your immediate gratification." He added, "It is the same younger culture that is everywhere in the inner cities."
6) Wilson Actually Does Go Out - Sort Of
Wilson now lives in a cul-de-sac somewhere"on the outskirts" of St. Louis - but he does socialize occasionally.
At one point, I asked Wilson if he missed walking outside and going to restaurants. He told me that he still ate out, but only at certain places. "We try to go somewhere--how do I say this correctly?--with like-minded individuals," he said. "You know. Where it's not a mixing pot."