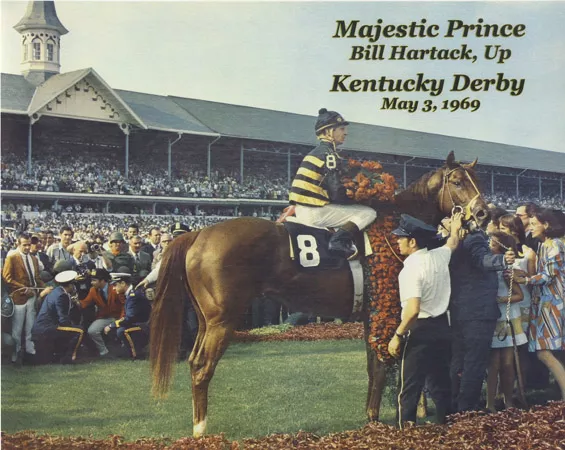 Courtesy Gary Condra
Bill Hartack's fifth and final Kentucky Derby win.
I grew up in East St. Louis, Illinois, and lived there and in Belleville for 26 years without ever hearing of Iberia, Missouri. But then I started writing a biography about Bill Hartack, the Hall of Fame jockey who won the Kentucky Derby a record-tying five times, and right off I needed a Missouri state map.
Hartack, who died in 2007, was buried in tiny Iberia, 900 miles from where he suffered his fatal heart attack, and in a state where he never lived and never rode a horse. How could that be? He was left light-years removed from the neon of New York, the towering palms of Florida and California, the architectural grandeur of Chicago and the twin spires of Kentucky's Churchill Downs, all places wherewith a strong left hand and an innate sense of horsemanship he coerced bloodstock into running farther and faster than most.
Always the bachelor, with no children and two surviving sisters who had left his life decades before, Hartack was virtually pre-ordained to fall into the purview of Gary Condra after he died. Condra was his oldest friend, by a margin of about a half a century, he was from Iberia, and there was room in his family's section of the local cemetery. Connecting the dots was not that hard.
"We hit it off right away," Condra says of the friendship that began in the late 1950s. "I don't rightly know why. I've asked myself a hundred times what made it happen, and never came up with the answer. It just happened, that's all."
Condra was not one-of-a-kind, but he was close. The working subtitle for my book is something about how Hartack "won all those Kentucky Derbys and insulted almost everybody." But not Condra. "We never had an argument," he says. "Not a real argument."The wry Red Smith, a Pulitzer Prize-winning columnist whose formative years at the old St. Louis Star were part of his yellow-brick road to New York, once gave directions to the historic Saratoga race track by saying: "To get there from New York City, you drive north for about 175 miles, turn left on Union Avenue, and go back 100 years." So it is with Iberia.
Condra was born 80 years ago in a remodeled log cabin to an Iberian cattle-and-wheat farmer and his wife. He revisited home this Memorial Day weekend by flying from Miami to St. Louis, renting a car and driving140 miles almost due west. If you see the Rolla sign on Route 44, you've gone too far, although Condra knew the route to Iberia by heart.
He returned to his parents' graves at the Iberia Cemetery, alongside dozens of family members, and inspected the rose bush he'd planted at Hartack's headstone a year ago. (It's blooming like crazy.)
While keeping his parents' small farm, Condra has lived in South Florida since his mid-twenties. A bachelor, he exports and imports cars, working with dealers in the Bahamas and Costa Rica. He's a slick salesman, right? Cornpone smart?
Condra giggles while considering the questions. He giggles a lot. Not really a giggle, but a chuckle. Well, maybe a half-giggle and a half-chuckle. "I'm the farthest thing from a salesman," he says. "If I needed to be a salesman, I wouldn't be doing what I'm doing. Not that I couldn't do it, but it would just be something that I wouldn't want to do. It's mostly referrals. That, and paying attention to what needs to be paid attention to."
Unlike Condra, many of today's Iberians have never left their hometown. The population, at 700, has held steady. Condra's parents, lifelong residents, were well into their 80s when they died there.When I ask Mary Hammack, who is 96 and whose grandfather — John "Squire" Ferguson — was once the mayor, what kept Iberians in Iberia, she says, "It's just a great little place to live."
I ask Condra if he and Hartack, born two years apart, ever discussed death as they moved north of 70. I would have been surprised if they had: Hartack lived for the moment, and didn't have a philosophical bone in his body. He acknowledged, but never contemplated, his navel.
"No, none of that stuff," Condra confirms."But if we had, I can just imagine how it might have went. He would have said to me, 'Where you gonna get buried?' I would have said, 'Back home in Iberia.' And he would have said, 'Well, that's good enough for me.'"
In 2002, Phil Georgeff, who was the premier race caller at Chicago tracks for 23 years, ranked Hartack, Eddie Arcaro and Bill Shoemaker as the greatest jockeys of all time, in no particular order.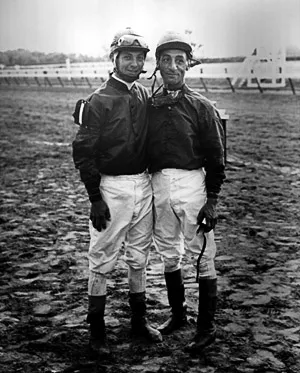 Courtesy of the Deleware Historical Society
Two of the greatest jockeys in racing history: Bill Hartack and Eddie Arcaro.
Based solely on his Kentucky Derby ledger, Hartack would be No. 1. Hisfive Derby wins came in 1957 (Iron Liege), 1960 (Venetian Way), 1962 (Decidedly), 1964 (Northern Dancer) and 1969 (Majestic Prince) — and he needed only twelve tries to tie Arcaro's record. Arcaro, who recorded his fifth win in 1952, rode in the race 21 times. Only one other jockey is close to those two, and it took Bill Shoemaker 26 cracks to get his four Derby wins.
In a U.S. career that stretched from 1952 to 1974 (he later rode six seasons in Hong Kong), Hartack won 4,272 races. His 19.8 win percentage was extraordinary for a jockey. In 1959, at26, he was elected into the Racing Hall of Fame at Saratoga Springs, New York. He's still the youngest rider to ever be enshrined.
But there was a very dark side. Hartack brooded his way through most of his almost 75 years. His father, a hard-bitten western Pennsylvania coal miner, didn't spare the rod, and Hartack seemed to spend the rest of his life lashing back. No one was exempt: His sisters, his fellow jockeys, the horse owners and trainers he rode for; racing officials, track managers and the agents who booked his riding assignments; and especially journalists, who admired the insatiable way he piled up wins, yet grew loth to talk to him afterwards. He would tolerate fans — as long as they didn't call him Willie — and if there was a crack in his crankiness, it was an inexplicable love for children.
He was aloof in the jockeys' room. Hobnobbing with competitors, he said, wasn't good for business. He didn't speak to Arcaro for several years. He could be brutally frank with horse owners and their trainers in assessing the stock they gave him to ride,a candor that closed doors to some of the biggest stables in the game. Once, minutes after losing a race, a trainer asked Hartack, his jockey, what he thought. "You had binoculars," Hartack snapped. "Couldn't you see for yourself?"
He split with one of his many agents, who had been booking his mounts for only five months, on the morning of the Belmont Stakes in which he and Northern Dancer tried to sweep the Triple Crown (the colt finished third). He trusted few turf writers, and after one of his Derby wins he asked three of them to leave the jockeys' room before an interview could begin.Time magazine, which put him on the cover in1958, said it was a shame that he didn't get along with people the way he did with horses.The night that Condra first met Hartack, at a bar at the Miami Springs Villas in Florida, they were both ogling Eastern Airlines trainees, who were attending a stewardesses' school there. Condra had been to the race track maybe three times and didn't know who Hartack was, even though the jockey was already a star.
A 1951 graduate (with 25 others) of Iberia High School, Condra had taken a nibble at studying journalism at the University of Missouri, then joined the Air Force. After his discharge, he went to South Florida to visit his younger brother, a retired Navy pilot. He took a job with a car-leasing company and stayed.
One of the places to go in the late 1950s was the Villas, a sprawling, Spanish-style hotel that had six bars and nine dining rooms. At any one time, dozens of young single women would be staying there through Eastern Airlines.
Hartack, who lived across the street in a rambling ranch house he had bought and remodeled, was also keeping a suite at the Villas. He was known to pick up the tab for the school's graduation parties.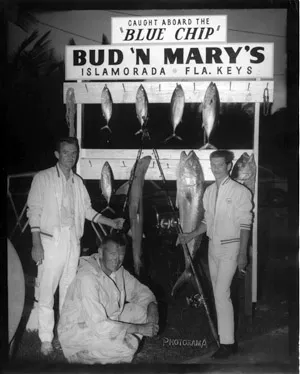 Courtesy Gary Condra
Gary Condra, left, and Bill Hartack, right, on a fishing trip.
In 1957, the year of his first Derby win, his horses earned a record $3 million. Jockeys typically bank 10 percent of what their horses earn, and Hartack was one of the richest athletes in the country. Not many baseball players had even reached six-figure status yet.
Both Condra and Hartack liked to play cards, hunt and fish, and they would go water-skiing near the 79th Street Causeway in Miami. They hunted and fished in Mexico and all over the U.S., frequently on days off near tracks where Hartack was riding. (When Hartack died, he and Condra had been scheduled to go fishing in Costa Rica a few weeks later.)
Like Condra, Hartack never married. He dated the pop singer Connie Francis, a few Hollywood starlets and at least one Playboy Playmate of the Month. The closest Hartack came to marriage, Condra says, was when he fell in love with the daughter of an Australian trainer when he rode in Hong Kong in the late 1970s.
Condra's disinterest in racing was hunky-dory with Hartack, who liked to leave the horses at the track after he finished a day of riding. "If I asked a question about the horses, Bill would take the time to answer it, because he wanted me to know," Condra says. "But Bill wasn't the sort who volunteered a lot."
Their backgrounds were similar, at least on paper. They were both small-town guys who had grown up working hard on the family farms. Condra remembers baling hay for his father in 105-degree, St. Louis-like heat and humidity. Hartack was from Ebensburg, Pennsylvania, 70 miles east of Pittsburgh and, while four times the size of Iberia, still just a village of about 3,000.
Ebensburg has a stop-and-go light now, but Iberia never did. William Hartack Sr., who was Slavic-born and came to the United States when he was two, worked in the mines to support his wife and their three children: Evelyn, whom everybody called "Dolly," was born in 1931; Bill in 1932; and a second girl, Maxine, in 1939.
Then tragedy struck.In 1940, while the two oldest children were in grade school, the elder Hartack, a new paycheck in his pocket, his wife Nancy and their thirteen-month-old Maxine were heading to Johnstown for Christmas shopping. There was a horrible accident with a truck,and the Hartack car was tossed into a ditch. Baby Maxine was thrown through the windshield, while Nancy Hartack, 28, died on Christmas Day.
William Hartack Sr. was hospitalized for several months (a neighbor and her sister tended to Bill and Dolly). A doctor came into the father's hospital room with a release form so they could amputate little Maxine's left arm. The father told the doctor to do something else. Today, Maxine slightly favors two fingers, but otherwise has full use of the arm and hand.
Not long after the elder Hartack and his toddler daughter left the hospital and reconnected with Bill and Dolly at their rustic farmhouse, the home burned to the ground. They all got out, but lost everything except an old Zenith radio, the father's saxophone and a few books from a set of encyclopedias.
"Bill never liked to talk about any of those things," Condra says. "You knew never to bring them up. Every Christmas, he would remember his mother, so even then was not a completely happy time for him. A guy like me, who grew up sort of normal, had trouble relating to all the misery he went through."
The future jockey was an honor student. He stopped growing at five-foot-four, much like the rest of the family. His father was the tallest, at five-foot-seven. Young Bill barely weighed 100 pounds, and in school they called him "Runt" or "Termite." For the graduation photo, they planted him at the end of the front row, next to nine girls, the shortest pupils in the class.
After graduation, he wanted to join the Navy, but they said he was too small. He wanted to work at Bethlehem Steel, but they said he had to wait until he turned eighteen. He talked about coal mining, but his father wouldn't permit it.
Digital painting by Kelly Glueck
The cover of the July 30, 2015, Riverfront Times.
Then a friend of his father's, who worked at a race track in West Virginia, said he was the right size for a jockey. Hartack took a bus to Charles Town, West Virginia,and found a veteran trainer, Junie Corbin, who was willing to teach him from the ground up.
Before he turned twenty, in the fall of1952, Hartack was at another West Virginia track, Waterford Park,where he rode one of Corbin's horses for his first win. The next year he won 350 races, which was more than anyone but Bill Shoemaker, who had gotten a three-and-a-half-year head start. The year after that, Hartack was second to Shoemaker again, but he beat him and everyone else in 1955, with 417 wins, and he would lead the country in wins and/or purses five more times.
As for Hartack's father, he never remarried. After a few years of riding, Hartack bought him a farm in Charles Town. The father relished the opportunity, raising 80 Angus cattle at a time. He was out of the mines, where in his best year he earned $5,000, and not scrimping for the first time.
But in 1963, more than twenty years after his wife's tragic death, 55-year-old Hartack Sr. was shot dead with his own 22-caliber handgun. He and his girlfriend had a violent argument at the farm;there was a struggle over the gun and one of the six discharged bullet shit Hartack Sr. in the chest. The girlfriend, who recovered from a shot in her arm, pleaded guilty to involuntary manslaughter and was sentenced to five years.
At the time of the shooting, 30-year-old Bill Hartack,with three of his five Derby wins already in his pocket, was riding at Delaware Park, 150 miles away.
Their father's funeral was the last time all three Hartack children were together.
Dolly had married a metallurgist and moved to Cleveland. She later moved to Southern California, divorced, fell in love again and now lives in Las Vegas.
As for Maxine, Bill promised to pay for her college, but she dropped out after two years and married Joe French Sr., a jockey. Her brother fretted all the way through that romance. He had told Maxine to stay away from the track — "there are too many low-lifes out there" — but French came to Miami one weekend to ride, and asked Maxine out. "He was very handsome," she recalls. "All the girls were after him."
Eventually the couple divorced; Maxine, who has since remarried, now lives in Charles Town. "A long time after our father died, I wrote Bill to ask him why he never contacted me," Maxine says. "I asked him what I had done to cause that, because I couldn't think of anything. I don't think it was because I married a jockey. People told me that he didn't answer the letter because he probably never got it.
"But after he died, they found that letter in his possessions. It was unopened. He got it, but he never read it."Just before Thanksgiving in 1968, Hartack was hunting elk in Montana when somebody tracked him down and said that John Longden, the trainer of a young, unraced horse named Majestic Prince, wanted him to hurry to San Francisco and ride.
Hartack was almost 36, which is not old for a jockey, but he was fighting a weight issue, he had almost talked himself out of working for any major stable again.
For all of 1968, he barely won 100 races, which would have been four months of riding during palmier days.
But Hartack knew about Majestic Prince's potential, because he had exercised the horse earlier in the year. He acquiesced, and Majestic Prince, never ridden by anyone but Hartack, gave him his record-tying fifth Kentucky Derby win in 1969.
As Hartack's guest, Condra had already seen him win two earlier Derbys, and he was in Louisville for Majestic Prince's bid as well.
Tad Dowd, another friend of Hartack's, tried to crash the winner's circle with Condra for the post-race hullabaloo. Dowd looked silly in a derby hat, something Hartack considered lucky. There was a crudely lettered "Go Prince" piece of cardboard taped around the crown.
Hartack had not yet dismounted when Dowd, only a few feet away, was stopped by twoushers. Dowd, squatting so he wouldn't block photographers, tried to plead his case. Finally, Condra, trying to sound authoritative, shouted to the ushers: "Hey! That guy's with me!"
"Oh, OK," one of the ushers said. "Go ahead, guys." He hadn't noticed that Condra, like Dowd, wasn't wearing a badge.
And so on the trophy presentation stand, in the middle of the Churchill Downs infield before 100,000 fans, there was Dowd, in his silly derby, standing behind Hartack, the wife of Majestic Prince'sowner and the governor of Kentucky for the official photograph.
"You know," Dowd says, "until I saw those pictures, I had no recollection that any of that happened. Bill was toward the end of his career in the U.S., and I was so happy that he had won another Derby. I guess I drifted off into never-never land after the horse crossed the finish line."
By 1974, Hartack's Derby mounts had been downgraded to horses who really didn't belong in the race. The day-to-day part of his business was also at low ebb. He accepted a lucrative deal to ride in Hong Kong, where horses can carry higher weights than in the U.S., and rode there seasonally for six years. "He loved it over there," Condra says.
In the early 1980s, with Hong Kong behind him, Hartack quickly became an accomplished racing official in the U.S. — even though he was denied jobs at many major tracks because of bridges he had burned while riding.
At California's Hollywood Park in 1984, even though he was a minor official, Hartack was entrusted by the three stewards with conducting a hearing that settled an appeal by two losing horse owners over the running of the $3 million Breeders' Cup Classic, the richest race in the land. I was there. Hartack was brilliant with his analysis of the film footage of the race. "I still don't agree with the stewards," said one of the owners as he left the room. "But after the way Hartack laid it out, I gotta go along."
In the fall of 2007, Hartack's assignment as a steward at the Fair Grounds in New Orleans was winding down. He and Condra had found more time to hunt and fish, and in November Condra called from Florida and they scheduled the fishing trip for Costa Rica in January. They would see plenty of sailfish and grouper down there, and Condra might even broker a few cars in the bargain.
Instead, weeks later, Condra got a call from Steve Stidham, a former race-track photographer who was now running his own photo business in Texas. Stidham,the son of George Stidham, a former jockey who had been Hartack's business manager and part-time agent over the years, had been contacted by several media outlets. They were running obituaries of Bill Hartack and needed photographs.
Steve Stidham was well aware of the close relationship between Hartack and Condra. Condra who was the first person he called. That's how Condra learned that his best friend was gone.
Bill Christine
Bill Hartack's grave.
Hartack had died on November 26 near Freer, Texas, 65 miles from the Mexican border, while just starting a hunting trip. He was fourteen days shy of his 76th birthday.
Almost every year, he went there for deer and feral hogs on a game preserve of thousands of acres. He had arrived before the rest of his party, and a game warden, curious that a car with Louisiana plates hadn't been moved in a couple of days, found him face up on the floor of his leased cabin. The medical examiner said that the cause was heart disease.
"It's possible that he had it and didn't know it," says. Roseann Williams, a Los Angeles realtor who dated Hartack in the 1970s. "He smoked three packs of cigarettes a day, and I don't think he ever quit. Bill was never much for doctors."
Condra called Hartack's sisters, who by then had heard about their brother's death from media reports. Hartack hadn'tspoken to Dolly for about 40 years, Maxine even longer. The sisters agreed that Condra should be executor of the estate, and in a few days he told them about his plan to bury Hartack in Iberia.
Condra flew to Texas to claim the body and had it flown to Missouri. There was a graveside service in Iberia in early December,followed by a memorial service in Florida — mostly for horsemen — where the trainer T.J. Kelly, who gave Hartack horses to ride early in his career, delivered a stirring eulogy.
At the Iberia service, which was not well-publicized, about 40 people attended, most of them friends of Condra's from the town. Churchill Downs sent a representative, which was a mild surprise. Although that was the track where Hartack's greatest victories came, Churchill and Hartack were no longer simpatico — Hartack was known to say no when they invited him to do promotional appearances for the Derby.
There are 1,328 graves in the Iberia Cemetery, almost twice the number of people who live in the town. Condra's great-great uncle Andy and his three brothers, who fought for theUnion army in the Civil War, are among the more than 30 Condras buried there. There is a large Condra grave marker just behind Hartack's.
The $100-a-monthmayor of Iberia, Jim Schlupp, says he was not familiar with Hartack until workers in his office began discussing him several years ago.
Pretentiousness not being his bag, Condra didn't want the headstone for his best friend to be the biggest or the tallest in the cemetery,but the grave is still one of the most impressive on the grounds. The granite marker reads: "William 'Bill' Hartack. Born Dec. 9, 1932. Died Nov. 26, 2007. Winner of Five Kentucky Derbys. One of the World's Greatest Jockeys. Dedicated to Honesty and Integrity in Racing." Next to the grave is an eight-foot-long bench with Hartack's name and dates engraved.
"I imagine that if you asked around Iberia, not many would know who Bill Hartack was," Condra says. "All a lot of people would tell you is that there's a famous jockey, and he's buried out there. But I'm glad I did what I did. I know Bill is happy there."
Bill Christine lives in Redondo Beach, California. His biography of Bill Hartack is scheduled to be published by McFarland & Co. Inc. Publishers next year.