On July 13, leaders in Dent County, Missouri voted to fly flags at half-staff on two public buildings to protest the "despicable Supreme Court travesty" of allowing gay people to marry each other.
Facing a national backlash, the Dent County Commission ditched the plan the very next day. But resident Jacob Wilson decided to capitalize on the attention by launching The Missouri Courage Scholarship. His idea was to recognize high school seniors who stand up for the LGBT community and for all other marginalized groups.
Wilson set up a fundraiser on the website Crowdrise. His goal: Raise a thousand dollars a day for every day the Commission had voted to lower the flag (so, twelve days in all).
Riverfront Times is pleased to report that he has succeeded.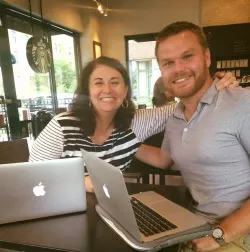 Image via
Steidtmann and Wilson, administrators of the Missouri Courage Scholarship
Wilson says on his project's Facebook page that he got donations from all across the United States and as far away as Brazil. He's going to manage the scholarship with long-time St. Louis LGBT rights advocate Geneviève Steidtmann.
They plan to give out two awards annually: One will go to a graduating senior at Salem High School in Dent County. The other will go to a graduating senior from any other Missouri high school. Eligible students will have "worked to advance the dignity and equality of the LGBT community, the lives of people of color, religious minorities, women, immigrants, and people with disabilities."
Here is the project's Facebook page.