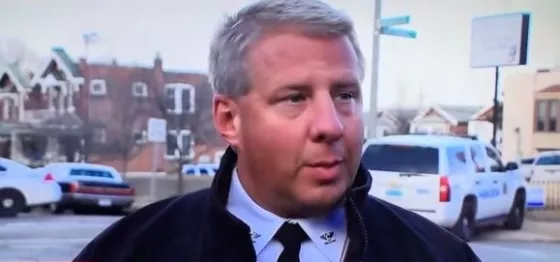 Sam Dotson tells RFT, "If St. Louis had Uber, I would use it."
The last big sticking point in negotiations between UberX, the ride-hailing app that wants to launch here, and the Metropolitan Taxicab Commission (MTC), which regulates the industry, is not actually background checks.
Everybody agrees it's important to get thorough background checks on all aspiring drivers-for-hire.
The debate is: Can you get that without a fingerprint? The MTC says no -- and that, in any case, state law requires one.
But Uber believes you can. And now, so too does St. Louis Metropolitan Police Chief Sam Dotson.
"Uber has a very reasonable system and a very responsible system," he says. One aspect of their check does concern him, he says, but "it's not a deal-breaker" and only involves a miniscule proportion of potential drivers.
Uber relies on a third-party service called Checkr to do its background checks. Checkr runs a candidate's info through sex offender registries, criminal records and motor vehicle records from the local to the national level. It also verifies an applicant's social security number.
Checkr from Daniel Yanisse on Vimeo.
According to an Uber fact sheet, an applicant is disqualified from being a driver-partner if their record shows convictions for:
DUI or drug-related driving offenses fraud reckless driving hit-and-runs violent crimes acts of terror sexual offenses property damage resisting/evading arrest fatal accidents theft/burglary/stealing/robbery and any other felony
What's more, an UberX applicant is disqualified if, in the past three years, they had three minor violations (such as accidents, speeding tickets, traffic violations) in the county where they want to operate, or were caught driving without valid license or insurance in the state where they want to operate.
Dotson says he recently attended a meeting with Uber and Checkr to learn how it works. He considered it "very thorough." One vulnerability, he observes, is that sometimes people commit crimes, then change identities and move from state to state.
"Uber's system can potentially catch some of that," he says, meaning it can link seemingly disparate crime data to one perpetrator. "If they move around a lot, it gets harder."
Next: The MTC defends its methods
Fingerprints -- unlike social security numbers and addresses -- cannot be altered, so they're "one of the best ways" to do a background check, Dotson says. "But there are other ways to get at that. And is any system foolproof? No."
Image via
To fingerprint or not to fingerprint?
MTC attorney Neil Bruntrager argues that, first, state statute explicitly requires MTC to run fingerprints through both the Missouri State Highway Patrol and the FBI. So if Uber wishes to be free of that burden, they must convince legislators in Jefferson City to change the law.
Secondly, Bruntrager argues that an Uber background check will necessarily miss important criminal records in Missouri.
Take the case of a man arrested and charged with DUI. In the vast majority of cases in this state, if he's a first-time offender he will receive a "suspended imposition of sentence," meaning that after he successfully completes probation, the record of that arrest will vanish by law from public view -- and Uber's system would not detect it.
A fingerprint check, however, will catch it. And such a DUI arrest is sufficient grounds for the MTC to deny an applicant a taxi license, Bruntrager says.
(Uber argues that fingerprints maybe be smudged or not entered correctly with every crime, so that system isn't the "gold standard" its proponents claim it is.)
Even if some Uber supporters concede a fingerprint check is more thorough, they may still be willing to assume a bit of extra risk in exchange for a more nimble, smart-phone-friendly ride system.
Regardless, Bruntrager argues, it's inaccurate to claim that getting into an Uber car is purely a free-market choice between rider and driver, without affecting anybody else.
"If I get into an unregulated car," he says, "and I get injured, it's not just affecting me, because I may not have insurance. It has a broader impact." (The insurance issue is one to which we'll return in a later post.)
Bruntrager says that the MTC has offered to set up a sort of kiosk where Uber drivers could come in and get a provisional license so that they can get started. In doing so, the drivers would also submit their fingerprints for a background check. It normally costs $45; the MTC is open to waiving the fee.
Meanwhile, police chief Dotson says that some aspects of the Uber platform may prove safer than the taxi system, such as the way the app enables cashless transactions, and how all communication between driver and rider moves through the app, without revealing cell phone numbers. He sees Uber as a "natural progression" as society evolves.
"If St. Louis had Uber," Dotson says, "I would use it."
We welcome tips and feedback. Please contact me at nickp@riverfronttimes.com