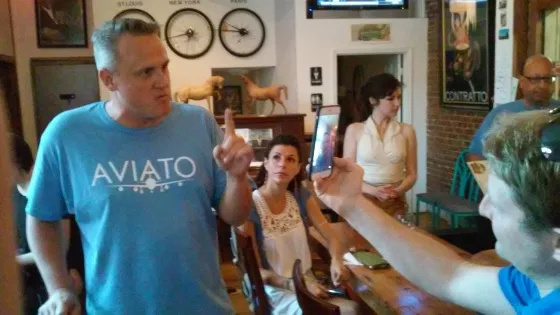 Photo by Nicholas Phillips
Ed Domain, anti-MTC crusader, speaks to the Periscope streaming app
Many yearn for St. Louis launch of UberX, the ride-sharing app, just as much as they distrust the Metropolitan Taxicab Commission, or MTC, for standing in the way.
But nobody -- nobody -- is invested in this fight quite like Ed Domain.
In the past three days alone, this man -- founder and CEO of the locally based startup Techli -- has tweeted about 250 times, almost exclusively on this topic. Often, he's soliciting support from bigwigs, from Mayor Francis Slay and County executive Steve Stenger all the way up to U.S. senators and congressmen. But most of the time, Domain hammers away at the MTC as "corrupt" and "morally bankrupt." He pleads, harangues, and sometimes, threatens.
Until now, Domain has fought this crusade almost totally online. That's changing. Last night he held a rally at Yaqui's on Cherokee Street, attended by about twenty supporters. He also has a protest planned for tonight's St. Louis County Council meeting.
"This is my now my full time job," he tells Riverfront Times. "I've got nothing to lose."
Domain's personal story is compelling, and he's already told it himself at length on his website. But here's a quick run-down:
A Chicago native and U.S. military veteran, Domain was lured to St. Louis by Archgrants, a program that gives startup capital to companies in exchange for basing their operations here.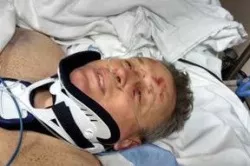 Image courtesy Ed Domain
Ed Domain in the hospital after his accident in an uninsured cab
But in May 2013, Domain was in a horrendous car accident while riding in a Harris Cab taxi. The cab was uninsured -- which is against MTC regulations -- and the resulting medical bills and grueling recovery devastated Domain's business and personal life. He lost venture capital funding for Techli, he says, and was unable to recover any relief from Harris Cab.
Which is why he could scarcely contain himself when he heard a Harris Cab operations manager on talk radio criticizing Uber for failing to master the "kindergarten" skill of "following the rules."
The hypocrisy, he says, threw him into an apoplectic rage. Ever since, Domain has gone full throttle on Twitter against Harris Cab, the taxi commission, and three men associated with it: Chairman Lou Hamilton, spokesman Ed Rhode, and attorney Neil Bruntrager.
Whether you think Ed Domain is crazy -- and some do -- you can't deny that he's focused. He has already rallied a well-connected army to his side.
At Yaqui's last night, for example, attendees included Joe Bannister, chair of the Missouri Technology Corporation, along with Pushup Social CEO Dan Lohmann, Alderwoman Cara Spencer, and about 17 other entrepreneurs, professionals and neighbors.
One attendee interviewed Domain via Periscope, a streaming app that allowed online users from anywhere in the U.S. to watch the meeting remotely.
With a KETC Channel 9 camera rolling, Domain spoke to the crowd in nothing more than a t-shirt, gym shorts and sneakers. He looked ready for pick-up basketball -- until you noticed his limp, and the long scar running down his leg.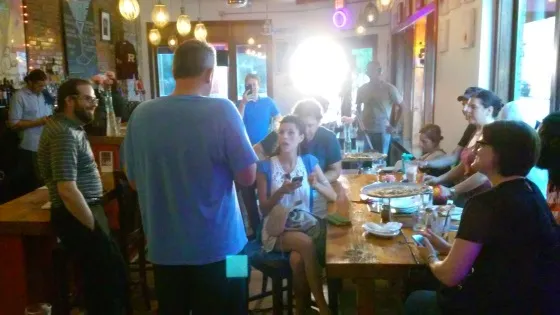 Photo by Nicholas Phillips
Ed Domain addresses a small ride-sharing rally at Yaqui's
Netizens use the acronym "IRL" to denote "in real life." Domain's first IRL event for his anti-taxi, pro-Uber campaign was a bit awkward.
"Whoops," he said, fumbling with his index cards during his speech, "that one's a little bit out of order. Good thing we're broadcasting across the country." He also joked about going blind from the TV crew's lights.
But he was clear about what he wants. He wants higher liability coverage for taxis and more commissioners friendly to ride-sharing on the taxi commission.
"We shouldn't be playing catch-up," he said. "It's embarassing. St. Louis should be doing things first. Other cities should say, 'St. Louis is innovative, St. Louis is making it happen, St. Louis is getting it done.' When are we going to have a great St. Louis, instead of just a functional St. Louis?"
Everyone applauded.
It will interesting to see how many supporters join him tonight at the St. Louis County Council meeting tonight -- and what kind of reception he gets.
We welcome tips and feedback. Contact the writer at nickp@riverfronttimes.com