Emily McCarter
Uber general manager Sagar Shah stands with Uber drivers outside of the Metropolitan Taxicab Commission to deliver signed petitions and comments from the public.
For an argument about technology, the latest public relations offensive in the battle between ridesharing app Uber and the Metropolitan Taxi Commission, or MTC, was ridiculously old school.
At 1:30 p.m. yesterday, Uber General Manager Sagar Shah, along with six Uber drivers, rang the doorbell of the MTC's beige brick headquarters near downtown St. Louis to drop off hundreds of comments and a petition with 7,000 signatures, urging regulators to allow the entry of UberX into the St. Louis market.
They called them "UberLETTERS." But instead of being delivered the tech-savvy way -- by smartphone or text message, perhaps -- they were on actual paper printouts.
Blame the taxi commission for that.
See also: Uber Dispute Leads to Nasty Words, "Insufferable Douche" Allegation
When the commission invited comment on the Uber situation, it said that only letters delivered via snail mail, fax, or hand-delivery would be considered -- no email or online commentary was allowed.
So Uber decided it could play that game. The tech company used its own drivers to pick up citizens' letters from their houses and deliver them to the MTC office.
Letters delivered? Check.
Press spectacle created? Also check.
Several television station reporters rolled up in their brightly outfitted cars, advertising their given channel number and call letters. The actual "press conference" was even postponed a few minutes so that one reporter could set up his equipment and secure a microphone on Shah.
"It was disappointing to hear that [the MTC] was only accepting feedback in written or physical form, and we wanted the people of St. Louis' voices to be heard and I think you can see here that there are a lot of voices that want to be heard," Shah told the reporters.
Alas, as KMOX later reported, the spectacle was more stagecraft than actual letter delivery: All but one of the boxes was devoid of letters.
One box carried close to 900 letters, the TV station reported. Eight boxes each contained one bottle of water. (Uber later explained it wanted to help keep the commissioners hydrated.)
Shah delivered his remarks while standing strategically in front of the door to the taxi commission, next to dozens of boxes, with his posse of Uber drivers huddled around him.
"We're here today because today is the deadline for the Metropolitan Taxicab Commission receiving public comments regarding the issue of ridesharing," he says. "As you all may know, St. Louis is the largest metropolitan area in the United States without ridesharing, and the people of St. Louis have something to say about that."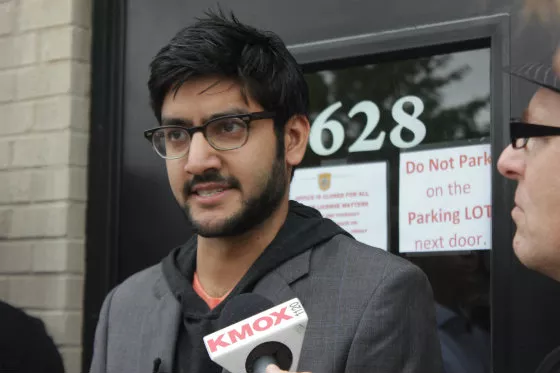 Emily McCarter
Sagar Shah responds to questions from press outside of the MTC.
The petitions ask the MTC to pass modern regulations to allow ridesharing in St. Louis, which will allow Uber to enter the market, Shah explains.
Right now, Uber and the MTC disagree upon the steps applicants need to take in order to be approved as an UberX driver. The taxi commission wants background checks with fingerprinting and drug tests, as are currently required of cabbies, while Uber insists it can do its own comprehensive background checks online, without fingerprints or drug tests.
"Those things don't add any element of safety, and at the end of the day, the goal is to provide safety on the road," Shah says. "There are nearly 50 jurisdictions in the United States that have realized that the world is changing and it's important to change regulations with that, not the other way around."
UberX has already received thousands of applications for potential drivers. Some St. Louisans have been driving for Uber in Illinois since March, patiently waiting for the MTC to approve ridesharing on the west side of the river.
The process has been difficult, but it doesn't look as if Uber is giving up any time soon.
"Its definitely been difficult. We've been working on it for over a year now, having UberX in St. Louis," Shah says. "We encourage the MTC to listen to the people of St. Louis."
The taxi commission is expected to vote on new regulations for ridesharing drivers at its meeting later this month.
Editor's note: This story was updated after publication to include details about the contents of the boxes after the taxi commission opened them.
We welcome tips and feedback. Contact the writer via email at emily.mccarter@riverfronttimes.com.