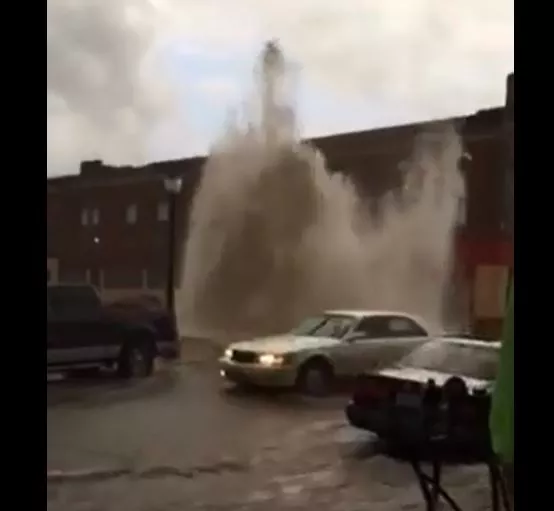 Image courtesy of Thomas Eversmann
Another view of the Cherokee geyser
In the past week, the Metropolitan Sewer District has welded down sewer grates and is actively trying to fix the so-called "Cherokee Geyser," according to developer Jason Deem. "They've been very helpful and responsive in investigating the problem," says Deem, who owns property at all four corners of the intersection at Cherokee Street and Texas Avenue, where the geyser blew its top last week.
The Metropolitan Sewer District told Riverfront Times on Monday that the geyser appears to be caused by an unusually high Mississippi River on one side and a rush of rain water on the other, creating pressure that drives the water in underground pipes upward -- and erupting onto Cherokee Street.
Sewer district spokesman Sean Hadley did not know whether the eruption happens by design to relieve pressure, or whether it's a design flaw that can be repaired; the district is "investigating the matter."
See also: The Cherokee Geyser Is Real -- We Have the Video to Prove It
What is clear is that the geyser causes serious flooding, which can be a real problem for merchants in that area. That's evidenced by yet another video Riverfront Times obtained yesterday, shot by Cherokee resident Thomas Eversmann. It's perhaps the most epic of all:
One of Deem's tenants, Nick Schiro of the Failed Society apparel store on the southwest corner, says his basement quickly flooded with several inches of water when the geyser erupted. The water ruined items he had in storage; he had to use a Shop-Vac to get hoover up the liquid. Across the street, Art Monster Tattoo suffered a similar problem, as we reported yesterday.
And Cherokee is not the only place in the city with a geyser issue. Shaw resident Shirley Shea Hirst saw this geyser on the evening of July 1 in her neighborhood, at Thurman and Botanical avenues:
Image courtesy of Shirley Shea Hirst
Another geyser at Thurman and Botanical avenues in the Shaw neighborhood
"I approached with caution to see the manhole cover 'rumbling' and sort of bouncing around with water starting to spew out," Hirst tells us.
Beyond flooding, that's another big risk associated with these geysers: if a manhole cover shoots up too fast in the wrong direction, it could mean serious property damage.
The sewer district welded the grates on Cherokee in place last week after getting complaints from residents there; it's not clear if they plan similar efforts in other neighborhoods at this point.
If any readers have spotted any other geysers in the city of St. Louis, please send your videos and photos our way.
We welcome tips and feedback. Contact the writer via email at nickp@riverfronttimes.com.