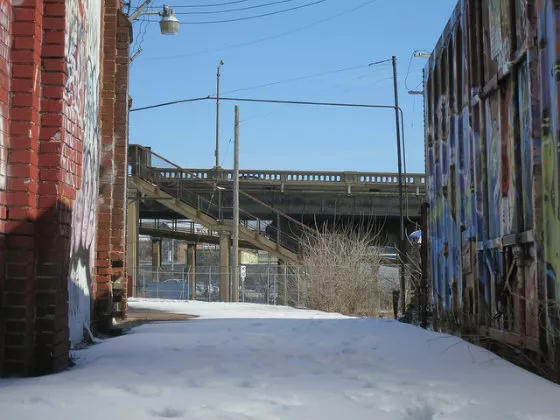 Photo Courtesy of Flickr/Paul Sableman
The Kingshighway Viaduct, circa 2013
Earlier today, the Kingshighway Bridge closed over the Union Pacific Railroad tracks between Southwest/Vandeventer and Shaw Boulevard. Over the next two years, the bridge will be demolished and rebuilt.
We found ourselves getting nostalgic for the Kingshighway Skate Park after a properly joyous send-off this weekend.
See also: Things Got Rowdy at the Kingshighway Skate Park
But after watching an oddball video that recently surfaced on YouTube, we're also getting oddly nostalgic for the bridge itself.
Did you know, for instance, that some people believe the Mayans built the bridge before St. Louis' humidity drove them south to Central America?
Or that "people from as far away as Cleveland have driven over this bridge ... just because it was there"?
Yep, the narrator on this thing is a veritable treasure trove of south St. Louis history. Watch the video to learn more:
And if you're stuck in traffic cursing the two-year, $21 million project, remember this: The new bridge will be 90 feet wide, which is an additional 24 feet. And that means three wider lanes of traffic in each direction, plus wider sidewalks.
Even better? A dedicated left turn lane will allow southbound Kingshighway drivers to make left turns onto Shaw heading east. Somehow we doubt even the Mayans with their fancy calendars could have predicted that one. Progress!