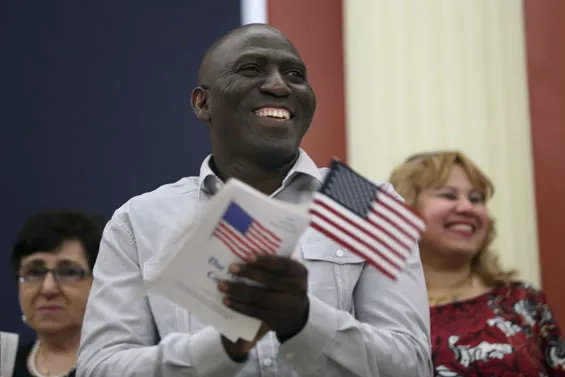 Photo by Shelby Kardell
Adetola Olayefun, who became a U.S. citizen on June 12.
A gleaming white smile breaks across Adetola "Tola" Olayefun's face as a stream of five elementary-age boys and girls stroll into the burnt red courtroom rotunda. These children, accompanied by several teachers, are from St. John School in Ellisville, where Olayefun works as a janitor.
They've come to celebrate Olayefun's new United States citizenship.
Olayefun, a native of Nigeria, was selected along with nine other immigrants to participate in the June 12 Naturalization Ceremony at the Old Courthouse downtown. U.S. District Court Judge John A. Ross presided over the event.
- See also: Slideshow: Meet 6 of St. Louis' Newest Citizens
The immigrants come from countries around the world — Bosnia, China, Albania, Iraq. They have never met each other before, but on this day, they will all become American citizens together.
Olayefun's journey to citizenship started in 2000, when he came to work in America on a visa. He has been working at St. John since December 2012, building strong relationships with the students and staff at the Lutheran elementary school, thanks to his ever-present smile and penchant for high-fives.
"Tola is a wonderful man. The kids just love him; they just think he's fantastic," says fourth-grade teacher Jennifer Holshouser, one of eighteen St. John School staff members who came to the courthouse to support Olayefun. "The kids just rallied around him, and when they found out that he had passed the test and was getting his citizenship, we were all just really excited for him."
In 2013, 779,929 immigrants were naturalized as United States citizens. That includes 4,817 in Missouri — more than half of whom were residing in St. Louis, according to the U.S. Department of Homeland Security.
Getting to that point is not an easy task.
Immigrants hoping to become naturalized citizens must be at least eighteen years of age. They must have been living in the United States for five years as a lawful permanent resident, and have been physically present in the U.S. for at least 30 months. They must also have "good and moral character," be able to speak, read, write and understand the English language, and have basic knowledge of U.S. government and history.
The ten-step process of proving themselves ready includes preparing and submitting an application, getting fingerprinted, undergoing an extensive background check, completing an interview with the U.S. Citizenship and Immigration Services office, and passing English and civics tests.
The process takes an average of six months, depending on the person and the location. In areas with heavy immigrant populations, it can take several years.
"It really is a journey," says Judge Ross. "And the naturalization ceremony is the final step in that journey. It's a celebration of their efforts in becoming a citizen. It serves as a reminder to all of us as United States citizens when you see what people do in order to become a citizen and what is involved in citizenship."
Antoneta Haxholli, a blonde woman from Albania, sits third from the left in the first row of new citizens. Her brightly patterned skirt matches her glowing face as she nods at everything Judge Ross says in his introduction to the ceremony.
For Haxholli, completing the civics and English tests and passing the interview were simple. She is nearly fluent in English.
"The interview is easy. I mean, if you speak English, then it's easy. If not, then you will not understand anything," Haxholli explains.
Haxholli and her husband came to St. Louis from Albania several years ago to pursue a better life.
"My sister-in-law lives here, so she was always telling us that, 'It's good here, you live good,' and she always said good things about St. Louis and America, so that's why we decided to move here," Haxholli says.
But an immigrant's story is almost always a difficult one.
"We had jobs in Albania and were living very good there, and when we came here, we had to face a lot of looking for jobs, finding and not finding one, so you have to start from zero, wherever you move — it's not only if you move from Albania to America, it's wherever you move," Haxholli says.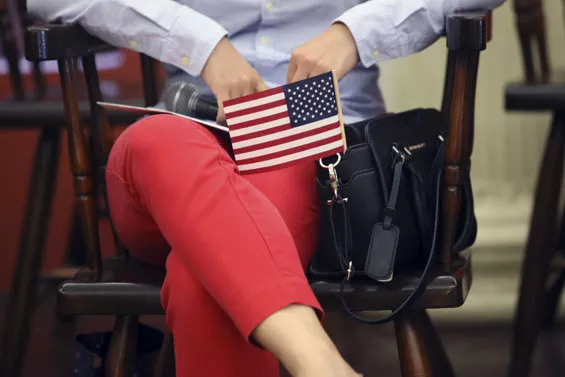 Photo by Shelby Kardell
Demira Handzic came to the U.S. from Bosnia-Herzegovina.
With a bachelor's degree in English education, Haxholli found a job working as an assistant director of a preschool center. Her husband, who didn't speak English, didn't have as much luck. He'd had his own business in Albania, but here he found himself hustling just to get a menial job.
Frustrated with how little money he was making, Haxholli says, he was ready to give up on America. Then she found out she was pregnant.
"Now he's working in a factory and has been working there for six years," she says. "So now he's good and [his job] is set, but at first it was really hard for him."
Now he, too, is in the process of applying for naturalization.
Some of the immigrants at the ceremony have had an easier time, including Demira Handzic. Currently a student at Truman State University, she's from Bosnia and Herzegovina, but has lived in St. Louis almost her whole life. Her English, not surprisingly, is perfect.
"I feel like I'm at home," she says.
It was her parents who chose St. Louis: "They were both born in Bosnia too. When we first came to the States, St. Louis was the first place that we came to, and we've been here since. We had family here before, so it was a little easier having somebody here that you knew and helping you translate."
Her only regret: That her parents can't be here today. They're both at work.
Olayefun, in contrast, has a whole cheering section — students, teachers and staffers from St. John School who came to support him at the ceremony.
"He's more than a janitor, he's a friend," says teacher David Lochmann.
In fact, Lochmann let Olayefun join in with his seventh-grade class when they were studying the U.S. Constitution — "he sat with us for about four weeks" as preparation for his civics test.
It wasn't just Olayefun who benefited from the class time.
"The seventh graders really got to see that this is meaningful, that there's a purpose to this, that there are people that still think this is a great country and they don't want to take it for granted, and they also want to become citizens," Lochmann says. "All of the things that they learned were all relevant and meaningful whenever they were interacting with Tola."
As for Olayefun, he's almost too excited to speak about his newly earned citizenship.
"I feel great. I passed the test, and here I am today," he says. "In the process of taking the test, I learned so much about the history of the country, the U.S. constitution; it's so great. I love that."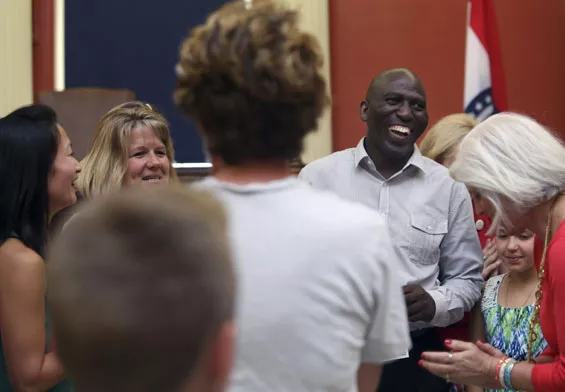 Photo by Shelby Kardell
Adetola Olayefun with his supporters from St. John School in Ellisville, where he works as a janitor.
Even the St. John School principal is in attendance.
"It's been so great for our students to realize that there are authentic reasons for learning what they're learning, they were learning about the Constitution and Bill of Rights," says Heidi Hays. "To them it seemed kind of perfunctory, until they got to see it through somebody else's eyes."
No matter the path that each immigrant took to get to this point, they come together on this Friday at 1:45 p.m.
Judge Ross invites all of the immigrants to stand and raise their right hand, or to affirm if they are more comfortable. His deputy clerk then requests that all of them repeat the oath of allegiance on her direction.
It takes two minutes for the immigrants to say the oath, renouncing all "allegiance and fidelity" to other nations, and stating their duty to support and defend the United States against all enemies, foreign and domestic.
The ten new citizens raise their voices in unison as they repeat the last lines of the oath: "I take this obligation freely, without any mental reservation or purpose of evasion: So help me God."
We welcome tips and feedback. Contact the writer at [email protected]