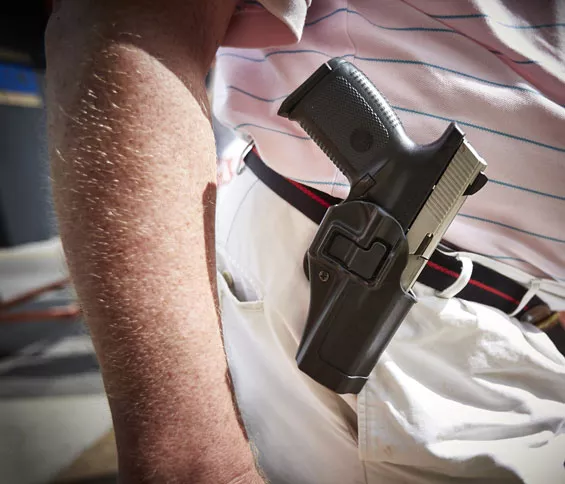 Photo by Theo Welling
Jeffry Smith: armed, but, he says, not at all dangerous.
It's just another day at the Saint Louis Zoo, a Saturday in June, and the air is thick with humidity, sweat and sunscreen. Children drag parents along winding pathways to see the new polar bear, to get another soda, to find a bathroom, to have their faces painted like tigers. But something is amiss outside the zoo's south entrance.
There, five police officers stand guard near the turnstiles. Just down the sidewalk a dozen people — nearly all women — wave signs reading "Animals not Ammo" and "Gun-Free Zone." The protesters stare daggers toward Jeffry Smith, a towering, pot-bellied bear of a man stuffed into a pink polo shirt and white shorts. He wears a maroon visor cap stenciled with the name of a Florida country club. He also wears a pistol holster on his waist, but it's empty. It looks like a chunky cell-phone case sold at a mall kiosk.
Smith, 56, has stationed himself in a patch of shade beneath a pedestrian bridge near the entrance, a slightly more comfortable spot to field questions from the gaggle of reporters on scene. He's surrounded by cameras and microphones.
"So, it's my understanding that you're from Cincinnati," begins a FOX 2 reporter. "Why come all the way here to Missouri to make this statement?"
Smith, who at six-foot-nine looms over the man, grumbles back, "I didn't."
He continues: "I came to Missouri to engage in some personal private business. This, being here today, is because a friend of mine had an incident with the zoo, and I offered to help him out with the circumstance."
The reporter attempts a followup question but it gets buried beneath Smith's deep voice, which has a droning, measured quality that smothers anything in its path.
"The other thing I want to make clear," Smith continues, "and it's something other media have misstated, is that this walk was never going to involve long arms, and by that I mean rifles and shotguns."
This is Smith's usual demeanor with the media — constantly clarifying, framing and fact-checking. But beneath the unflappable exterior is a man realizing that he has lost control of his own creation.
A gun-rights activist, Smith spent weeks stirring outrage over the zoo's ban on firearms, which he considers illegal under the sweepingly permissive gun laws Missouri voters enacted in 2014.
With that legal backing, Smith had hoped to stage an armed protest walk through the zoo featuring himself and Sam Peyton, a fellow activist who claims zoo security guards threatened him in May for sporting an empty pistol holster. The plan was for Smith and Peyton to enter the zoo openly carrying pistols.
But now the plan is gone, blown away by a temporary court order that bars anyone from entering the zoo while packing heat. With the legal question still up in the air, and unwilling to risk certain arrest, Smith and Peyton decided they would enter the zoo while wearing empty holsters, a symbolic challenge to the zoo's "authoritarianism," Smith says.
Now Peyton is 30 minutes late and not answering Smith's calls or texts. That leaves Smith facing the media circus. But he's not alone: Two men, a guy and his father-in-law, show up to support the protest. Unlike Smith, however, they've brought their pistols.
The younger man, Bryan Lewis, is quickly surrounded by photographers clicking shots of him and his firearm. Lewis faces off against a middle-age man wearing black bandana and filming on a smartphone.
"You're a pussy," the man spits at Lewis. "What are you gonna do with the gun, man?"
"Be an American!" Lewis retorts. As the clock ticks past 2 p.m. — and with Peyton still MIA — Smith declares that he wants to try to talk with the counter-protesters from the local chapter of Moms Demand Action for Gun Sense in America, the national organization he offhandedly refers to as "the lying mommies."
"I would love to engage in dialogue with some people," he says as he lumbers over. "To me, someone who holds a sign up is not someone who wishes to engage in dialogue. But I'm going to do it anyway. I bet you the reaction, if I walk over there, I bet it will either be 'no' or pretty hate-filled."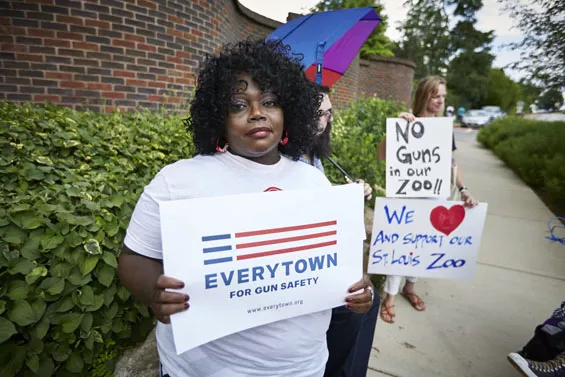 Photo by Theo Welling
A protester outside the St. Louis Zoo
As Smith predicts, the Moms Demand Action members are unwilling to chat. They see Smith as a fanatic, a habitual provocateur who seems to have nothing better to do than come to Missouri and wave his gun around.
"Would anyone like to engage in dialogue?" Smith asks a woman holding sign made of orange construction paper. It bears a message in purple marker: "Zoos are for Animals, Not Guns."
"My sign speaks for me," the woman says.
"No, we just want guns out of our zoo," another replies.
Smith walks back to his shaded spot. A self-satisfied smile flashes across his clean-shaven face.
"My experience is they have a mindset, and you're not going to shed any light into the deep dark recesses of someone's mind like that," he says. "I have no expectations of converting someone who dislikes or hates guns into someone who likes them."
Rather, Smith believes he has a much higher calling: to force Missouri's public officials to confront the reality of the state's new gun laws.
Amendment 5, which voters approved in August 2014, enshrines an "unalienable" right to "keep and bear arms" in the Missouri constitution. The amendment's provisions appear to be so powerful and wide-ranging that no one — not Smith, not prosecutors, not even the state legislator who sponsored the ballot measure — can say for sure what its limits are, or if indeed there are any.
The zoo, Smith argues, is opposing the state's progress on gun rights with a mixture of bureaucratic obstinance and legal doublespeak. And that amounts to a rejection of the will of the people.
"I'm trying to advance gun rights, I'm working on the laws being recognized as they are," he says. "I'm hopeful that Missourians look at the legal filings here, look at the position of the zoo and think, 'Oh my goodness gracious, this is what they think of us? Is this is what they think of the law? Really?'"
On July 24, 2014, just two weeks before Missouri voters elected to add Amendment 5 to the state constitution, Republican State Senator Kurt Schaefer addressed a crowd that had gathered for the annual Watermelon Feed in Neosho, a rural city a short drive from both Joplin and the Oklahoma border. He urged them to vote yes on the measure. "If we pass this, we will have the strongest right to keep and bear arms in any state in the United States," Schaefer said, according to the Neosho Daily News. "I look forward to that day when we get this passed."
Schaefer, a Republican based in Columbia, had sponsored the bill that put Amendment 5 on the August ballot, and it was under his watch that the bill's language broadened to include concepts like unalienable rights and "strict scrutiny," a legal term that essentially means the government must meet an extremely high standard to regulate something.
Schaefer explained, "Anything that infringes on that right gets strict scrutiny, which is the highest level of review by a court to hold the government to the tightest restraint, and it is the affirmative obligation of the state of Missouri to uphold that right."
It's the kind of ringing patriotic speech that sounds pretty good in a place like Neosho. But in St. Louis, the people who were aware of Amendment 5 were panicking. Here, people don't just use guns to kill raccoons or shoot clay pigeons. Here, people use guns to kill people, and at an alarming rate.
Next: Prosecutors try to stop the constitutional amendment
Photo by Theo Welling
Smith outside the St. Louis Zoo in early June. A judge's temporary order has barred him from bringing a gun inside its borders.
In 2015, for example, according to data published by the Circuit Attorney's Office, bullets have so far ended the lives of 83 people, a startling rise that lit a fire under law-enforcement officials. This May, Circuit Attorney Jennifer Joyce launched a website, stlouisguncrime.com, to track the city's gun-related deaths and publicize stories from victims and perpetrators alike.
Not surprisingly, Joyce was among loudest opponents to Amendment 5 in the run-up to the August 5 election. Along with Jackson County Prosecutor Jean Peters and St. Louis Metropolitan Police Chief Sam Dotson, she filed a lawsuit to strip the proposed amendment from the election ballot, arguing that its official description was misleading to voters.
Voters were being asked this question: "Shall the Missouri Constitution be amended to include a declaration that the right to keep and bear arms is a unalienable right and that the state government is obligated to uphold that right?"
"It doesn't point out to voters the seriousness of this amendment and how it's going to elevate gun laws to a status that is almost beyond any right we have as citizens," Burt Newman, one of the lawyers fighting the ballot language, said in a June 2014 interview. "It doesn't tell voters that 140 years of law is going to be wiped out."
Another objection to Amendment 5 was the addition of the term "strict scrutiny," which critics argued wasn't explained on the ballot.
That verbiage hadn't been part of Schaefer's initial bill. The addition came courtesy of Ron Calzone and Dave Roland, both well-known political activists in Jefferson City.
"There were several people, citizens, activists and legislators alike, who recognized that we needed to speak to the court in the court's own language," says Calzone, who co-directs Missouri First, a nonprofit that promotes limited government. "I was trying to help craft the language in a way that the court would not be able to misunderstand at all."
Roland, an attorney and co-director of the Freedom Center of Missouri, says that adding the legal armor of strict scrutiny meant placing gun rights on the highest pedestal.
"Depending on how the courts assess it," he says, "it should one of the strongest, if not the strongest, defenses of the right to bear arms in the country."
As the August 5 election day neared, critics cried that Amendment 5 was so ambiguously written that convicted felons would soon find themselves afforded the rights of gun ownership. Boone County Prosecutor Dan Knight, speaking to the Columbia Daily Tribune, pointed to the proposed line that says "nothing in this section shall be construed to prevent the general assembly from enacting general laws which limit the rights of convicted violent felons" from possessing firearms. While that may sound reasonable to a layman, Missouri statutes actually don't include a definition for a "violent felony," only a "dangerous felony."
That's no small distinction.
"That creates a whole new set of uncertainty," Baker said. "A convicted drug dealer will not meet that definition."
The St. Louis Post-Dispatch blasted the amendment in a withering editorial, blaming the state's Republican lawmakers for dragging Missouri on an "NRA-inspired gun craze" that had already included a failed bid to nullify federal gun regulations.
"Now, to win favor with a small sliver of their voting base who won't rest until the Second Amendment is interpreted to mean that every house must have a gun, and preferably several guns of whatever size, shape and killing power is available, they want voters to change Missouri's completely appropriate and very strong constitutional gun protections," the paper's editorial board wrote.
But it wasn't just Republicans. Attorney General Chris Koster, a Democrat, was also a high-profile supporter.
In fact, the only serious contribution to the anti-Amendment 5 campaign came from former New York City mayor Michael Bloomberg's Everytown for Gun Safety, a national group that supports gun regulation.
But while the organization donated $134,000 to the No on Amendment 5 committee, St. Louis Public Radio (90.7 FM) reported that the cash was spent on hiring attorneys to keep the measure off the ballot, not on awareness campaigns.
The no group still outspent the gun advocates. It says something about the popularity of gun rights in Missouri that the campaign supporting Amendment 5 drew virtually no contributions from outside lobbying groups.
It didn't need them.
The Missouri Supreme Court ruled it was too late to intervene in the ballot language. On Election Day, 60 percent of Missourians voted "yes" on Amendment 5 — enough to add its language to the state's constitution.
When Jeffry Smith introduced himself to St. Louis, he did so while sporting a wide white cowboy hat and a bullpup assault rifle slung across his chest.
It was an unseasonably warm October afternoon, less than two months after Amendment 5 was voted into the Missouri constitution, and Smith and about 50 armed supporters strolled through St. Louis' whimsically chic urban park, Citygarden, on their way to the Gateway Arch.
The "walk," as Smith insisted on calling it, took the group past a larger crowd of counterprotesters, many drawn from a nearby conference hosted by Amnesty International. The counterprotesters traced lumpy chalk outlines of bodies on the pavement.
A woman wearing a camouflage-printed T-shirt (and carrying an enormous handgun) pushed a stroller and raised a sign reading "SB 656 Right to Open Carry," a reference to the 2014 bill that mandated the right to openly carry a gun to any Missourian who'd been granted a concealed-carry permit.
Police officers in yellow vests watched the walk from a distance. From the stroller, the woman's toddler-aged daughter twisted in her seat to watch a cameraman from a local news station rush by.
Weeks before, spurred by what he saw as St. Louis' unwillingness to acknowledge the new reality following to the passage of Amendment 5 and SB 656, Smith had begun emailing the city's attorneys and police department. He requested information on how open carry would be handled in public spaces in the city's downtown.
Next: Smith upsets St. Louis city leaders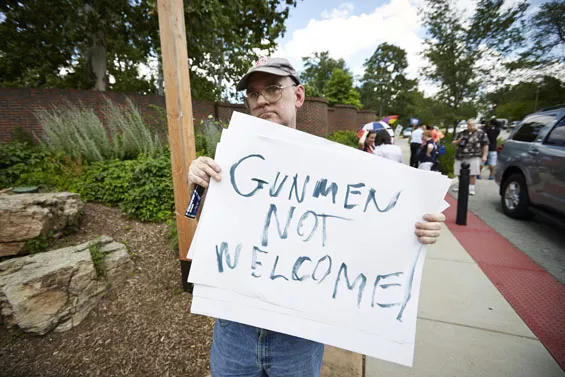 Photo by Theo Welling
Protesters at the St. Louis Zoo carried signs, but were less than interested in debating with Smith.
Until the media got involved, all Smith heard back were crickets. But in the days leading up to the event, with the story featured on every local news station, Smith found himself talking to St. Louis' police chief and a federal ranger stationed at the Arch.
The rush of public attention appeared to catch city officials off guard.
"What you saw on the streets of downtown St. Louis today was like a scene out of a bad Western," St. Louis Mayor Francis Slay said during a hastily convened press conference that afternoon. "We can dismiss the people who protested this morning as extremists who should not be taken seriously. I agree with that. But we have to take this law seriously."
He added: "It's very hard for me to believe that intelligent and supposedly responsible legislators that were elected by the people would allow this to happen."
It was just the kind of attention Smith was looking for.
"I am first and foremost a civil-rights person, with an emphasis on the right to keep and bear arms," Smith says months later. "If you describe me as enamored with guns, you're way off base."
Born and raised in Cincinnati, Smith was first exposed to firearms in grade school when a classmate's father, a police officer, took the boys to a local range. But it wasn't until Smith was enrolled at the University of Cincinnati in the late 1970s and studying accounting that he saw a need to buy a pistol of his own. It was for protection, he says. "I had no interest in advocacy."
At the time, Ohio still had a ban on concealed carry. If caught with a gun, Smith could attempt to offer an "affirmative defense," but it needed to be a good enough reason to convince a judge. That could go either way, and Smith knew it.
Still, "I went to the UC library, studied what the law was, and I decided I would take this risk," he says.
Smith wouldn't become active in the gun-rights world for another two decades, but those college years spent weighing self-protection against legal risk left an imprint. In 2003, Smith hooked up with a burgeoning network of activists bent on shaking the state's ban on concealed carry. They organized so-called "Defense Walks" that put hundreds of openly armed Ohioans in the street.
It was during these walks that Smith says he realized open carrying a firearm was, in fact, a devastatingly effective political statement. He didn't see it as a show of force or intimidation, but a show of presence.
"There are those to whom open carrying is a lifestyle, and there are those that open carrying is a sort of discipleship. When I open carry, I expect to be an ambassador."
Smith went on to organize open-carry walks at three Ohio college campuses, drawing news coverage and building a reputation along the way. He became a firearms instructor and a frequent contributor on online gun forums, weighing in on legal minutiae as the new laws bloomed across the country.
What drew Smith to St. Louis, however, were two factors: First, he had a family member living in the city. The second was Amendment 5 — and a desire to see how far its protections would go.
"Constitutionally, Missouri is far ahead of Ohio," Smith says. "But that's just words on paper until the authorities are put to the test to do what the constitution says."
Smith's obsession with the zoo began with Sam Peyton.
One day in late May, after hours of driving from Springfield, Missouri, Peyton and his wife arrived at the Saint Louis Zoo. They were eager to take in the sights. Peyton's wife, a Chicagoan, had never before seen the attraction.
An out-of-work licensed bodyguard, Peyton normally carries a concealed handgun in an inside-the-waistband holster. Approaching the zoo gate, however, he spotted a sign:
"No firearms or weapons allowed on this property," it read.
So Peyton ambled back to his car and deposited the handgun — a .45 Springfield — in a lock box in the trunk.
The day was blisteringly hot, and it wasn't long before Peyton stripped to his undershirt, leaving the brown leather of his holster exposed above his belt.
"I was in the zoo for almost three hours, and we're getting ready to leave when I see one of the security guards," he says. "I asked about the sign."
According to Peyton, he approached the guard and asked for the reason behind the signs. The guard replied that it was for the public's safety, but Peyton wondered aloud how that could be so when other patrons were walking around the park smoking cigarettes.
That's when the guard gestured at Peyton's holster. He asked Peyton if he was armed.
"When I showed him I wasn't carrying, that should have been the end of the conversation," Peyton says. Instead, he says, the guard called for backup and told him that if he didn't leave the park, he'd be escorted out by police. "I could see it was going to be a problem, so I put my shirt on and started walking to the exit."
Peyton says he was followed by the security guards, who became increasingly hostile as he continued to ask questions: What statute the was the ban was based on? Were they aware that the Missouri constitution had been changed, and that the right to keep and bear arms was unalienable?
The zoo disputes Peyton's version of events, but it has offered no alternative narrative of the incident.
Three days later Peyton wrote about the experience on OpenCarry.org, a forum frequented by gun rights activists. He let loose his frustration with the Saint Louis Zoo.
"Got kicked out of Stl Zoo for wearing an empty IWB holster," he wrote. "Got a call from a Dustin in Marketing, and he said the Zoo is a Gated Amusement Park and they dont [sic] allow guns, [but] in same breath said they follow all the Missouri constitutional laws!! Really. What y'all think."
Another user, BB62, posted back.
"As far as I'm concerned, the zoo cannot prohibit open or concealed carry," the post read.
BB62 is the user name of Jeffry Smith.
Though Peyton hadn't been able to make to the walk in October, he and Smith had corresponded over Facebook about the issues of Amendment 5 and gun rights activism.

"I think Jeff just wants to see that every state and city follows the constitutional law of the land," says Peyton. "And I think the guys in St. Louis just needed a kick in the butt just to get it going. He's not from here, but he's made us get together more and now we're talking more, and trying to do some of the things that he's doing. I appreciate him a lot."

Next: Smith offers Peyton advice — and plans begin to come together

Photo by Theo Welling
A sign at the zoo bars visitors from bringing in firearms.
Eleven months since Amendment 5's passing,
its ramifications have, as predicted, yielded controversial results. In December 2014, a convicted drug dealer attempted to use Amendment 5 to argue that the felony on his record shouldn't disqualify him from owning a gun. Two months later, a St. Louis judge actually tossed out a firearm possession charge on a different case, after ruling that it would be unconstitutional to block a Missouri citizen — even one convicted of a felony — from the unalienable right to keep and bear arms.
In a sixteen-page ruling, St. Louis Circuit Judge Robert Dierker ruled that the law prohibiting felons from possessing firearms fell far short of Amendment 5's strict scrutiny requirement. As Kansas City prosecutor Knight had warned, the judge determined the amendment's exception for "violent felons" had created a critical and unconstitutional ambiguity.
The case involved 55-year-old Raymond Robinson, whom the court described as a partially disabled man with no record of violence or mentally unstable behavior. His previous felony conviction stemmed from carrying a concealed weapon in 2003, which landed him prison. He was arrested last July after police found a .380-caliber pistol in his car.
"The State proffered no evidence that defendant's purpose in possessing the pistol was to commit any illegal act or in furtherance of any criminal conduct, such as distribution of controlled substances," Dierker wrote in his ruling. "Nor is there any reason to find that the defendant presents a demonstrable risk to the safety of any individual or of the public. His single prior felony conviction was (ironically) for carrying a concealed weapon. There is nothing in the record to suggest any misuse of weapons within the last ten years, and his risk of re-offending is low. His age and physical condition militate against undertaking violent offenses such as robbery or assault."
This is the kind of the framework defined by strict scrutiny. Suddenly, the mere fact that Robinson was a felon was no longer a good enough reason to ban him from having a gun.
Robinson wasn't the first defendant to try to use Amendment 5, though he was the first to succeed. But even before Robinson, the Post-Dispatch reported how St. Charles County prosecutors chose not to a file a gun-possession charge against a man with previous felony conviction for property damage. In another case, a Springfield man with felony convictions for drunk driving attempted to use Amendment 5 to toss out his own felon-in-possession charge.
"This is exactly the type of litigation that I and others have warned about," Circuit Attorney Joyce told the Post-Dispatch following Robinson's court victory.
Amendment 5's legislative sponsor, Kurt Schaefer, seemed shocked by the Robinson ruling, insisting to various media outlets that this was not the intended result of the law. He attempted to shift the blame, telling a radio station that if the definition of a "non-violent" felony was unclear, the courts should figure it out.
"The issue is the court is going to have to do the heavy lifting on these, and determine who really meets that criteria and who doesn't," Schaefer said. "That's what the purpose of Amendment 5 was."
However, as if anticipating Schaefer's deflection, Judge Dierker had added a footnote to his ruling:
"The Court is not at liberty to rewrite statutes so as to supply criteria for denying the right to bear arms to persons convicted of non-violent felonies... The problem is that the statute simply does not afford any basis to differentiate among persons convicted of nonviolent felonies."
The stakes were high, then, when Smith announced his second major St. Louis open-carry demonstration — and, inspired by Peyton's interaction, chose the zoo as the place to hold it.
After reading Peyton's forum post about the zoo's weapons policies, Smith had wasted no time. First, he attempted to copy the playbook from his October open carry walk through St. Louis' downtown. He sent flurries of emails, demanding answers from the zoo and the St. Louis Circuit Attorney's Office, but he received little more than restatements of the zoo's policies. No one could tell him, specifically, what laws supported the zoo's signs banning weapons from its premises.
But a rush of media attention spurred the zoo officials to take action. They'd seen Smith's work before, and they wanted no part of it.
On June 12, one day before the planned walk, a St. Louis Circuit Court judge granted the zoo's request a temporary restraining order against Smith and anyone working "in concert" with him. Until a formal hearing could be held, anyone entering the zoo with a firearm would face guaranteed arrest.
In its motion supporting the restraining order, the zoo argued that it qualified as an amusement park, a label that would place it among the types of public spaces where guns could be restricted. The zoo maintained it actually met the criteria for four such categories: educational institutions, day-care facilities, amusement parks and places where a business open to the public chooses to restrict the carrying of firearms by posting signs.
Smith only learned of the restraining order during the drive from Cincinnati to St. Louis.
"They're dodging and bobbing and weaving," he says over the phone. "There is no 'amusement park' definition in Missouri law."
(He's right. Missouri statute does not define "amusement park.")
"Clearly," he continues, "the zoo has some amusement rides, but if you were to take a Six Flags and put some wild animals in it, it wouldn't turn into a zoo."
Thinking on the fly, Smith decides to go through with the protest walk, but with empty holsters. That will still get his message out.
"As far as I'm concerned, the zoo is deceiving people into giving up their rights and privileges. That's what's at the core of all this," he says before hanging up. "The zoo is portraying their signage as legal and valid, and as best as I know right now — it's not."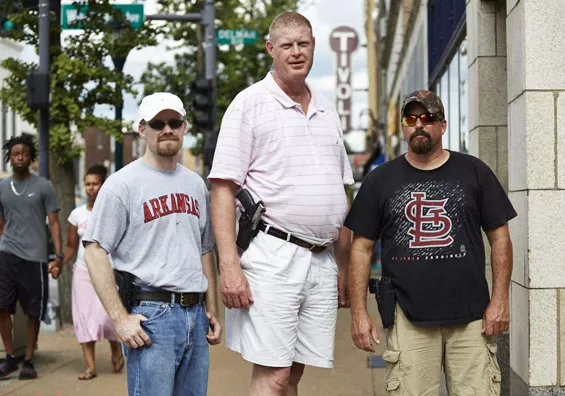 Photo by Theo Welling
Jeffry Smith (center) with two fellow gun advocates, packing heat on the Delmar Loop.
Smith checks his watch again. It's already 2:15 p.m., and Peyton is nowhere to be found. Antsy reporters are starting to ask if this grand demonstration is actually going to happen.
Without a word of warning, Smith makes his move. He approaches the south gate of the Saint Louis Zoo and passes through the turnstile, followed by five or six photographers and confused looks from the other zoo patrons. He walks 50 feet into the park, halting at the fountain containing the zoo's famous seal sculptures.
He takes a sip from his water bottle and stares at the seals. It's a surreal sight: A giant of a man, alone in a zoo, wearing an empty pistol holster and looking at fake seals. Photographers snap away.
Smith takes another sip of water, turns around and walks toward the exist. He's spent all of two minutes inside the zoo gate. Soon after, the reporters and counterprotesters pack up their things and leave.
An hour later, Smith is striding along Delmar Boulevard to grab some lunch. This time, his holster contains a Smith & Wesson .40 pistol. Accompanying him are three other armed men who showed up at the zoo earlier that day. With the exception of one conspicuous double-take, the posse attracts no extra attention from the Loop's outdoor dining crowd.
They arrive at Fitz's, which is packed. Smith and Co. wait near the door until they are seated. No one, including the hostess and nearby wait staff, confronts them or asks about the handguns hanging off their waists.
Though the protest itself fizzled, Smith isn't discouraged by the day's events. He takes a bite of a sizzling burger and drinks from a mug of cream soda.
"This constant question of, 'Why do you need a gun in the zoo?' It's irrelevant," he says. "It's called the Bill of Rights, not the Bill of Needs."
Flippant as Smith may be, he has a point: Adding a new legal framework to the state's constitution appears to have altered the legal rights of Missourians to own and carry firearms. But the specifics remain frustratingly vague.
While the repercussions of Amendment 5 continue to shake out, its legacy will factor into upcoming political races: The measure's architect, Kurt Schaefer, is running for attorney general. Chris Koster, the current attorney general and presumptive front-runner for the Democratic nominee for governor, will have to answer for his support as well.
At the same time, prosecutors expect more felons facing gun charges to use Amendment 5 as a defense.
In fact, St. Louis Circuit Attorney Joyce has opted to keep some gun cases out of state judicial system altogether. This week, the Post-Dispatch reported that Joyce referred 70 such cases to a federal prosecutor, U.S. Attorney Richard Callahan, and that she blames Amendment 5 for obstructing her ability to issue state charges in those cases.
It could be even harder to prosecute gun crimes in the future. This week, the Missouri Supreme Court rejected the last remaining appeal against Amendment 5's ballot language. For better or worse, the justices ruled that the August 5 election results will stand as law.
As for Smith, he has since requested a 60-day continuance to marshal his own legal support to fight the restraining order. He's already floating ideas for another open-carry walk, this time on St. Louis public-transit trains and buses, a move that would certainly bring him back into the crosshairs of St. Louis' government and law-enforcement officials.
But here in Fitz's, as Smith and his jocular group of armed buddies dig into burgers, there's little evidence of the legal tempest tearing through Missouri's courts and governments. There are just four men eating a late lunch amid the clattering of silverware and murmured conversations about weather, the Cardinals and who needs more ketchup and another refill.
No one here cares about Jeffry Smith's gun. That's the way he wants it. Indeed, this is the America of his dreams.