Photo Courtesy of the American Library Association
Scott Bonner (right) with Mo Willems and his brand-new award, which was designed by Willems.
As far as awards go, "The Lemony Snicket Prize for Noble Librarians Faced with Adversity" sounds like something out of, well, a children's book -- it's named with just the right combination of dramatic flair and whimsy.
But this is no children's book. And it's certainly not fiction. Instead, this weekend, Ferguson Public Library Director Scott Bonner received a prize titled exactly that, along with $10,000, at the American Library Association's Annual Conference in San Francisco.
The award was presented by Mr. Lemony Snicket himself, aka Daniel Handler, as well as noted children's author Jacqueline Woodson and beloved illustrator Mo Willems.
See also: Ferguson Municipal Public Library is 2015 Library of the Year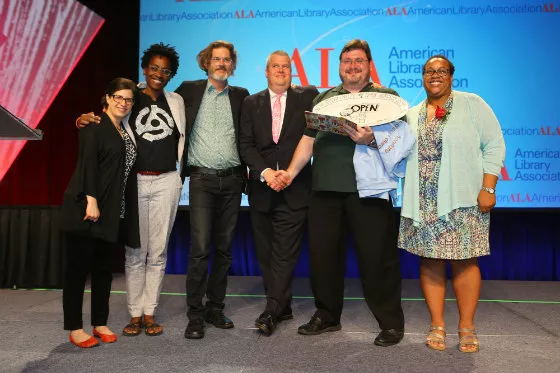 Photo Courtesy of the American Library Association
Author and illustrator Lisa Brown, author Jacqueline Woodson, author and illustrator Mo Willems, author Daniel Handler (aka Lemony Snicket), Ferguson Public Library Director Scott Bonner and ALA President Courtney Young.
Here's what the Library Association had to say in announcing the award:
Located a couple of blocks away from the Ferguson Police Department, where armed militia were clashing with protestors, Bonner began his action by placing a simple sign in front of the library doors saying, "Stay Strong Ferguson. We are family." Through the following weeks, with the help of volunteers, Teach for America, church groups and local educators recruited by Bonner, the library was able to offer educational programming and served up to 200 children per day, expanding programming to create a safe place to be. With racial tensions at a boiling point, he organized community groups to offer a broad range of programs and services to help individuals and businesses recover, as well as hosted many non-profit organizations working to help Ferguson.

With donations from the good will of nearly 13,000 people across the country Bonner developed a library collection focused on civic engagement, diversity, the history of civil rights and trauma recovery. Bonner's leadership turned the institution of the local library into a true refuge. As the sole full-time librarian on staff--and someone who had started the position in July, mere weeks before the tragedy struck--Bonner's ability to respond to the needs of his community with earnestness and immediacy demonstrates his leadership, personal courage, selflessness and dedication to public service. With no communications staff or media help, his efforts have received the attention of national press.

"Under his leadership, a traumatic moment in our nation's history was met with an outpouring of support," said Jury Chair Dora Ho. "Through it all, Bonner served as a quiet hero, directing all media and social media attention toward highlighting the role of libraries and librarians as community hubs of support. We feel that he has been the ultimate example of humility, integrity, and dignity in the face of adversity."

When the governor submitted an economic injury disaster declaration in the area, Bonner brought the Small Business Administration into the library to make low-interest loans and aid available to local Ferguson businesses. And when the library began receiving too many patrons and running too many programs to house, Bonner secured space at the church next door and kept on going. While buildings were being burnt down, he was building the community of Ferguson.
It's worth noting the joint appearance of children's book authors Handler and Woodson. The two are longtime friends, but things famously got awkward back in November when Handler was giving out an award to Woodson at the National Book Awards ceremony. He made a joke about the fact that she's allergic to watermelon, which led to Woodson writing an essay in the New York Times about how much the joke hurt.
A repentant Handler later described the incident as "quite a disaster" and matched up to $100,000 in donations to an organization called We Need Diverse Books in an effort to atone.
Suffice it to say, it's nice that everyone ended up on the same stage this past weekend -- and for an award honoring the Ferguson Public Library, no less. If a pair of famous children's book authors can mend their race-based rift, surely there's also hope for the rest of us.
Here's a closer view of the award given to Bonner on Sunday, tweeted by Willems' alter ego:
We welcome tips and feedback. Email the author at sarah.fenske@riverfronttimes.com