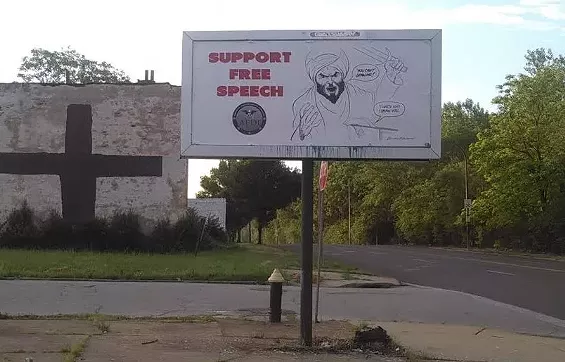 Courtesy of Daniel Fuller.
One of the Muhammad posters, at Cass and Jefferson avenues in St. Louis.
Yesterday, we reported on those Muhammad billboards you may have spotted around St. Louis lately. Now, after talking to the owner of those billboards, we have a better idea of how they got there.
The way Daniel "Boone" Fuller tells it, he reached out to divisive free speech activist Pamela Geller after the Washington Metropolitan Area Transit Authority opted to ban all issue-oriented ads rather than let Geller's American Freedom Defense Initiative, or AFDI, post ads featuring Muhammad on its subway cars. (A ban aimed solely at Geller's ads would have violated federal law.)
"I felt that was egregious, an overreach," says Fuller, owner/CEO of St. Louis-based Adunity Media LLC. "It kind of stuck in my craw. So I sent her an email, and I said I have 500 billboard displays in St. Louis, and I will accept your ad."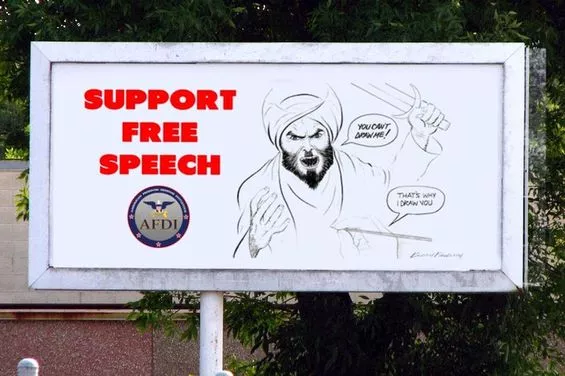 AFDI
A closeup of the Muhammad billboard illustration.
See also: Why Are Billboards of Muhammad Popping Up Around St. Louis?
Fuller concedes part of his motivation was business related -- there was a "hole in Geller's ad placement" he says, and he jumped at the opportunity to pick her up as a client. According to Fuller, Geller paid the regular rate for 100 billboard spaces. (Both Fuller and Geller declined to provide specific dollar amount for the billboard contract.)
But Geller's AFDI isn't just another nonprofit seeking a marketing boost through Fuller's billboard services.
Considered an active anti-Muslim group by the Southern Poverty Law Center, AFDI and other Geller-led organizations have sponsored ad campaigns targeting Islamic religious and educational institutions. Geller was behind the "draw Muhammad" contest in Garland, Texas last month, which made headlines when two gunmen (possibly associated with ISIS) were fatally shot while attempting an attack on the event.
And so taking Geller's business meant Fuller was playing with fire. He quickly attracted controversy after placing three of Geller's Mohammad posters on billboards in tiny Summit, Arkansas, during a trip there to visit his father. It turned out that Fuller hadn't contacted the owner of those billboards, and though he removed the ads it didn't stop the local media from splashing the story across the region.
Here in St. Louis, the billboards have been met with criticism from local Muslim and interfaith groups. In a column published today by St. Louis Post-Dispatch, contributor Ghazala Hayat linked the Muhammad billboard campaign to the racist mindset of Dylann Roof, the white-power perpetrator of Wednesday's shooting massacre in Charleston, South Carolina.
"The animosity and hostility shown by [AFDI] and its leader Pamela Geller is an example how the seeds of hatred are sown," Hayat wrote, adding, "I suppose when you have so much hatred in your hearts, you justify all the wrong things."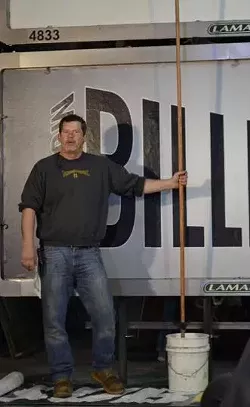 Courtesy of Daniel Fuller
Billposter Daniel "Boone" Fuller.
In his defense, Fuller points to the wide variety of issue-oriented messages he runs on his billboards, including those sponsored by rival political campaigns and groups both for and against abortion.
"I am not the crusading censor of what goes on my billboards," he says. "As long as it meets community standards, it's not pornographic or salacious, and it's not unnecessarily provocative."
The Muhammad billboard -- which shows the Muslim prophet saying "You can't draw me!" and an artist saying "That's why I draw you" -- is not offensive, Fuller insists. It's satire, he says, a message directed at misguided extremists and a rallying cry for defenders of free speech.
"I'm not a diplomat and I'm not a politician. I took a vow of neutrality when I opened this business," he says. He then offered an example of what kind of ad he would consider unnecessarily provocative and worthy of rejection:
"I will put up a KKK billboard if it says, 'Support the KKK'. I will not put up a billboard by the KKK that has a burning cross and a dead black man on the ground with a noose around his neck."
Earlier this week, Geller contrasted Fuller with what she saw as the "tremendous cowardice" of American media and advertising agencies.
"The American media and advertising worlds have submitted to the Sharia restrictions on speech," Geller wrote in an email to Daily RFT. "The tremendous cowardice of American media in submitting to the wishes of devout savages and not showing Muhammad cartoons only encourages those waging violent jihad to impose their religious orthodoxy."
But Fuller doesn't see himself in Geller's ranks of Islam-obsessed First Amendment warriors.
"I'm just a billposter, my dad was a billposter, and my grandfather was a billposter," he says. "I'm a dying breed, not many of us left in the world, and I believe in my heart this was a good decision to make, and I made it and I stand by it."
Follow Danny Wicentowski on Twitter at @D_Towski. E-mail the author at Danny.Wicentowski@RiverfrontTimes.com