YouTube via Joe Rogan Experience
Charles C. Johnson, heir apparent to the title of Most Hated Man on the Internet.
Has St. Louis' own John Burns grown up since his Tea Partying activist days? Yes and no.
Back in 2010, Burns was best known as the leader of a campaign opposing a MetroLink tax hike. He also took on roles organizing a disruption of an LGBT rally, staging a "campus gulag" at Washington University and assisting right-wing prankster James O'Keefe in a plot to "seduce" a CNN reporter.
Nowadays, rather than meddling in Tea Party politics or engineering ill-intentioned pranks, Burns is a lawyer -- but he hasn't exactly gone to the boring, corporate side of the law. In fact, he's currently representing none other than Charles C. Johnson, the widely reviled blogger who late last month was banned from Twitter after soliciting funds to be used for "taking out" Black Lives Matter activist DeRay Mckesson.
In response, Mckesson said that he took Johnson's tweet as a "serious threat."
See also: John Burns: Brains Behind Anti-MetroLink Campaign is a Well-Connected Tea Party Activist
Johnson maintains he merely intended to "take out" Mckesson via a serious journalistic investigation. Interpreting the tweet as a threat is ludicrous, his lawyer tells Daily RFT.
"I find it hard to believe that Deray was ever hiding in a bunker some place because Charles Johnson was supposedly crowd-financing his assassination," Burns tells us in an email.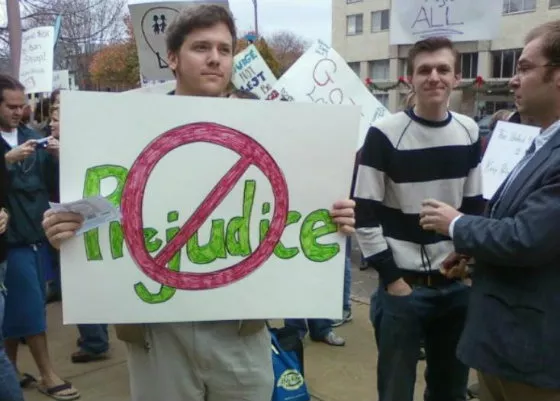 Photo Courtesy of stlactivisthub.blogspot.com
John Burns (left, holding sign) with controversial prankster James O'Keefe (in the striped shirt, center)
Twitter, however, permanently suspended Johnson's account for violating its rules prohibiting "participating in targeted abuse."
Burns fired back in a letter sent to Twitter on May 25. He declared that Twitter has a "history of inflicting economic damages" against his client.
In the letter, Burns demanded the social media juggernaut reinstate the account of a writer whose journalistic resume includes outing the addresses of two New York Times reporters and publishing error-riddled exposes on alleged rape victims.
(By the way, our favorite description of Johnson's strange rise to prominence came courtesy of the late New York Times media columnist David Carr, who compared Johnson's noxious output to the anger-devouring mood slime from Ghostbusters II.)
Johnson's previous work, his attorney argues, shouldn't distract from Twitter's heavy-handed reaction to a well-known metaphor.
"Twitter would prefer a world where it didn't owe its users any accountability," writes Burns. "Charles' news outlet is focused on providing information. If providing the public with critical and interesting information regarding issues of the news day is contrary to Twitter's policies, then Twitter should be banning every journalist."
However, the "critical and interesting information" provided by Johnson tends to teeter, at best, on the edge of exploitation and juvenile hate-mongering. Last week, shortly before he was booted off Twitter, Johnson was fingered as the likely (though unconfirmed) culprit who masqueraded as a Buzzfeed reporter to expose an anonymous sexual assault survivor who wrote about her experiences.
Although his client has been called "the world's worst journalist," Burns hopes the public can look past Johnson's checkered history -- which includes racially charged Twitter rants and rumors that he once fucked a sheep and shit on a dorm room floor -- to see the bigger picture: This is all about freedom, man.
"People talk a good game about the importance of freedom of thought and expression when the reference point is something they deem positive. But when it's a viewpoint they despise, they throng together to cast frivolous...complaints, stones -- and sometimes bullets - to eliminate not only the speech, but also the speaker," Burns writes. "Such a game has no winners. That's why Charles' case is so important, even for people who dislike him."
This isn't the first time Burns has represented Johnson. He says a mutual friend introduced them after the August 9 death of Michael Brown, and it was Burns' firm that sued on Johnson's behalf to gain access the dead teens' juvenile records, which are normally closed under Missouri law. That lawsuit is awaiting a decision by the Missouri Supreme Court.
For more on Burns' history in St. Louis, check out the thorough background compiled by Adam Shriver at the St. Louis Activist Hub blog.
Follow Danny Wicentowski on Twitter at @D_Towski. E-mail the author at Danny.Wicentowski@RiverfrontTimes.com