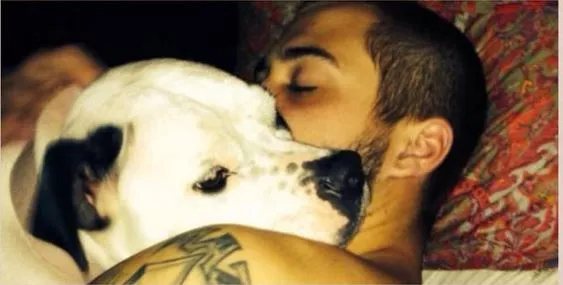 One of Angela Zorich's sons relaxing with Kiya the pit bull
Here's an update on the lawsuit filed last week by Angela Zorich, the South County woman who claims tactical police killed her dog when they raided her home in 2014 to investigate building code violations.
Daily RFT has obtained documents that appear to be the police's own incident reports. They tell the cops' side of the story, which boils down to this: The family was considered "a nuisance" by neighbors, and during the raid, Kiya, the four-year-old pit bull, was "charging to attack" as they shot her.
See also: St. Louis County SWAT Team Killed Family Dog Over Code Violation, Suit Says
Zorich insists in her suit that, on the contrary, Kiya didn't even have time to bark before being killed.
And interestingly, by the cops' own telling, the dog was 12 feet from the officers when they opened fire and killed her. They also acknowledge in the report that they'd entered the home without knocking, even though they were investigating code violations. Their justification: They believed the residents had "extensive violent history" and were known to be armed.
The police narrative goes like this: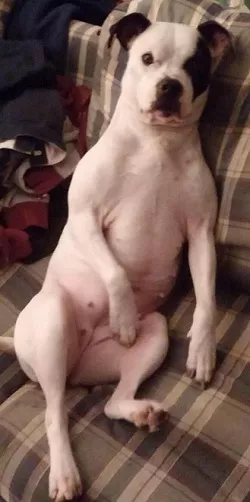 On April 23, 2014, an anonymous tipster called in to complain that the folks living at a house on 3000 block of Caprock Court "frequently cause disturbances" and allow a dog to "run at large" and "stay out all night and day, barking non-stop." Plus, the tipster said, the house's gas had been shut off.
An officer checked the logs and saw that, in 2014 alone, police had already fielded several calls for service vis-a-vis the Zorich residence, including "disturbances" and "vicious animals." Per the report: "There is a hazard/alert on the property that was entered in 2012 indicating that two cars be dispatched as the residents do not like the police and can become violent."
At that time, according to the report, Angela Zorich had outstanding warrants for traffic and motor vehicle violations; a Joseph M. Zorich was wanted for several offenses including assault; and Zachariah D. Zorich was wanted for several offenses as well, including two counts of assault.
(Our search of Missouri's online court records did not reveal any actual charges or convictions of assault against either of those two men.)
On April 25, two problem property inspectors drove out to investigate the house, accompanied by three police officers. When they approached the front door, someone shut it, locked it and said, "fuck you!"
But the inspectors took notes on the exterior, which showed that Laclede Gas had indeed shut off service. And in the backyard, tied to a deck that looked like "a collapse hazard," was a "large aggressive dog."
They placed a "Problem Property" sticker on the front window. Here's a Google Maps photo from 2013, the year prior to all these incidents: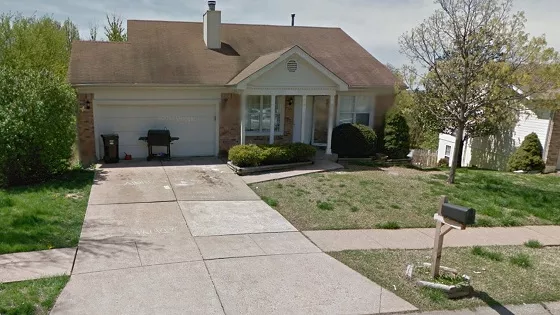 After placing the sticker, the police received e-mails from neighbors complaining about underage drinking on site, profanity, young people coming and going, and the noisy, unleashed pit bull, according to the report.
On April 28, police received a call from Angela Zorich, who was "yelling and cursing" (she admits to cursing in her lawsuit). She demanded to know what was going on. An officer told her that police needed to check the inside of the house. She said she wanted to talk to her husband and her attorney first. An officer said the investigation would continue anyway.
The next day, at around 12:30 pm, the tactical unit set up position outside the house. From the report:
They moved in:
The report's author names four other officers who "were inside the residence when shots were fired and they relayed to me that they also believed the dog was charging to attack."
Zorich and two of her sons were arrested.
Zorich was arrested for those traffic warrants -- failure to register a vehicle, for speeding and for violating electric signal.
One son was arrested on warrants for violation of financial responsibility, interfering with duties of a police office, peace disturbance, and assault. A second son was arrested for failing to appear in a previous traffic case.
And here's where things get really weird: At one point during the SWAT raid, according to the report, a neighbor exited his his house, began "giving 'Heil Hitler' type salutes" and "shouting racist remarks at a member of the Tactical Unit....he was pointing to a 'swastika' tattoo on his person." This guy "ran inside his residence when officers started to walk towards him."
The report contained no additional information on the man's connection to the case.
Not all neighbors acted this way toward the cops. Some neighbors, reportedly, felt grateful:
According to Stephen Deere at the Post-Dispatch, who followed the story Saturday, the house has been sitting empty for almost a year.
The case has also drawn the attention of Kristin Hoffmann, founder of 4KOPS, which stands for "Keeping Our Pets Safe." 4KOPS is a national, informal network of attorneys and advocates who aim to hold police accountable for killing domestic animals without cause.
While her grassroots network is national, Hoffman happens to be a resident of South St. Louis. She says city police fatally shot two of her dogs in 2012, an experience so disturbing it led her to advocacy.
Hoffman says that many people whose pets get killed by police grow upset because when they complain, they don't feel like they're being heard.
"Compassion goes such a long way," she says.
Perhaps, but wouldn't a compassionate word from an officer expose his/her police department to costly lawsuits like the one Angela Zorich filed?
"If we're not evolved enough as a society to have a common way to express compassion without it being an admission of guilt," Hoffman said, "we have a serious problem."