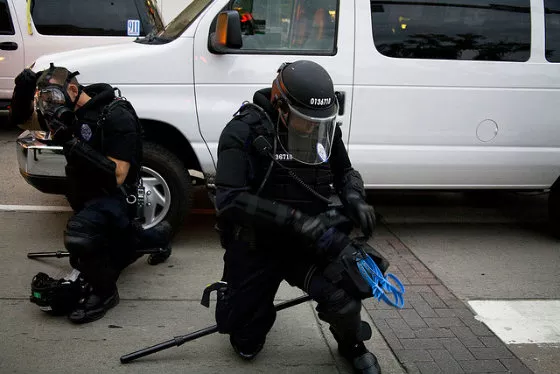 Photo courtesy of Flickr/WEBN-TV
A St. Louis County woman claims a police tactical unit killed her dog while investigating whether her home had natural gas.
On Tuesday, a South County woman filed a federal lawsuit that dog lovers should read with caution -- the allegations are pretty disturbing.
In the lawsuit, Angela Zorich claims that St. Louis County Police tactical officers -- aka the department's SWAT team -- raided her house in April 2014 and killed Kiya, her four-year-old pit bull.
Update: See the police version of the incident, as detailed in its incident report.
The reason for the raid: to check if her home had electricity and natural gas service.
"This is an example of police overreaching and using excessive force to get a family out of their house," said Kenneth Chackes, the attorney who represents Zorich.
Online court records suggest that Zorich and relatives have had various landlord actions and complaints filed against them since 2005 at two separate addresses in south St. Louis County.
Chackes preferred not to elaborate on the complaint, which is already 24 pages long. The St. Louis County Police Department declined to comment since the lawsuit is pending.
But here's a run-down of Zorich's story, as told in the lawsuit:
On April 25, 2014, St. Louis County Police officers came to her house. Her son cussed at them. They inspected the home's exterior and placed a "Problem Properties" sticker on the front window.
On April 28, Zorich called the police to follow up on the matter. An officer told her they were investigating the home for failing to have natural gas or electric service, as required by county ordinance. She admitted that the gas had been shut off, but said the claim about electricity was "bullshit." The officer hung up on her.
Zorich called back and spoke to a different officer. This one sounded angry that he'd been cussed at by her son three days earlier. Zorich tried to set up an inspection for a time when her husband would be home. The officer told her that was fine, but that the investigation would continue in the meantime.
The next day, around 12:41 p.m., Zorich was at home with several family members and her pit bull, Kiya, when a St. Louis County Police Tactical Response Unit burst through the door without knocking, according to her suit. The unit had at least five officers with M-4 rifles, supported by at least eight uniformed officers.
The officers entered so quickly, Zorich's suit alleges, that Kiya didn't even have time to bark. A tactical officer fired three shots into the dog, and the dog's "bladder and bowels released and she fell to the floor." The dog "was laying on the floor in her own waste and blood struggling to breathe. She had a gaping hole in her chest."
Zorich claims the officers kept trying to talk to her about the natural gas, but she was focused on her dog, whom she'd raised as a puppy and who (she says) had "never shown agression to any person."
At one point in the raid, Zorich alleges, an officer pointed his firearm at her son's head and said "One word, motherfucker, and I'll put three in you."
Zorich was taken into custody and later given a notice of violation from the Housing Inspector. It listed citations concerning her siding, guard rail, screens, window glass and deck.
When she returned home, she found beds overturned and items that had been on her shelves thrown to the floor.
She is suing St. Louis County and two officers, Corey Zavorka and Robert M. Rinck. Her allegations include unlawful seizure and unlawful infliction of emotional distress (for the killing of the dog) and unlawful retaliation.
We asked the police for a copy of the incident report and any stats on how frequently dogs attack officers who execute warrants. They replied that such information could take up to two weeks to release, given the "massive amount of records requests."
See also: Columbia Family Whose Dog Was Killed in SWAT Raid Is Suing the City
Stephen Ryals, who represents Zorich along with Chackes, says that within the last decade, more and more plaintiffs have filed suit against law enforcers who conducted a raid or executed a warrant and killed the family dog.
"It's a relatively recent liability that's gaining traction," he said.
Here's Zorich's complaint: