Danny Wicentowski
Olajuwon "Ali" Davis, left, pleaded guilty to planning bomb attacks against targets in St. Louis.
On August 18, 2014, Daily RFT received a very strange email. It hit our inbox at 2:18 a.m.
"Peace and Love," it began. "I am Olajuwon A. Ali, Minister of Justice and Law, New Black Panther Party (NBPP)- St. Louis Chapter, and I want to personally commend you and salute you for publishing an article that depicts the true nature and intent of the NBPP chapter."
The article in question described how New Black Panther members were among those keeping order in Ferguson on August 14, the day the St. Louis County Police Department ceded operational command of Ferguson to the state highway patrol. (That was also the day Ferguson turned into a rollicking, un-policed block party.)
In the email to Daily RFT, Ali wrote that the New Black Panther Party "never promoted act of violence towards anyone or any establishment or businesses."
"True enough, there are people so angry that they show their pain and emotions with aggression towards cops and frankly anything that they can get there hands on," he continued. "But let these few not distort the genuine peaceful intention and benevolence of the NBPP."
Despite his peaceful pronouncements in that August email, according to a federal indictment, Olajuwon "Ali" Davis spent the next few months planning a bombing and assassination campaign with another New Black Panther, 22-year-old sporting goods store employee Brandon Orlando Baldwin.
A joint investigation between federal and local law enforcement agencies ended with Davis' and Baldwin's arrests on November 21. The two men each pleaded guilty yesterday to four counts of explosives and gun charges. They now face 5 to 20 years in prison and are scheduled to be sentenced on August 31.
See also: New Black Panther Party Maintains Peace in Ferguson, Directs Traffic During Protest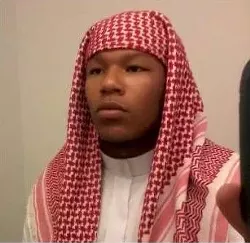 The guilty pleas mark the conclusion of a federal investigation dogged by ambiguity, as various news agencies relied on anonymous "law enforcement sources" to describe the extent of Davis' and Baldwin' plot.
According to a statement from the U.S. Attorney's Office, Davis and Baldwin met during the August protests following the death of Michael Brown. The two men then conspired to provide weapons to some of the protesters, the statement says. Baldwin, who worked at Cabela's in Hazelwood, purchased three pistols and gave them to an unnamed felon.
Baldwin would late admit to investigators that he'd lied on federal documents by claiming he was buying the guns for himself.
When Baldwin and Davis were indicted on explosives charges in April, officials finally confirmed early, anonymously sourced reports that the two men had been caught in a sting operation attempting to purchase what they thought were three pipe bombs. At the time, U.S. Attorney Richard Callahan declined to mention the proposed targets, saying, "A lot of their ideas were totally unrealistic and impractical, and we didn't include [in the indictment] all the things they rambled on about."
See also: New Black Panther Members Indicted in Bomb Plot, Arrests "Saved Some Lives"
However, Callahan's office provided more specifics on Davis' and Baldwin's plans in a Tuesday press release announcing the guilty pleas:
By early to mid-November, Davis and Baldwin's talk of procuring guns had radically expanded into acquiring bombs. The discussions included types of bombs, blast radius, and cost. Police stations and officers were discussed as likely targets with specific references made to [St. Louis County Prosecutor Bob] McCulloch and [Ferguson Police Chief Thomas] Jackson.
After meeting with an informant posing as an arms dealer, Baldwin and Davis settled on buying "pipe bombs" on November 19, but had to delay the purchase two days so they could withdraw $150 from an ATM.
Curiously, neither the U.S. Attorney's Office or the federal indictment mention a widely circulated detail about the "pipe bomb" purchase: In November, citing "sources close to the investigation," the Post-Dispatch reported that Davis and Baldwin had to wait until a girlfriend refilled her Electronic Benefit Transfer card before they could gather enough cash to buy two more pipe bombs.
That detail, combining elements of conservative disdain for welfare recipients with conservative paranoia of black militancy, became a viral bugaboo for conservative news media and blogs.
However, after that initial report, the detail popped up in a subsequent Post-Dispatch story in April, which again attributed it to "sources close to the investigation." The newspaper's latest coverage of the case makes no mention of the EBT card; rather the story describes how Baldwin told an informant he would be "inactive" until his unemployment benefits came through. The story provides no explanation for why this information changed.
We reached out to U.S. Attorney Callahan, who confirmed our hunch: It turns out that the detail about Davis and Baldwin buying bombs with a girlfriend's EBT card is total bunk.
"Our office was not the source of that information, and the reported fact is not true," U.S. Attorney Callahan tells Daily RFT by email. "The funds they were waiting for came from a normal salary source."
So, if not the U.S. Attorney's office, who was the source of the apparently erroneous tip to Post-Dispatch reporter Christine Byers? We've reached out to Byers and we'll update if we hear back.
As for the New Black Panthers, in a statement issued on Facebook after the arrests, Chawn Kweli, the party's national chief of staff, called the allegations against Baldwin and Davis "totally unfounded."
But Kweli did include one caveat:
"If it is true that Olajuwon Ali , or any member of the New Black Panther Party, is guilty of illegal acts and has violated the rules of our Party; he/she will be expelled from our ranks and membership terminated into perpetuity."

Note: This story has been updated to fully represent the Post-Dispatch's coverage of the case.<!——EndFragment——>

Follow Danny Wicentowski on Twitter at @D_Towski. E-mail the author at Danny.Wicentowski@RiverfrontTimes.com