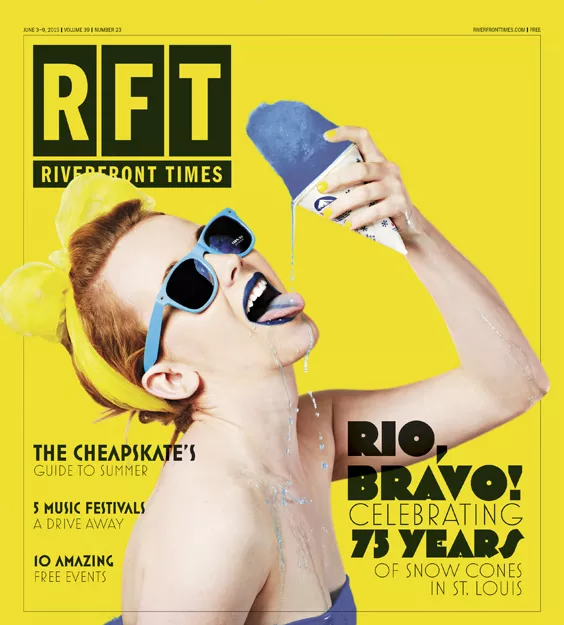 In some cities "cheapskate" is a dirty word. But here in St. Louis -- a city frequently featured on clickbait lists as one of the cheapest in America -- we wear that distinction as a badge of honor. Let other urban giants have their $9 microbrews and double-digit museum entrance fees. We have our own Picassos -- and they're free, year round (except on Mondays).
So suck it, Chicago, and come on a little adventure with the Riverfront Times for your best, cheapest summer ever in 2015.
See also: 10 Great Free Events in St. Louis This Summer
Three General Rules for Being a Cheapskate
1. Bike everywhere. Thanks to regional advocacy organizations such as Trailnet and Great Rivers Greenway, St. Louis has more designated bike lanes in 2015 than ever before in its 250 year history. They're safe, so grab a map from www.bikestlouis.com and use 'em!
2. If you can't bike, take public transportation. The real trap of popular tourist zones like the Arch, Washington Avenue and Ballpark Village is getting suckered into paying for parking. Remember, MetroLink isn't just for baseball games.
3. Bring a picnic. Sure, food trucks are as delicious as they are endemic to all the city's major summer hang-out spots. But real broke-ass St. Louisans still manage to class it up with plastic cups of chardonnay and a hunk of cheese from Schnucks. Stop wasting money, and get started on your Pinteresting picnics.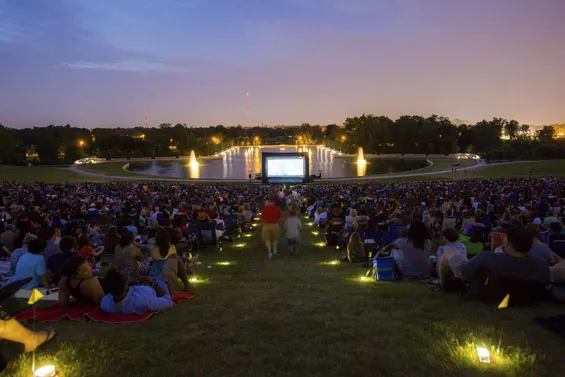 Courtesy of the St. Louis Art Museum
This summer, catch Jaws or The Sound of Music on the lawn at Art Hill -- for free.
Check out these free (or super-cheap) activities for the summer of 2015.
Free Movies Nothing says summer like a blockbuster film. Here are two great options to watch them outdoors, and both of 'em are free.
1. Art Hill Every Friday this July Art Hill (1 Fine Arts Drive) offers a great lineup of classic films -- family-friendly enough for sophisticated or dozing kids, and PG enough to still be interesting to everyone else. Come early to stake out prime real estate and groove with a DJ before the sun goes down. There is also a DIY art lab, geared toward adults. Food trucks and the music start at 6 p.m., and movies begin promptly at 9 p.m.
Friday, July 10: Back to the Future Friday, July 17: Jaws Friday, July 24: Clueless Friday, July 31: The Sound of Music
2. Movie Mondays at Ballpark Village If you screen it, they will come: Ballpark Village's absolutely free outdoor-movie series offers a solid selection of family-friendly, sports-themed films. Bring your own food and take MetroLink to save some dough -- or be prepared to pay up!
Monday, June 22: The Lego Movie Monday, July 20: Space Jam Monday, August 10: The Little Rascals Monday, September 14: The Sandlot
Cheap Dance Parties The best dance parties in St. Louis generally come with a $5 cover. That may be mere pennies compared to cities on the coasts -- but paying actual cash to exercise your God-given right to shake it?! Hellz no. Here are five free dance parties to get you moving.
1. Lunch Beat STL Wednesday, June 17. HandleBar, 4127 Manchester Avenue. Wednesday, July 15. KDHX, 3524 Washington Avenue. Wednesday, August 19. Blank Space, 2847 Cherokee Street. An absolutely free one-hour pop-up dance party with the best local DJs on a rotating schedule at venues across the city. Escape the midday summertime sadness with hipsters of all ages who need a break from the nine-to-five grind. All take place at noon, and all are free.
2. HandleBar HandleBar, 4127 Manchester Avenue. 314-652-2212. $5. If you have any groove, Saturday nights with DJs London Calling and 18 & Counting will make you move. If you're too cheap for the $5 cover, get to HandleBar before 9 p.m. for dinner and drinks on the patio: Its firepit is our mecca.
3. SLAM Underground 7 to 10 p.m. June 26 and August 28. The Saint Louis Art Museum, 1 Fine Arts Drive. 314-721-0072. Forget the Saint Louis Art Museum during the day. The final Friday of the month at SLAM Underground is where it's at. The museum's new after-hours series, which kicked off a year ago, is designed to bring art to the under-50 set. The result is a wonderful collaboration among the city's best DJs, printmakers, musicians and craftsmen and -women of all stripes for a celebration of the museum's best exhibition that month. Bust a move and bring home a craft project that's too cool for summer camp.
4. Rumpshaker Blank Space, 2847 Cherokee Street. 314-300-8831. $3. The suggested donation of $3 buys you a sweaty night of funk, R&B, boogie and disco with DJ Boogieman every first Thursday of the month.
5. St. Louis Contra Dancers St. Louis Contra Dancers. 37 South Maple Street, Webster Groves. If you find your stride in the steps and sways of a much earlier time, connect with www.childgrove.org or the Facebook group St. Louis Contra Dancers to do-si-do with lovers of waltzes, English country dance and contra dance (the kind of rumpshaking that's been happening in American barns for 300 years).
Turn the page for more good, cheap fun, including inexpensive exercise and cheap ways to get on the water.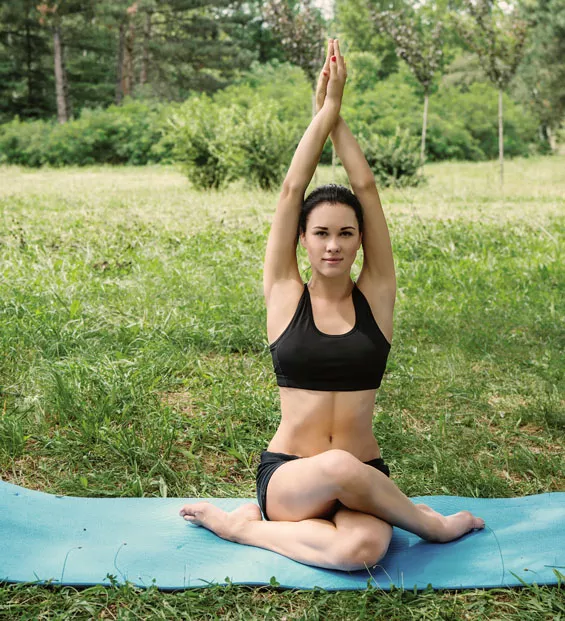 Stock photo
You can practice your yoga for free this summer -- or hit a dance party sans dinero.
Free Fitness Summer is not just for slacking. You can also get moving for free, thanks to these two great fitness options.
1. Outdoor Yoga (In and Around) St. Louis Head over to the Facebook page of the same name, and you'll find a link to a calendar with dates, times and locations for free or donation-based yoga sessions all over the city. Get your downward dogs in at Tower Grove Park (4256 Magnolia Avenue) every Saturday morning at 9 a.m. or head downtown to Busch II Infield at Ballpark Village (601 Clark Avenue) for Wednesday-evening oms. You can even win Lululemon gear. Weather permitting, you may be able to forgo that pricey studio membership.
2. The Tower Grove CO-ED Fitness Group This is an intensive, Sunday-morning workout organized by Teya King, a local fitness instructor and former professional dancer. According to her website, www.gatewayflex.com, King started the free bootcamp because "no one should ever have to use financial strain as an excuse from getting into better shape." The price to participate is blood, sweat and tears -- the group combines different types of cardio, calisthenics and jogging. Go to www.meetup.com/towergrovefitness for more details.
Free Waterfront Access Why journey to Florida when we've got plenty of ways to access the water for free? Try these five options to get off the land and on to Missouri's lakes, rivers and streams.
1. Pacific Palisades Conservation Area A 40-minute drive from the city brings you to a quiet little beach on a stretch of the Meramec River in JeffCo that's not yet muddied by pollutants (www.mdconline.com, 636-458-2236). Clearish, waist-deep waters with a gentle current in a gorgeous setting are the draws here (not to mention the people-watching). Bring water shoes and a folding chair -- the shore is gravelly.
2. Castlewood State Park Bring a blanket and some food, then feast on the sandy golden beach and soak up some sun (1401 Kiefer Creek Road, Ballwin; 636-227-4433). Swimmers should be wary, however: This stretch of the Meramec is only for those immune to pink eye and fungal infections.
3. Free resort weekend in Lake of the Ozarks If you listen to a soul-crushing 90-minute timeshare presentation, that is. Many timeshare resorts in the Ozarks entice with free nights and severely discounted weekends for prospective buyers. Listening to a presentation from management is mandatory but buying is not. Call around and get yourself a dealio or a stealio.
4. Mississippi River Water Trail Association If you're looking to ride a rented blow-up raft to boozetown, we don't have any suggestions about how to do that for free. Pack as many friends onto your flotation device as you can, bring your own stocked cooler of Bud, hydrate, and divide and conquer your amenities and costs. But if you're more Henry David Thoreau and less Harold and Kumar, forgo the boozy float trip and connect with our majestic lifeline at its most scenic points in Alton, Illinois, with the Mississippi River Water Trail Association's free social paddle on September 19. Visit www.greatriverwatertrail.org for more information and to learn about other free and cheap ways to experience Old Man River.
5. Free ferries to Brussels and Kampsville A great life hack for those desperate to get onto the water and willing to drive about an hour to make that happen: The Illinois Department of Transportation runs two free ferries across the Mississippi River from these day-trip worthy hamlets near Alton. Visit www.greatriverroad.com for more information.
See also: 5 Camping-Friendly Music Festivals Within 10 Hours of St. Louis
See also: 10 Great Free Events in St. Louis This Summer
See also: St. Louis-Based Rio Syrup Keeps the World in Snow Cones
Editor's note: This story was changed after publication to correct a few errors. There will not be a SLAM Underground in July. Also, the series, which is held on the final Friday of each month, is one year old. And the Art Hill Film Series is featuring DJs this year, not live bands. We regret the errors.