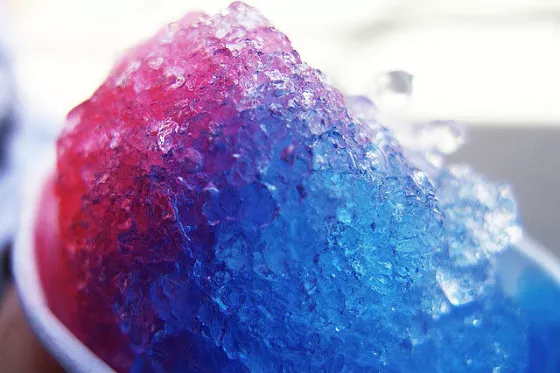 Photo courtesy of Flickr/Corby Ziesman
You're kicked back on Honolulu's Waikiki Beach. Your toes are wriggled into the sand as palms sway in a languid breeze, and the sapphire water goes on for eternity. No Bud Light for you. The scene is a veritable commercial for a Blue Hawaiian or piña colada, coconut-centric drinks probably made with fruit from the very trees that stretch overhead. St. Louis lies a world and several time zones away.
But even in Hawaii, the corner of 23rd and Chestnut is closer than you think. Much closer.
Downtown St. Louis' Rio Syrup Company ships its ready-to-use syrups, concentrates, preservatives and food coloring for snow cones, slushes and sodas to locations as far flung as the Philippines, Costa Rica, Singapore and all 50 states. Including, yes, Hawaii.
And though Rio doesn't quite sell ice to Eskimos, it does enjoy a surprisingly brisk business in Canada. The opposite is true of Europe: Those guys don't go for ice in much of anything. Georgia, the one bordering the Black Sea, is one of very few exceptions.
See also: 10 Great Free Events in St. Louis This Summer
Closer to home, St. Louisans recognize the brand from fairs, school picnics and roadside snow-cone stands, as well as heavy hitters including Grant's Farm, the zoo and Busch Stadium. Rio also supplies the Major League Baseball stadiums in Seattle, Houston, Kansas City and Denver. In fact, it's one of only a handful of companies nationwide to produce the luscious liquid sugar, and with close to 300 flavors (including no fewer than a dozen varieties of strawberry), it is certainly one of the most prominent.
This year, it is celebrating its 75th anniversary.
Photo by Kholood Eid
Ryan Caselton keeps bottles of blueberry moving at downtown's Rio Syrup Company.
Rio got its start in 1940 when Stuart Tomber was a manager at the now-shuttered Rio Theatre in Walnut Park. Among his many duties was to order syrups for sodas, until he decided he'd rather make his own. He began selling his syrup to other theaters, and soon his side business became his only business.
These days Rio is still largely a family affair. Billy Tomber, 42, is the vice president of operations, a title that's much tidier than the job itself. Any day might find him fixing equipment or driving the forklift. Billy has worked at Rio since he was fourteen, and jokes that someday he'll hold a press conference to announce that he's leaving the business to "spend less time with my family."
But so far, so good: His dad, Phil (the son of the company's founder), is president, having taken over the business in 1980. Mom, Addie, is the flavor crafter.
Photo by Kholood Eid
Addie Tomber, Rio's chief flavor crafter, mixes blueberry syrup.
Rio has just five full-time employees, but that number more than doubles during peak season, which runs from roughly now through July. That's when production is at its highest, since the syrup is best when used within eight months. Customers in Australia and South Africa bump up business in December when their summers are just getting started.
The company has employed numerous sets of siblings over the years: Big sis starts, and all of a sudden it's the go-to summer job for the rest of the family. Billy's three younger sisters have all worked at Rio, and he has even begun to hire his own friends' kids.
And that's telling: In a market as niche as this one, loyalty is a big deal. "We have always used Rio syrups for all of our flavors and feel lucky that they are located right here in St. Louis," says Patricia Williams, co-owner of beloved snow-cone powerhouse (and multiple Best of St. Louis winner) Tropical Moose.
Rio has been with Tropical Moose since its beginning some twenty years ago, when it was a stand on Chippewa Street and River Des Peres Boulevard. Tropical Moose now has outposts in Webster Groves, Kirkwood Park and Kirkwood Farmers' Market. And while co-owner Jack Williams puts "a little bit of a secret twist" on some flavors (the "Monkey Snot," the "Motor Oil"), his wife says, "the basic syrup is still from Rio."
Next: Rio's greatest hits
Photo by Kholood Eid
Any given flavor may contain up to five extracts to get the flavor just right.
Rio's flavors are infinite -- brandy alexander! red hot! blueberry cheesecake! -- and they're available in sizes from four-ounce samples to 55-gallon drums. The production line can crank out up to 500 gallons an hour. The company also sells pure concentrate, with each gallon yielding 32 gallons of syrup. That's enough for more than 4,000 snow cones.
For shaved-ice flavors, cherry is the most popular; it nearly eclipses the runners-up combined (blue raspberry and grape are Nos. 2 and 3, respectively). Rio purchases extracts and essences from a variety of suppliers to create its signature flavors; any given flavor may contain five or more extracts to get the taste just so.
Recent years have seen a return to the soda syrups that Stuart Tomber started with back in 1940. Thanks to the popularity of home-soda kits like SodaStream, such syrups have become a large and rapidly growing segment of Rio's business. Australia in particular is mad for craft sodas -- there, the colorless lemon flavor is the most requested.
Rio's products pop up in unexpected ways. They're in the food coloring that's printed on the end of register tape to signal it's time for a new roll -- because it comes in contact with food, it has to be edible. Rio products have also been used as dye for birdhouse paint -- the regular stuff can be toxic to fowl. Farmers have mixed the strawberry into their animal feed -- it turns out pigs think that flavor is tasty, too.
Photo by Kholood Eid
Billy Tomber, Rio's vice president of operations.
Even 75 years in, Rio strives to keep up with current trends. The company rode the "bacon bubble" for a while, Billy says, and though maple-bacon wasn't a top seller, the flavor ended up being a good one for vendors who used it in their funnel cakes. Other recent additions include salted caramel, huckleberry and crème brûlée.
Years ago, an idea was floated to make a beer-flavored snow cone. Like a watered-down brewski, it fell flat.
"It's the projects that keep me interested," Billy confesses. "I probably hear a million-dollar idea every day, and maybe one in a hundred pan out. But when it does, that's a good project."
Patricia Williams of Tropical Moose calls the Tomber family "the absolute best to work with." When Tro Mo moved into its Webster Groves storefront in 2009, she recalls, Addie was there with a hand-painted planter. These days Phil often stops by the farmers' market stand to chat when he's volunteering at Kirkwood's train station.
And if Rio doesn't get all the recognition it has earned over the last 75 years, that's all right by the Tombers. A wildly popular snow-cone stand in Texas gets its product from that modest brick building in downtown St. Louis, but the stand has been reluctant to tell its customers where the syrup comes from -- lest a rival business find out and want use it too.
Just like the origin of that rogue piña colada in Hawaii, Rio might well remain St. Louis' sweet little secret.
See also: 10 Great Free Events in St. Louis This Summer