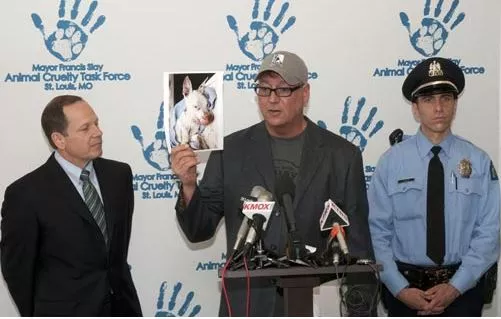 Courtesy of Stray Rescue
Randy Grim, center, holding up a photo of a different dog who suffered from torture.
For Randy Grim, founder of the Stray Rescue of St. Louis, the burning death of a terrier mix named Brownie was "one of the most inhumane, cruel acts I've ever heard of."
That's the way Grim put it to Daily RFT back in July 2013, two weeks before police arrested a woman named Adrienne Martin. According to a probable cause statement, Martin admitted responsibility for dousing the chained-up dog with gasoline and setting him aflame. A witness stated he saw Martin holding a lighter as the helpless animal burned. Prosecutors charged the 35-year-old St. Louis woman with two counts of felony animal abuse.
It was exactly the kind the case Grim had envisioned pursuing with the Animal Cruelty Task Force, a city-sanctioned partnership between Stray Rescue, police, the circuit attorney's office and the health department. This was how to hold animal abusers accountable.
"This demonstrates again that we are serious about this," Mayor Francis Slay said in a press release touting the arrest. "Our Animal Cruelty Task Force will continue to catch and arrest criminals who torture or hurt animals."
Now, nearly two years after Brownie's death, the charges are being dropped.
On Monday, the office of Circuit Attorney Jennifer Joyce announced there were "issues securing testimony" against Martin -- even as Joyce vowed to try to resurrect the case.
"The statute of limitations has not run out and the option of refiling the case remains open," Joyce said in a statement. "Despite prosecutors' belief in a defendant's guilt with any crime committed in our city, we must have the evidence and cooperation of witnesses to testify in court for prosecutors to seek justice."
See also: Stray Rescue: Brownie The Dog Clinging to Life After Suspect Badly Burns Chained Up Animal
It's a shocking development in a case that appeared, at least initially, to be a slam dunk for prosecutors. Along with Martin's apparent confession, her Facebook posts seemed to indicate that she was a sickeningly unrepentant animal abuser.
On July 9, 2013, the day before Brownie was rescued, Martin posted: "I'm on killa mode .....#killdogs.com.....today." The next day, she wrote: "I mean what I say and I say what I mean....#alldogsdontgoheaven.com"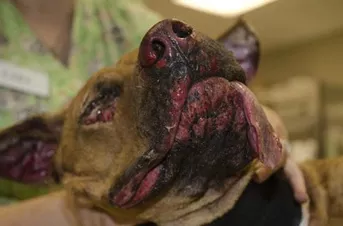 via strayrescue.org
Brownie the dog was found barely alive with burns covering most of his body.
But the case quickly grew complicated. Despite Martin's apparent confession, her lawyer, Philip Dennis, insisted his client could not have burned Brownie because she was at the Harlem Tap Room that night and had witnesses to prove it. As for the Facebook posts, Dennis said she was merely venting because Brownie had recently bitten her son.
"There were quite a few people, in fact, who had been hurt by this dog," Dennis said a month after Martin's arrest. "Brownie was not a very friendly animal."
Things got even messier during the first court hearings. Grim claimed that Martin's family and other supporters made harassing calls to Stray Rescue and had disrupted a vigil his group held for the slain dog.
See also: Adrienne Martin, Accused Dog Killer, in Court: Family Intimidating, Harassing Stray Rescue?
Since Martin's high-profile arrest, other cases of animal abuse -- including another dog burned dead -- have been adjudicated with guilty verdicts and even prison sentences.
In Brownie's case, however, justice has proven more elusive.
"His case is unique...in terms of the way he was killed," Grim said after Martin's bond reduction hearing. "You don't even have to be an animal lover to go, 'Dear God, that's sick.'"
Follow Danny Wicentowski on Twitter at @D_Towski. E-mail the author at Danny.Wicentowski@RiverfrontTimes.com