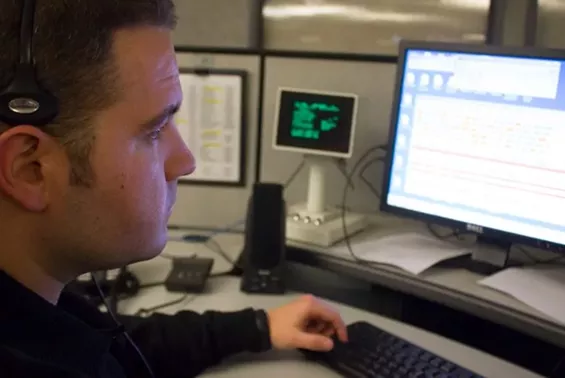 Danny Wicentowski
Rick Kranz will listen to your problems -- and send help.
There's a call coming in for Rick Kranz.
"911 St. Louis County. Location of your emergency?"
On the line is a hotel desk clerk. In a thick accent, she says a guest needs immediate medical attention. No, she doesn't know what the medical issue is. She only knows that the guest is a woman, she's in room 126 and needs an ambulance.
"Let me get the paramedics on the phone, do not hang up," says Kranz, a watch supervisor for the St. Louis County Police Department. He swivels in a towering leather office chair to face three computer monitors. In seconds, he hammers out a few keystrokes and routes the call through the fire department to reach emergency medical services, or EMS. As he listens to a paramedic question the hotel clerk, Kranz sends updates to a radio dispatcher sitting on the other side of this sprawling, cubicle-filled call center in the basement of county police headquarters in Clayton.
Barely one minute after taking the call, an officer confirms with Kranz that he's heading to the hotel to assist the paramedics. Kranz hangs up the phone.
See also: Moline Acres Police Start Giving Out "Cop Cards," Like Baseball Cards for Cops
A ten-year veteran radio dispatcher and 911 call-taker, Kranz's uniform is innocuous: a long-sleeved black polo and khakis. And while he may not strike the heroic image of an officer in the field, Kranz's mission is hardly a cakewalk.
"We are the backbone, so to speak," he says. "If St. Louis city had a multiple vehicle accident and 300 people were calling in at one time, we would get their overflow, just so the citizens don't go unanswered. We would take all their info and relay that to the city police via the radios."
Along with 75 other civilian call-takers, Kranz must manage a continuous avalanche of information pouring in from unincorporated St. Louis County and the 45 municipalities that contract to receive its services. In 2014 the department's Bureau of Communications reported receiving more than 430,000 emergency calls and 376,000 non-emergency calls.
But even that sizable workload doesn't compare to Ferguson.
Kranz himself served on a special crew of radio dispatchers deployed to the north county suburb following the fatal shooting of Michael Brown on August 9. From within an RV stationed at the Buzz Westfall Plaza in Jennings, Kranz and two other dispatchers pulled twelve-hour shifts to coordinate between officers attempting to address both large-scale protests and nearby outbreaks of violence and looting.
"I dispatched some of the craziest stuff I've ever heard," Kranz says, recalling those first chaotic days in Ferguson. "Officers were screaming on the air that they were taking gunfire. Our helicopter was taking gunfire. That's pretty serious."
Kranz is not a man easily shocked -- he regularly takes calls involving violent crime, and he says he's twice fielded 911 calls that ended with suicidal callers shooting themselves in the head.
Ferguson, however, presented its own unique challenges.
"You have to keep in mind, we were talking to officers from the highway patrol, from Troop H, which is based in St. Joseph, five hours northwest from here. They have no idea what north St. Louis county is, they've never been down here, and we're trying to give them direction on where to go for escorting EMS."
Kranz returned to the Ferguson detail at the end of the November, when a grand jury's decision not indict former Ferguson officer Darren Wilson both re-ignited the protests and appeared to spark a destructive wave of arsons and burglaries.
"We had all the news channels on the live broadcast," Kranz remembers. "We were watching McCulloch give his speech, and they would pan over to the view outside the Ferguson Police Department, and you could see the crowd. We were watching it all unfold."
The first 911 calls Kranz received that night were reports of police cars being flipped and stores being robbed.
As if that weren't enough for a police force stretched to its limit, Kranz also began hearing strange transmissions on police radio frequencies. A male voice directed vulgarities at cops and made bizarre orders to dispatch officers to certain intersections.
"He was trying to make contact with our air unit," Kranz says. "I think he cussed a couple times on the air. We pretty much zeroed in on the issue right away."
A week after the grand jury announcement, police arrested Nicholas S. Green, of St. John, who used two modified radios to transmit on the county police radio frequency.
Of course, after those tension-filled days and nights in Ferguson, Kranz returned to the standard chaos that St. Louis county residents call to report -- tax fraud, suspicious neighbors, burglaries, lost children, bad drivers, tree branches blocking roads. You name it, they call to report it.
Indeed, after a few hours in the call center, a sort of soundtrack begins to emerge, an arrangement comprised of radio squawks, indecipherable code words and fingers slamming typewriter keys. Above that discord floats the call-takers' endless queries:
What kinds of cars are they? Where's he at right now? Is it a state park or county park? Do you have a name? Did you see a license plate?
On the switchboard on Kranz's desk, a red light blinks. The screen attached to his phone tells him another call is coming in.
"Police emergency, this is Kranz."
Follow Danny Wicentowski on Twitter at @D_Towski. E-mail the author at Danny.Wicentowski@RiverfrontTimes.com