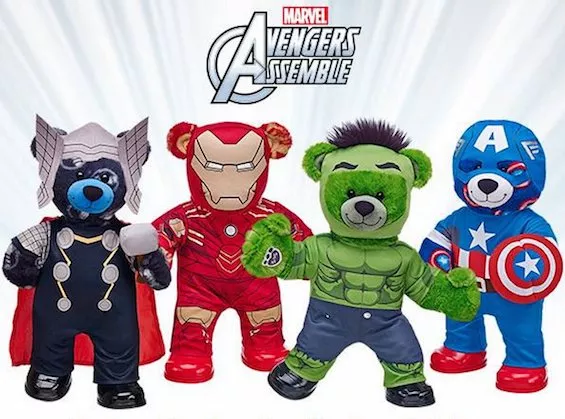 Build-A-Bear on Facebook
Natasha Romanoff ("Black Widow") isn't part of Build-A-Bear's Avengers group.
A woman can subdue a deranged god, infiltrate a top-secret military unit and high-kick bad guys into oblivion, yet still "The Man" keeps her down.
Or "The Bear," in this case.
St. Louis-based toy company Build-A-Bear is capitalizing on the box-office success of Disney/Marvel's Avengers: Age of Ultron, offering a discount on four special-edition Avengers bears. Kids can worship at the altar of the comic book movie gods with plush, make-your-own versions of the Hulk, Iron Man, Thor and Captain America.
But those who prefer a little gender diversity in their superheroes are out of luck -- kick-ass spy Black Widow isn't part of the package. And boy, have people noticed.
-- Update, 3:20 p.m. 5/14 -- Statement from Build-A-Bear added to the end of this story.
Adults are using Facebook to take Build-A-Bear to task for ignoring Black Widow from its Marvel toy line and leaving their daughters and sons without the full, gender-balanced Avengers experience. On the company's Facebook posts touting the Avengers deal, angry parents are crying "sexism" and lamenting the lack of female Avengers characters from Age of Ultron, which also includes X-Men mutant the Scarlet Witch, S.H.I.E.L.D. assistant director Maria Hill and secret scientific agent Peggy Carter.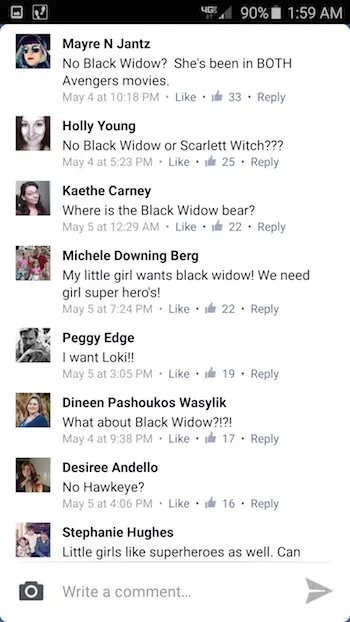 Black Widow, the superhero identity of assassin Natasha Romanoff, has been featured prominently in several "Marvel Cinematic Universe" films, including key roles in the original Avengers film and Captain America: The Winter Soldier. A core member of the Avengers team, Black Widow has had a hand in thwarting Thor's trickster god brother Loki and destroying terrorist organization Hydra.
A search for "Avengers" on Build-A-Bear's website shows 24 products -- including special-edition bears, costumes, sound cards and accessories -- for the male characters of the year's biggest box-office hit but no options for the female characters. Costumes for Wonder Woman and Batgirl -- characters that belong to a different comic book publisher and who aren't in current or recent films -- are the only lady products in a search for "superhero." That same search, however, brings up bears for additional male characters like Batman, Superman and Spider-Man, but there are no bears for Wonder Woman and Batgirl.
Build-A-Bear isn't alone in foregoing Black Widow merchandise, with toy companies and apparel houses being called out nationally for not carrying items that feature the character. One of the more notable examples involves a toy based upon an Avengers scene where a motorcycle rider drops from a jet and zooms off to continue saving the world. [MINOR SPOILER] In Age of Ultron, Black Widow is the one performing the daredevil act, but for Hasbro's "Cycle Blast Quinjet" toy, it's Captain America riding to victory.
The overall lack of merchandise featuring Black Widow or other female characters even has led actor Mark Ruffalo, who plays the Hulk, to complain on Twitter.
Countless media outlets and blogs have covered the phenomenon, including MSNBC, the Independent and a Tumblr called But Not Black Widow.
Avengers: Age of Ultron has earned nearly $1 billion at the box office since its May 1 release.
Build-A-Bear's media relations team and PR firm of record declined comment for this story by press time. We'll update with their statements if we hear from them.
-- Update, 3:20 p.m. 5/14 -- We received this statement from Gina Collins, chief marketing officer for Build-A-Bear Workshop, via email. We've included it below.
At Build-A-Bear Workshop, we strive to offer a variety of products for children of all ages. With the Avengers line, we chose the four main characters correlating to the storyline of the newly released full feature film. Boys, girls and our adult collectibles audience are embracing the uniqueness of these products. As we collaborate with our licensing partners, we work to identify films and characters that allow us to create unique, make-your-own Build-A-Bear offerings for our guests to enjoy. In the coming year, we'll have more superhero friends coming to Build-A-Bear Workshop.