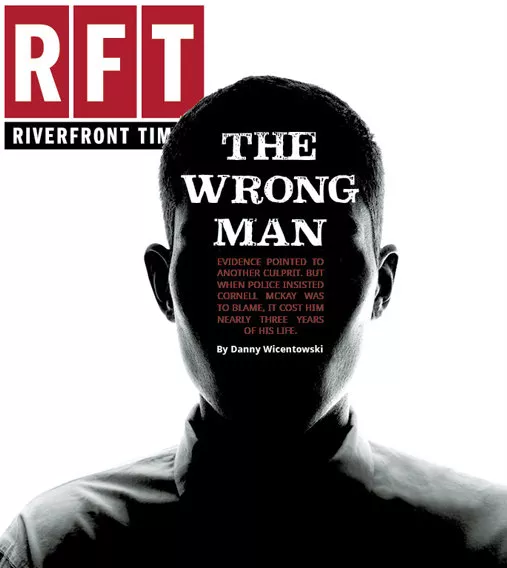 Illustration by Kelly Glueck
Cornell McKay has just been found guilty by a jury of his peers, so even though he has not yet been sentenced, the guards at the St. Louis City Justice Center are taking every precaution. The wiry 22-year-old is wearing an orange jumpsuit; his hands are cuffed behind his back.
"It's a lot of humiliation, to live in this place," McKay says. He squirms in his chair, trying to find a more comfortable position in the too-tight handcuffs. "You gotta get strip searched, you gotta be around these rapists and these murderers."
McKay's trial, a hotly contested four-day affair, centered on an armed mugging in the Central West End, a relatively simple robbery that initially didn't even make the local news. It quickly became much more than that, though, embroiling a high-profile murder case, another possible culprit and a series of questionable decisions by a St. Louis judge and prosecutors.
McKay's lawyers, who would fight for years to free him from prison, say police identified the wrong man — and then refused to look at a mountain of evidence that would clear their client.
They dug their heels in, McKay's lawyers say, to cover up their own ineptitude. If police had pursued the case aggressively from the beginning, they argue, they could have arrested the right man, the real robber. And if they'd done that, they could have saved the life of a young woman murdered in the Central West End.
Cornell McKay, they believe, was simply collateral damage.
"It's a hell of a reason why these guys were so determined to put the case on Cornell McKay," McKay's attorney Bob Ramsey tells Riverfront Times. "Because if they had arrested the right guy, Megan Boken would be alive right now. That is very powerful."
On this day in February 2014, fresh off the loss in court, McKay is feeling forlorn. "It's a lot of humiliation," he says again, "losing out in a trial for something you didn't do."
---
Courtesy of St. Louis Athletics
Megan Boken, a former SLU volleyball player, was murdered during a daylight robbery gone wrong in the Central West End on August 18, 2012.
It was around dusk on Friday, August 10, 2012, when Lena Hamblin parked her car outside a row of handsome brick condos on North Boyle Avenue in the Central West End.
Hamblin, whose name has been changed to protect her identity, had popped the trunk to retrieve her purse before turning in for the evening when she noticed a clean-cut black man wearing khaki shorts and a light blue shirt. He was young enough that he might be a college student, she thought.
He walked briskly past her, and as she turned to close the trunk she spotted movement from the corner of her eye — it was the same clean-cut guy, but now he was pointing a small silver gun at her stomach.
"Give me your money," he said.
She told him she didn't have any.
"Give me your cell phone, give me your cell phone," he said.
Hamblin got her cell phone from the front seat, and remembered that she had $50 in a small purse. (She would later describe how frightened she was that he would find the money and assume she had lied to him.) She gave him the cash and the phone, and watched as he rifled through the purse's contents. Finding nothing but makeup and lipstick, the man turned around and sprinted across a nearby parking lot, disappearing from view.
Minutes later, around 8:40 p.m., Hamblin's husband returned from walking the dog to find her crying in the darkened house. She told him she had just been robbed.
He called 911, and detectives from the St. Louis Metropolitan Police Department's 9th District arrived and took Hamblin's statement. They told her not to cancel her phone service.
For the next few days, that's about all the police did, as sworn statements from Hamblin and detectives would later make clear. One detective entered numbers pulled from Hamblin's phone records into a police database, but that was it.
After all, as upsetting as the crime was to the Hamblins, it was nothing new to police. Every day people are robbed in St. Louis' neighborhoods, even the nice ones. The victims may be shattered, but the police department has different priorities.
Eight days later an even more vicious crime just three blocks from the Hamblins' condo would change everything.
On the afternoon of Saturday, August 18, Megan Boken walked to where she had parked her car on the corner of Maryland and Taylor avenues, in the heart of the Central West End. The 23-year-old former Saint Louis University volleyball player had traveled from Chicago to participate in her alma mater's annual alumni volleyball game later that day.
Boken got into her car, but before she could drive off a young black man approached the window and pointed a gun her. A witness would later describe him as around 5'8", thinly built with close-cropped hair.
Words were exchanged, and although the sequence of events are not precisely known, a struggle ensued between Boken and the armed man. He shot her twice, once in the head and once in the chest, and then hopped in a getaway car driven by a male accomplice. The two men sped from the scene in what surveillance video would later reveal to be a white Pontiac Sunfire, leaving the young woman dead in her car's driver's seat.
Boken's murder — brutal, senseless and committed in broad daylight — caught the city by surprise. The Central West End is one of St. Louis' most cosmopolitan neighborhoods, with a mix of stately old mansions, nice apartments and high-end restaurants. It's been a desperately needed bright spot in a city that has grappled with the inexorable depopulation of its once-bustling urban corridors.
At a press conference that Monday, Police Chief Dan Isom announced a $10,000 reward from the neighborhood's special taxing district. Friends of Boken later doubled the reward.
"We have no concrete leads at this time," Isom said at the press conference. "We're really here to make a public appeal to ask for more information."
Isom wouldn't have to wait long. The department threw personnel and resources at the murder, and it ordered officers to comb through similar robberies in the Central West End in the hope of finding the killer.
Among those cases was the August 10 cell-phone robbery on North Boyle.
Two days after Boken's murder, detective Anthony Boettigheimer joined the North Boyle Avenue robbery investigation, and promptly began using call logs from Hamblin's stolen phone in conjunction with a police database to get a portrait of the man who stole it.
The database cross-referenced the numbers called and received from the stolen phone with all available police records, including those of witnesses and even crime victims. The result was a matrix of intertwined data points, and it was within this web that Boettigheimer searched for a suspect who matched the description of Boken's killer.
Boettigheimer found his suspect through a number Hamblin's cell phone had dialed after the robbery. The number belonged to a man named Lamont Carter. Carter was linked to an address in St. Louis County, 5944 Plymouth Avenue. And that address was linked to an unsolved drive-by shooting in 2010.
Records on the shooting led to the name of a victim: a young man named Cornell McKay. He matched Hamblin's description of the suspect.
That same day, Boettigheimer contacted Hamblin, who would later describe how the detective told her "we might have somebody" related to the robbery. Boettigheimer and his partner arrived at Hamblin's condo that evening and presented her with a photo lineup — six pictures set in an 8-by-12 frame for her to inspect.
"I immediately saw who it was," Hamblin recounted in a sworn statement. "And I pointed out Cornell McKay."
---
Courtesy Chris Douglas
McKay (center) escaped a troubled past in St. Louis to live with Pastor Chris Douglas and his wife Tayra.
On the day Megan Boken was killed, Cornell McKay was just settling into a new life in Washington, Missouri.
Like a lot of kids growing up in the hardscrabble St. Louis County suburb of Pine Lawn, McKay found his share of trouble. He dropped out of high school in 2009, and in 2010 was shot in the random drive-by that would land him in the police database.
He still has the small round scar on his upper right arm and a mark on his ribs where the bullet grazed his side.
At home, life wasn't stable. McKay bounced between his aunt and grandmother's house as his mother struggled to raise him and his two brothers. And in 2011, McKay found himself in trouble with the law: Charged with burglary after he helped a friend's cousin steal computers from Langston Middle School, he pleaded guilty in April 2012 and was sentenced to three years of probation. He was required to get his GED, to work with the Better Family Life program and to make restitution.
He took it seriously. That summer, McKay moved into Covenant House, a homeless shelter that also serves teens who are on the edge of losing their future to street crime and violence.
"I wasn't homeless, I was just tired of staying with my grandma," he says, laughing. "I stayed up there for a few weeks and I got involved in a GED class." The burglary charge, he acknowledges, was a wake-up call: "That set me back three steps in life. I was trying to better myself. I was just getting back, getting established on my feet."
It was at Covenant House on July 31 that McKay met an associate pastor named Chris Douglas. Himself a former cop, Douglas had traveled to St. Louis with a contingent of do-gooders from First Baptist Church, near the town of Washington, population 14,000.
Douglas, who was in the process of adopting three children from Ghana, was immediately taken with the soft-spoken, artistic McKay.
"Please pray for 'C,'" Douglas wrote in an August 2, 2012, Facebook post. "This guy looks just like our oldest boy we are adopting from Ghana! It brought Tayra and I to tears. He has been shot a couple of times but is doing well. He is very talented at art. ... I mean VERY talented."
By the week's end, Douglas offered to let McKay move in with his family. There, an hour outside of St. Louis, the twenty-year-old could focus on studying and working at a local graphics company — and, the pastor hoped, stay out of trouble.
Douglas shuttled McKay between Covenant House and Washington as they made arrangements for the move. McKay spent the night of August 8 in Douglas' basement and traveled back to St. Louis for his GED class the next day. After his studies, Douglas picked him up for an outing to Six Flags St. Louis.
McKay had class the next day, so Douglas dropped him back at Covenant House. "That was August 9," McKay recalls wistfully — one day before the cell-phone robbery on North Boyle Avenue that would change his life. "I wish that was August 10."
That wish only became important in retrospect; at the time, the date had no significance. McKay finished packing up his life in St. Louis that weekend. On Tuesday, August 14, he started his new job at a graphics company in Washington. He worshipped at the Douglases' church, bonding with the largely white community of believers. He spent the next weekend camping.
Then he got a call from his grandmother.
"She said this girl had gotten killed in the Central West End," McKay recalls. "She was like, 'You all need to stay off the streets, the police are trying to lock up anybody for that case.'"
"I heard about that stuff all the time in St. Louis," he says of the murder. "But I never thought it would come back to me."
On Monday, however, Hamblin picked McKay out of a photo lineup. And now, the cops weren't wasting time. McKay received a panicked call from his mother that very night: The police were looking for him. Officers had shown up at his grandmother's house with guns drawn. McKay, now a murder suspect, was considered armed and dangerous.
He didn't know what to make of the news. He theorized that maybe someone from his old stomping grounds had dropped his name to detectives in a bid to avoid their own police problems.
Before becoming a pastor, Douglas had put in ten years with the Washington Police Department. Surely, he thought, if McKay voluntarily turned himself in, they could quickly resolve whatever misunderstanding had led police to label this gentle, artistic soul a murder suspect. And he was certain it had been a misunderstanding, because McKay had been by his side, 50 miles from St. Louis, the weekend Boken was murdered.
"Chris asked me, 'Do you want to go down there tomorrow?'" McKay recalls. "I'm like, 'Yeah, we have to take care of that. I'm not finna run from the police and defer this, we just need to go clear my name so I can get back on the right path."
McKay and Douglas arrived at the 9th District headquarters around 10 a.m. on the morning of August 21. Immediately, officers detained McKay and shuffled him to an interrogation cell.
That night in the City Justice Center, Hamblin again identified McKay — this time in person — as the man who robbed her on August 10. Detectives questioned him hard. "They was trying to get it out of me," he says. "They thought with all their heart that I was the dude who is good for this robbery. They thought I was the dude who is good for that murder."
---
Courtesy Tayra Douglas
Douglas baptized McKay at Covenant House on August 4, 2012, just two weeks before McKay's arrest.
While Boettigheimer and other 9th District detectives interrogated McKay, a homicide detective named Jerone Jackson went about solving Boken's murder. It took him just five days.
As police had intuited, the key to cracking the case was, in fact, in Hamblin's stolen phone. Only it didn't lie with Cornell McKay, the vaguely connected drive-by shooting victim. The key instead proved a mysterious call placed from Hamblin's stolen phone at 2:21 p.m. on August 18 — one minute after someone shot Boken.
That day, Hamblin heard from a friend who said she had received a voicemail from Hamblin's stolen phone. The message contained the telltale shuffling-scratching sound of an accidental pocket dial.
Hamblin was freaked out — she hadn't realized the thief could circumvent her phone's password and gain access to her contacts. She called Sprint, which canceled service to the phone the very next day.
In the following week, Hamblin contacted Boettigheimer to tell him about the pocket dial. By then, Jackson and his colleagues in homicide were looking closely at the North Boyle Avenue robbery for leads. When Boettigheimer interviewed the recipient of the pocket dial, he passed along the information to Jackson.
On August 22, four days after the murder, Jackson determined that another call placed on the stolen phone was to a seventeen-year-old girl named Kaylin Perry. That afternoon, Jackson called Perry's mother, who brought her daughter to the City Justice Center. Under interrogation, Perry told Jackson that her boyfriend, eighteen-year-old Keith Esters, had frequently borrowed her mother's white Pontiac Sunfire — the same car captured on surveillance tape speeding from the scene.
The same day, Jackson administered a polygraph test to McKay, asking about Boken's murder. He passed. In any case, McKay had a rock-solid alibi — Douglas and ten other people could attest that on the day of Boken's murder, he was with them in Washington on a camping trip.
The big break in the Boken case came the next day. After spending the night in a holding cell, Perry spilled her guts. She revealed that her boyfriend had called her on August 18 to say that he'd killed someone.
But that wasn't all. Perry also told Jackson how Esters had come home two weeks ago with a stolen cell phone and $50, and that he had sold the phone at a BP gas station after cell service was cut on the August 19. Perry told the detective that Esters had paid Lamont Carter $50 for a small silver gun, presumably the one he used in the murder.
Though detectives never found the gun, employees at the BP confirmed seeing Esters sell the phone on August 19, just as Perry had relayed.
Esters was arrested that day — charged with first-degree murder, first-degree attempted robbery and two counts of armed criminal action. And that night, police arrested the getaway-car driver, Esters' cousin Johnathan Perkins, who's charged with second-degree murder, second-degree attempted robbery and two counts of armed criminal action.
Yet there was still the curious matter of Cornell McKay.
Although Hamblin's phone had led police to Esters, and Esters' girlfriend had fingered him for robbing someone the week before of a phone and $50, it didn't change the fact that McKay had been positively identified by Hamblin in two lineups. He'd already been charged for robbery and armed criminal action. He was being held on a $50,000 bond.
Nothing tied McKay to the phone except for his presence in the police database and the victim's identification — which are notoriously unreliable. At the time of their respective arrests, Esters clocked in at 6'1" and 160 pounds. McKay was 6'2" and 150 pounds. Even their mugshots are similar.
Beyond that, Boettigheimer couldn't explain how the phone had supposedly gotten from McKay to Esters.
It would have had to travel fast to get there: Subpoenaed Sprint records showed that calls had been placed on the phone to Esters' girlfriend, Perry, less than an hour after the August 10 robbery. Since McKay didn't know Perry, his lawyers would eventually argue that it was logical to deduce that Esters was already in possession of the phone at that time.
Stranger still, Jackson would later report that Esters attempted to offer information on the August 10 robbery, seemingly in the hope of lessening his sentence for murder and other armed robberies. According to the homicide detective, Esters claimed he was in the immediate area of the August 10 robbery, knew who did it, and that it wasn't him or McKay.
But even after Jackson gave Boettigheimer details of what he'd learned about the phone and Esters, Boettigheimer didn't change his mind about McKay.
In a deposition taken months later, McKay's lawyer pressed Boettigheimer on why he so easily discounted Esters' statements linking himself to the August 10 robbery.
"If you're going to say, 'I know who did it, but I'm not telling you, but this guy didn't do it,' somewhere in there one of them three sentences is a lie," he answered. "So that makes the whole thing a lie, in my opinion."
So confident were the 9th District detectives in McKay's guilt that they put little effort into corroborating McKay's alibi for the evening of the robbery. Douglas, who had been calling the detectives regularly to check in on the investigation, was shocked when he learned the following week that no one had checked with the three family friends with whom McKay claimed to have stayed with on August 10.
On August 31, Douglas picked up all three witnesses and drove them to the 9th District headquarters himself. When they arrived, Boettigheimer and another detective turned them away, the pastor says.
While Assistant Circuit Attorney Steve Capizzi later interviewed McKay's alibi witnesses, he says he distrusted their stories.
Instead, the prosecutor relied on statements from the owner of a convenience store where McKay claimed he was buying snacks at the time Hamblin was being robbed. The store owner told detectives she did not remember seeing McKay that evening.
---
Keith Esters was sentenced to 50 years for killing Megan Boken.
Three days before McKay's December 13, 2013, trial, he says, he found himself in a holding cell with none other than Keith Esters.
A few weeks prior, a judge had sentenced Esters to 50 years in prison for Boken's murder. Now he was awaiting further sentencing on separate armed robbery and kidnapping charges.
Unbeknownst to McKay, Esters had already invoked his right to silence when McKay's lawyer attempted to depose him as a witness. Still, McKay pleaded with Esters to do the right thing.
"I said, 'Bro, free me up. You're finna get 50 years, man. Just let me go,'" McKay remembers telling him. "When they gave him all that time, he was like, 'Forget it, I'm not going take all that time for nobody.' He said, 'You didn't do it anyway. If you got to trial you won't even lose out because you didn't do it.'"
Esters was wrong. During the trial, Judge Robin Vannoy repeatedly stopped McKay's lawyer, James Hacking, from introducing evidence that Esters had been the true culprit in the August 10 robbery. Though Hacking was permitted to call Esters' girlfriend, Perry, to the witness stand, she was only allowed to refer to her boyfriend as "Keith" — and wasn't permitted to give any details on the attempted robbery that led to Boken's killing.
"As far as the Boken issue, the court still doesn't see any relevance in that. I mean, robberies happen every day," Vannoy said during the trial. "It does not mean that Mr. McKay was not involved in this crime."
During her testimony, Perry was allowed to describe how "Keith" gave her a stolen cell phone sometime in August, and jurors heard how the phone records showed seventeen calls placed from Hamblin's stolen phone to Perry before Sprint shut off service on August 19.
But jurors never heard about Esters' admission to homicide detectives that he was at the scene of the August 10 robbery. They never heard about Esters' history of armed robbery or the Boken murder. They never heard evidence that Esters had bought a small silver gun from Lamont Carter.
Judge Vannoy even refused to allow Hacking to present the subpoenaed Sprint records showing a call had been placed from Hamblin's stolen phone to Perry at 9:40 p.m. on August 10, at most an hour after the robbery. The phone records, Vannoy said, would be "confusing," because they included calls that did not appear on records Hamblin had previously obtained from Sprint. The judge ruled that McKay's defense could present the phone records only with accompanying expert testimony to explain the discrepancy. McKay couldn't afford to hire such an expert, so the jury was left with only the prosecution's version, which listed the first call to Perry 25 hours after the robbery on August 11.
As with the initial police investigation, prosecutors could only offer vague theories on how the phone traveled from McKay to Esters. Their case rested entirely on Hamblin, who never wavered in her certainty that she'd correctly identified McKay.
She was joined by her husband, who testified that he saw a young black man running across North Boyle Avenue just as he was returning from walking the dog. He later identified McKay as the assailant in the second, physical lineup.
With McKay's defense hamstrung, the jury's verdict wasn't surprising: Cornell McKay was found guilty on both criminal counts.
Awaiting his sentencing in the City Justice Center in February 2014, McKay can't conceal his bitterness at the outcome.
"If Keith Esters was on trial for this case, would it be possible for him to lose? He had the phone, his girlfriend got up there and said, 'He told me he robbed someone for this phone.' We know Esters had a silver gun in August. He said, 'I was in the immediate area of the robbery.'"
McKay shakes his head, seemingly in disbelief.
"They say when you go to trial, if there's any reasonable doubt that you're supposed to have a mistrial," he says. "There was a lot of doubt. And they just let none of that into the courtroom."
---
Courtesy Tayra Douglas
McKay became an unofficial member of the Douglas family prior to his arrest.
After the trial, things only got worse. Hacking, though well-known for his work in immigration and civil cases, had little experience as a trial attorney in complicated criminal cases like this one. Following the guilty verdict, he missed a deadline to file a motion for a new trial.
"I basically made a big mistake," Hacking tells Riverfront Times. "I was heartbroken." In order for the case to be salvaged and an appeal filed, Hacking decided to withdraw as McKay's lawyer. Douglas contacted a young defense attorney named Thomas SanFilippo, who agreed to take McKay's case. SanFilippo, in turn, contacted Bob Ramsey.
A well-known criminal defense lawyer, Ramsey made headlines last year after freeing a Chillicothe man named Mark Woodworth, who had spent seventeen years in prison on a double murder he did not commit.
After Ramsey learned about McKay's case, his blood boiled. When the experienced attorney looked at the police investigation, he saw detectives and prosecutors scrambling to cover their own asses. Had detectives not delayed tracing Hamblin's phone records to Kaylin Perry, he argues, police could have easily found Esters before he pulled the trigger.
Instead, detectives lazily relied on their crime database to pick a convenient fall guy for their mistakes — McKay.
Ramsey wasn't alone in his outrage. Before his departure, Hacking himself had reached out to James Dowd, a highly regarded firebrand who had served as a trial and appellate judge for decades. Dowd was incensed at what he saw as a callous injustice committed against an innocent man. He joined Ramsey and SanFilippo on the case.
McKay's new legal team filed an appeal for a new trial. Then they went to war. In the weeks leading up to McKay's March 2014 sentencing, they filed a flurry of motions, arguing that the 2013 trial had been compromised by prosecutorial misconduct and a complicit judge.
"Defendant was denied due process of law and this Court committed reversible error in excluding Defendant's evidence that another person, Keith Esters, had the motive and opportunity and did, in fact, commit the robbery," Ramsey wrote in a motion to delay sentencing.
Judge Vannoy was unmoved. In a March 13 hearing, she upheld McKay's conviction and denied his lawyers' motion to delay sentencing.
"I made certain decisions in that trial," she said in court. "I stand by those decisions."
The week prior, in an interview with St. Louis Post-Dispatch reporter Jennifer Mann, Keith Esters had hinted at involvement in the August 10 robbery. Echoing McKay's account of their conversation in the holding cell in December 2013, Esters told the reporter that he wouldn't risk adding more years to his sentence without some kind of deal.
"Tell you the truth, I can't say nothing that gonna benefit him because in the end it's gonna make me look bad," he told Mann. "I'm not willing to help them just to help somebody else if it ain't going to benefit me."
Still, at the March 13 hearing, Vannoy also denied McKay's lawyers' motion to call Esters as a witness.
One week later, on March 20, McKay's case was set for sentencing. Judge Vannoy's courtroom was filled to capacity with McKay's family and members of Douglas' church, many of whom had previously packed the courtroom during his December 2013 trial.
The hearing began with statements from Hamblin. Her voice cracking with emotion, she described the trauma of the robbery and the mental anguish that had plagued her ever since.
"I became a person I didn't know anymore," she said. "Seeing the light glint off the semi-automatic pistol he pointed at my stomach is a chilling memory I cannot shake." McKay, too, got the opportunity to speak. He said he did not blame Hamblin — he laid responsibility at the feet of the detectives and prosecutors.
"I believe that everybody knows Keith Esters did this robbery," McKay declared. "I don't think it's a race issue, and I don't think it's a hate crime. I just believe that she made an honest mistake."
"It's unreal," he told the court, "that I have to go and be in a hellish environment for ten or twenty years for something I didn't do, around monsters like Keith Esters. I believe in myself, and I stand here today strong-willed. I wake up every morning, in the hell of a cell, and look myself in the mirror...and know that I didn't rob [her]."
After McKay's statement, Judge Vannoy delivered her ruling: McKay would be sentenced to twelve years in prison.
In an interview the next day, Assistant Circuit Attorney Steve Capizzi repeated his office's standard response to suggestions that Esters was the true culprit.
"I believe in justice, and I believe justice was served in this case," Capizzi said. "We have credible evidence and a jury of twelve people that I picked and the defense picked and the judge approved of. They found him guilty of this crime."
That may have been the end as far as the prosecutors were concerned. But McKay's legal team was not about to give up.
---
Danny Wicentowski
Former judge James Dowd threw his considerable legal clout behind efforts to free McKay.
On Wednesday, May 6, James Dowd's office is crowded with attorneys and stacks of legal motions that teeter atop a low coffee table. Dowd — whom everyone except Ramsey addresses simply as "Judge" — is hunched over a laptop. On the screen is a letter sent to St. Louis circuit attorney Jennifer Joyce. It's dated April 28.
The subject: State v. Cornell McKay.
"If you do not see fit to dismiss this case immediately and set this innocent man free," the letter reads, "then the conclusion that you not only condone, but actually encourage such dirty and illegal tactics will be inescapable."
Dowd looks up from the screen. Seated around him are Robert Ramsey, Thomas SanFilippo and another addition to the legal team, Joseph Yeckel.
"I thought she would be somewhat responsive," Dowd says, cracking a wry smile. "Bob and Joe keep laughing at me."
Indeed, the letter was constructed to be a highlight reel of accusations against Joyce and her prosecutors, each paragraph describing another example of alleged misconduct, negligence and outright corruption.
The letter's confidence was rooted in the string of victories McKay's defense team had notched since McKay's sentencing a year and two months before. While McKay languished in prison, his lawyers took their allegations to appeals court after appeals court, racking up wins all the way.
McKay's fortunes turned the day after his 23rd birthday — December 23, 2014. That day, the state appeals court reversed McKay's conviction and twelve-year prison sentence. The court ruled that Judge Vannoy had tainted the trial's result by improperly blocking evidence pointing to Esters' involvement in the 2012 robbery.
The appeals-court ruling systematically bashed Vannoy's decision-making during the trial: Her ruling that McKay's defense couldn't present its own phone logs without expert testimony was deemed "an abuse of discretion," because expert testimony is, in fact, not required for those kinds of "historical" records. The court also took Vannoy to task for preventing the jury from hearing the full story of how Hamblin's stolen phone connected to Esters and the Boken murder.
"Here, the prosecution's case relied entirely on eyewitness identification and testimony; there was no physical evidence linking defendant to the crime," the appellate judges noted. "As such, the exclusion of the alternative perpetrator evidence denied defendant the ability to present evidence he could have used to undermine victim's credibility.... In cases where a witness's credibility is pivotal to securing a conviction, courts have found that the improper denial of impeachment evidence is incompatible with the accused's right to a fair trial."
Following the state appeals court ruling, Attorney General Chris Koster announced he would fight the decision all the way to the Missouri Supreme Court. "I will defend without hesitation the work of the St. Louis Metropolitan Police Department and Circuit Attorney's Office in the State's highest court," Koster said in a press release.
Koster didn't get his wish. The Missouri Supreme Court declined to hear the state's case, leaving the lower court's ruling to stand. McKay's conviction was officially vacated.
The decision came on April 28, the same day Dowd and Ramsey sent their inflammatory letter to Joyce. Yet more than a week later, McKay is still in prison. In Dowd's office that day, the jovial mood shared by the attorneys dissipates as they debate among themselves. Should they file their next motions that day or the next? Could they get McKay out on bail in time to take his ACTs? How long would the circuit attorney drag her feet before a new trial?
An hour later, their debates are swept away by Joyce herself. In a press release issued at 4:30 p.m., the circuit attorney announces that Hamblin is refusing to participate in a second trial, effectively ending the prosecution's case against McKay. In an interview that afternoon, Joyce is defiant.
"We believe Cornell McKay committed this robbery, we have no doubt about that," she says. "The only reason we're not going to trial is because the victim does not want to go forward."
Joyce attributes Hamblin's decision to "bullying" she endured from McKay's defense team after the trial concluded. Joyce singles out Ramsey, who disclosed the crime victim's real name during a radio interview last year.
Despite the collapse of the case, Joyce says that she's encouraged by McKay's positive relationships with the Douglas family and the community in Washington.
"It appears Mr. McKay has a lot of supporters around him, and we're happy to see that," she says. "We hope he takes this opportunity to live his life lawfully and productively."
No matter. Whether Joyce was willing to admit it or not, the fight was over. By law, McKay was an innocent man. Now the lawyers just had to find a way to bring him home.
---
Thomas SanFilippo, one of McKay's lawyers, snapped this selfie after McKay was released from prison.
McKay's final day in prison, last Thursday, May 7, started in the same place as the two previous days — in the hole. That's what inmates call the six-by-eight cell at Bonne Terre Eastern Reception Diagnostic and Correctional Center that he shared with a stainless steel toilet, sink, two bunk beds and a cellmate serving a life sentence. They were given only boxers to wear, as inmates have been prone to hang themselves with their clothes after just a few days staring at the tan-colored walls.
McKay had arrived at Bonne Terre on Tuesday, two days before Circuit Attorney's Office dropped the charges. For the young inmate, the move had nothing to do with his legal status: Bonne Terre was only an hour-and-half drive to Washington, making it easier for friends and family to visit him. Prior to the transfer, he'd been incarcerated in the Southeast Correctional Center in the southern tip of the state, two-and-half hours away.
McKay was anxious, verging on mad. For two days the guards had denied him access to a phone call. Rules of the prison stipulated that new transfers like him had to sweat through a full three days in the hole before being allowed contact with the outside world.
By 6 p.m. Thursday, McKay was contemplating making a scene. He'd already refused food that day, choosing a hunger strike rather than enduring more of the silent treatment. He shouted at the guards, demanding his phone call.
He had no idea that, technically, he was already a free man.
In fact, in St. Louis, his lawyers were struggling to figure out how to get him out of jail — plans that were complicated by the timing of Joyce's press release late Wednesday afternoon, with Friday a state holiday marking the birth of Harry S. Truman.
Dowd called the governor's office and got the Missouri Department of Corrections' legal team to work overtime drafting release papers. Meanwhile, SanFilippo was in his Acura, a silver streak tearing south on I-55, heading toward the prison and hoping Dowd was pulling off a miracle with the state bureaucracy.
At 6:30 p.m., just before McKay completely lost his cool, a guard and warden sheepishly approached the bars and told him the news. He was leaving, tonight. It was the first he had heard of Joyce's decision not to try the case.
A half-hour later, McKay walked out of prison and got into SanFilippo's car. As they sped away from Bonne Terre, a jubilant SanFilippo snapped selfie after selfie of himself with his client.
The news spread to the First Baptist Church in Washington, and members there frantically organized a homecoming party at the same place where, more than two years before, McKay had been welcomed into a community of friends and fellow believers. Pizzas were ordered. Banners were hung. Hearts were drawn on poster board. "We Love You Cornell," the signs read. "Welcome Home Cornell."
SanFilippo dropped off McKay at a commuter stop along the highway where Douglas was waiting. The pastor drove McKay back to his own house so the newly freed man could change clothes and shower.
At 8:30 p.m., a cheer rises up from the crowd of 60 people gathered outside the church as a white Econoline van turns into the parking lot. McKay, in a white polo shirt, hangs his head and torso out the passenger window and pumps his arm again and again.
When the door opens, he is swarmed by Douglas' children, laughing, screaming, pulling at his arms and pressing their small faces into his chest. Hands seek his narrow shoulders, touching, pulling, hugging, as if they are unsure if he is really there, really home, really standing, and not some mirage, some trick of the setting sun.
McKay wraps an arm around his grandmother, and his mother presses her face to his chest, whispering, "Oh my baby, my baby." Mascara stains his white shirt.
Later, after interviews with the local news, a slice of a pizza and thousands of hugs, McKay retreats to an enclosed stairwell connected to the church's gymnasium. The sound of basketballs and laughter echoes through the walls.
So. At long last, he's free. What does he feel?
"This type of love," he says. "People sharing out here, people caring. It's really hard for people to do that in prison."
He looks at Douglas standing nearby, tears brimming in his eyes.
"I learned a lot in prison, good and bad," McKay says. "You ultimately learn that you don't want to go back. For nothing. For nothing in the world do you want to give this up."
Follow Danny Wicentowski on Twitter at @D_Towski. E-mail the author at Danny.Wicentowski@RiverfrontTimes.com