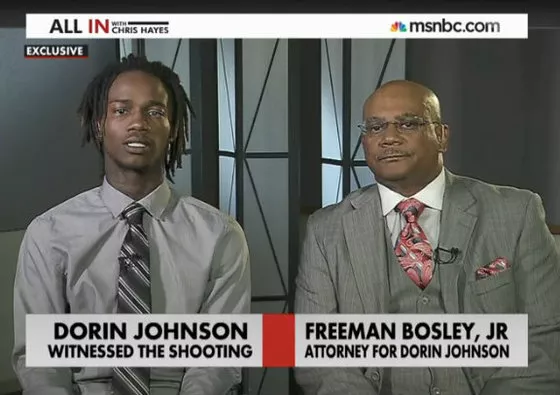 MSNBC screengrab
Dorian Johnson in one of his first TV interviews.
Dorian Johnson, the man who was walking with Michael Brown just before his fatal encounter with former Ferguson police officer Darren Wilson, is suing the City of Ferguson, Wilson and former police chief Thomas Jackson.
The documents, first obtained by the Post-Dispatch, claim that "without any provocation by Plaintiff Johnson and without any legal justification, Officer Wilson withdrew his weapon and fired it at Plaintiff Johnson and Michael Brown, Jr. as they fled and ran away from him, striking Brown several more times."
"The purpose of this lawsuit is to bring Darren Wilson to justice," says James Williams, Johnson's attorney. "Dorian Johnson was very courageous, as was the Brown family, for not letting this go."
Williams also revealed that while Johnson is currently still in the St. Louis area and that he will soon enroll at a four-year university to complete his bachelor's degree. Williams would not name the institution but said it is not in Missouri.
Johnson's account of what happened on August 9, 2014, came to define the Brown story -- he said that Wilson told them to "get the fuck out of the street," then grabbed Brown through the squad car window and attacked him, before shooting at Brown as he was running away. Johnson said Brown turned around and had his hands in the air when Wilson shot him dead. It's the story he told local media, the grand jury, the U.S. Department of Justice, and is repeated in this lawsuit.
Since Johnson has told his story so many times, Williams says that part of the purpose of the lawsuit is to combat the idea that Johnson's story has changed or that he's a liar.
"I think if you compare them all, they're all consistent. It largely depends on how the question was asked of him," says Williams. "Folks are trying to smear him."
He says while Wilson had nearly a month to face questions, Johnson jumped into the public eye immediately with a tale that hasn't varied.
Some may recall that in the immediate days after Brown's killing, it became clear that the Ferguson police still hadn't interviewed Johnson, even though he'd appeared on television. It turns out that the local chapter of the NAACP assisted Johnson, his girlfriend and their newborn son to get out of Canfield Green Apartments immediately.
"We did provide him sanctuary. What happened was, right after things happened, Dorian was afraid to be interviewed or interface directly with local police," recalls Adolphus Pruitt, president of the St. Louis chapter of the NAACP. "We provided safety until he could be interviewed by the federal authorities, along with the St. Louis County Police Department."
Williams says Johnson also lost a good job he had at the time in order to go into hiding.
"It's been tough but he is extraordinarily resilient," says Williams.
The lawsuit concedes that Wilson never touched Johnson, nor did he shoot him, but Williams says that doesn't matter.
"You don't have to be killed by the police in order for your rights to have been violated," he says.
At the heart of the complaint is the contention that Wilson's decision to stop Johnson and Brown in the first place was racially motivated. The suit cites the Department of Justice report that showed Ferguson "engaged in a pattern and practice of unlawful conduct that violates the First, Fourth, and Fourteenth Amendments...the Ferguson Police Department has terrorized the African-American citizens in its community."
Williams says that he intends to raise the issue of whether Wilson knew about the robbery at a nearby convenience store before he stopped the pair. Furthermore, Johnson didn't do anything wrong in the cigarillo incident, he says, and the tape confirms that.
The suit says Johnson also suffered psychological damages from being afraid of Wilson and witnessing Brown's death. Johnson is claiming "psychological injury, severe emotional distress, medical expenses, lost wages, living expenses, incurred additional expenses," and more. It asks for a minimum $100,000 compensation.
Though Johnson has been vilified by many, he also has a lot of support from the African American community in Ferguson, Williams says. The attorney says he also encouraged Johnson to pursue his college education outside of the state to get away from some of the worst vitriol.
"Go out of state where he can sort of start fresh."
Read the whole suit here:
Email feedback or tips to the author at [email protected].