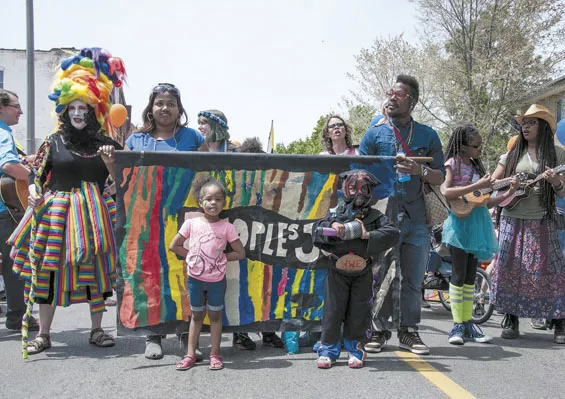 Micah Usher
Marchers on Cherokee Street.
People's Joy Parade [ pē-pəlz-ˈjoi-pə-rād ] noun
1) An improvised locomotive streetshow of art, music, dance, vehicles and costumes, hundreds of creatures deep;
2) That procession which has intersected the Cinco de Mayo festival on Cherokee Street each year since 2009, powered by love-feels and not by corporate sponsorship;
3) Any annual St. Louis parade organized by mostly white artists in a mostly black neighborhood during a Mexican festival on a street named after Native Americans
---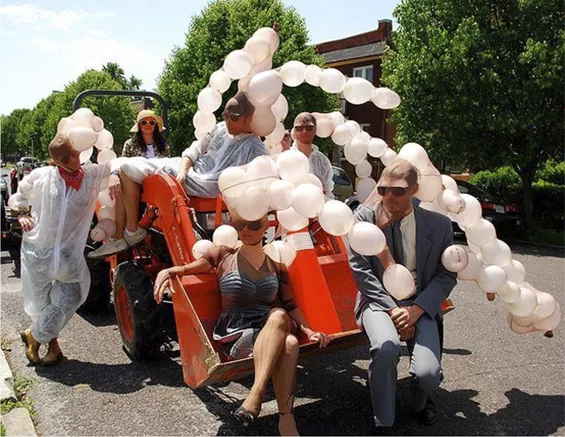 Courtesy of Mike Stasny
Artist Mike Stasny (right) and his MSIF bandmates at the second parade in 2010.
Parade Guidelines

"It's truly anything goes. The only structure is that everybody lines up." -- Galen Gondolfi, frequent participant and founder of Fort Gondo, a nonprofit arts forum on Cherokee Street

"We encourage costumes and artists because that's about whimsy and play and making the everyday magical. But it's totally inclusive. You can join in at any moment." -- Sarah Paulsen, parade cofounder

"Blue jeans and a T-shirt isn't gonna cut it. Get out your glitter. Don't be boring. Do not be boring. Let your freak flag fly a little bit. Be silly. Enjoy yourself." -- Jenny Callen, parade coordinator

"It's both painful and orgasmic. There must be a variety of life-threatening infrastructure [on the floats]. Without that component, it's not worth it." -- Galen Gondolfi
---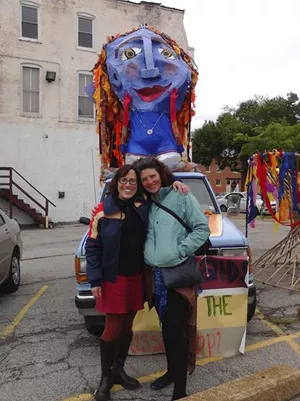 Elisa Forgelman
Sallie Durbin and co-founder Sarah Paulsen in front of the Mermaids by the Mississippi.
Parade Origin
In 2007, Sarah Paulsen -- a St. Louis-based artist, animator and teacher -- voyaged to the town of Ayacucho, Peru. One day she was swept into a church parade. The sensation was so intense she began to cry."For a long time I thought about that parade and what it meant," she says. She concluded that its power lay in the feeling of solidarity, a solidarity that was somewhat lacking in the Cherokee neighborhood to which she soon returned.
Cherokee was in transition. A century earlier, the south-city street had hummed with dry-goods stores and even a trolley. After World War II, department stores and high-end boutiques moved in. Then the city started emptying out in the '60s. Cherokee fell into a slump of burglary, murder, drugs, prostitution and neglect.
But by the mid-aughts, a renewal was underway. Latino business owners opened eateries and groceries. Artists like Paulsen came hunting for cheap studio space. Ensconced in this new multiethnic mix of neighbors, Paulsen wondered whether artistic events could help bridge cultural gaps between them.
She fell into a dialogue with Lyndsey Scott, a staffer at the Cherokee-based Community, Arts & Movement Project, or CAMP. Scott had been working with local kids there. She, too, yearned for stronger neighborly bonds, and believed that spontaneous, playful interactions in public could foster them.
"But it was like, where?" says Scott. "There was no public space."
In the spring of 2008, Scott circulated an email. The idea was to gather a small crew of merry-makers to scramble around the annual Cinco de Mayo festival in disguises. She wrote:
Bring your Zany your Colors your Unafraid Bring your Cooky your Monkey your Tambourine Bring your Foofoo your Feathers your Umbrellashade Bring your Stilts your Maracas your Songlungs true Bring your Poem to shout Bring your lumps to shake Bring you.
She added, "Please don't post this to list-servs." She wanted her "baby street theatre parade seed" to be kept "more on the mum side so it has some surprise flava." About twenty people showed up.
The next year Scott and Paulsen announced the first formal People's Joy Parade. They got the proper permits and scheduled it to coincide with Cinco de Mayo.
They had no funding, "just heart and guts," recalls Paulsen, who personally hand-crafted some invitations. She and Scott also passed out fliers at Cherokee shops and knocked on residents' doors.
"I don't remember overt interest," Scott says. "We weren't in costume. The message was, 'We're sane. You can trust us.'"
The pair recruited a third collaborator, Celia Shacklett, a rock bassist and founder of the winter holiday caroling group Yuletide Express.
Shacklett formed a small sing-along troupe called the Footbeat Choir. Her job was to strum guitar and lead paraders in belting out classics such "Lean on Me," "This Land Is Your Land" and -- in honor of Cinco de Mayo -- the Mexican folk song "Cielito Lindo."
(The Footbeat Choir's repertoire has since widened to include Michael Jackson's "Man in the Mirror" and Stevie Wonder's "I Just Called to Say I Love You," among other tunes.)
For that first parade in 2009, about 150 people came and marched, and not just visual artists: The Roosevelt High School's marching band banged on drums, while Latinas from St. Cecilia Catholic Church twirled their dresses in a Mexican folk dance.
"I couldn't believe we pulled it off," says Paulsen.
The next year, Paulsen and Scott launched a Kickstarter campaign, calling on:
crepe paper float makers, home made costume fashionistas, b-boys/girls, midnight minstrels, Gigante puppeteers, art cars, bike brigades, moving installation artists, Elvis impersonators, cardboard bricoleurs, rainbow dancers, knights of St. Louis, drag queens, beat making marching bands, Mexican wrestlers, robot makers, Virgin of Guadalupe's, and any lost members of the Missouri tribe.
Many answered the call, and the People's Joy Parade congealed into tradition.
"I remember the feeling of slow-motion beauty, walking down the center of street with the kids," says Scott, who has since moved to Illinois. "That is such the world that I wanted to create for them, where play is permissible, people are cheering for you, and you can sing love songs for strangers."
Since then, the People's Joy Parade has become a fixture of Cherokee's Cinco de Mayo street party.
---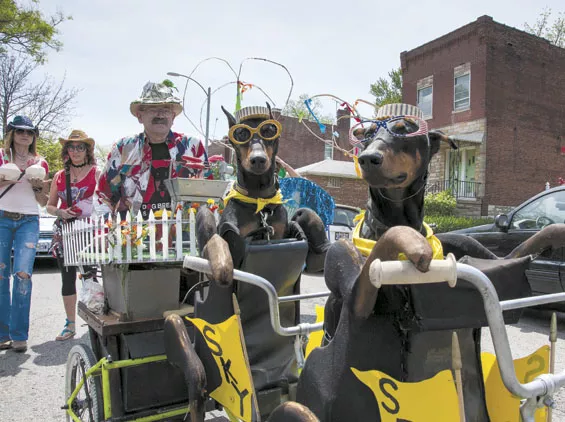 The Truth About Cinco de Mayo
"Cinco" is not a big holiday among Mexicans. True, it officially commemorates the nation's 1862 victory over France, but Mexico's major patriotic celebration falls on September 16, the anniversary of its independence from Spain. Cinco revelry in the United States is largely a triumph of marketing, according to Minerva Lopez, Cherokee resident and organizer of the street's Latino Business Owners Association. "We put it together for the gringos," she says, "but the Mexicans know it's going to happen, and it's outdoors, and it's fun, so they come."
Lopez confirms the widely observed irony that, during Cinco, those two groups tend to crisscross the expected alcohol preference: Hispanic revelers often favor Bud Light, while gringos sip Corona. But drink they do, all of them, which provokes the question: Who profits from Cinco?
The vendors of beer, food and art will make money in varying degrees, but the festival operators have historically broken even, says Anne McCullough of the Cherokee Street Development League, the new 501(c)3 that now runs the event. She says that any surplus cash from the collection of permit fees or from sponsorships will go right back into the nonprofit, whose official mission is to create an "inviting, diverse and sustainable environment while promoting arts, culture and creative innovation."
Cinco de Mayo now boasts several corporate sponsors, including Bud Light, Busch and U.S. Bank. Thanks to their money, the kids' inflatable playgrounds will be free of charge this year, as will the concerts by Latino, rock and hip-hop musicians on three different stages.
"We couldn't do half of what we do without U.S. Bank and Anheuser-Busch," says McCullough.
The People's Joy Parade has a different ethos. Says Sarah Paulsen: "We've intentionally tried to keep it locally supported so that it really is unencumbered."
---
Funding Joy
Parades feed on humans, time and materials. In short, they cost money. At first, organizers relied on Kickstarter campaigns to raise funds. Then, in 2013, coordinator Jenny Callen brainstormed with Lopez and came up with a novel way to bring in dollars: the JoyRita competition. It's a "margarita-off": Donors pay $15 for a bracelet that allows them to first sample, and then vote on, the best versions of the Mexican cocktail presented by various Cherokee establishments.
The most recent JoyRita was held April 11, and nine businesses joined the fray. (One entry: a blackberry-habanero margarita.) Lopez notes the tequila pours for the six-ounce concoctions were sometimes generous.
"We get them drunk," she says.
The event pulled in more than $1,300 for the People's Joy Parade.
That cash will supplement a grant of $2,000 that Callen was able to secure for 2015 and 2016 from the Regional Arts Commision (RAC), which in turn draws its funds from the city's hotel-motel room tax. The RAC award will help pay for supplies and permits, while also compensating the parade organizers, none of whom are getting rich in the process.
"At the end of the day, I think I pay myself $2 an hour," Callen estimates.
---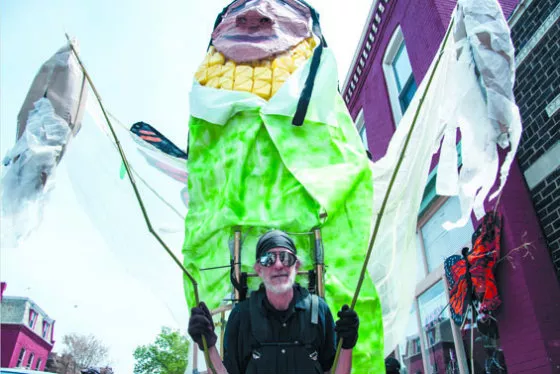 Micah Usher
Digger Romano with his elaborate gigante.
Spotted en Route
The largest participants in the People's Joy Parade are not people. They're gigantes, or giant puppets. Wesley Fordyce and a fellow artist known as Digger have constructed several over the years. The men collect bamboo from Fordyce's property in west county, then split it so it's pliable.They fashion skeletons out of the split bamboo, then finish the puppets with papier-mâché and cloth. Gigantes have taken the forms of creatures such as mermaids, fish, dragons and a corn god, and also objects like boats or globes or hourglasses. One year, Fordyce built a pair of wings so tall, the person carrying it had to duck to avoid the overhead power lines.
Perhaps the loudest and fastest paraders, though, arrive on two wheels. A ragtag cabal of scooter enthusiasts and cyclists zip around doing figure-eights and wheelies, flailing to pin their sombreros to their scalps.
"We've pulled skateboarders down the street and let them do tricks," recalls Stephen Jehle, the recent 20th Ward aldermanic candidate who rides his 1966 Allstate Vespa scooter in the event. "Scooters have died or been dropped in the middle of the parade. We've had drunk people from the sidelines coming up and punching people on scooters. We've had dogs on scooters."
Other modes of transport in People's Joy: stilts, strollers, mopeds, an old firetruck. But not every parade participant is flamboyant. One man simply carried a big wooden cross through the streets.
"He didn't evangelize or anything," says Paulsen. "That's just what he wanted to do."
Galen Gondolfi of Fort Gondo, by way of contrast, defines flamboyancy. The first year he donned a loincloth of flowers and pushed a rickshaw. In subsequent years, he sat atop floats and assaulted drum kits so hard that he dropped into a manic trance, then took a nap at the finish line.
One year, Gondolfi outfitted a float with scaffolding and Christmas lawn ornaments. Mid-parade, he climbed up the scaffolding, then fell. Witnesses laughed, assuming his injuries were a prank.
They weren't.
"I was bloody," he says. "I felt so alive. Well, I also thought it could be the end of my life. But it felt so good."
Gondolfi birthed another parade tradition that he has since bequeathed to musician Rob "The Pancake Master" Severson: the Cinco de Volvos. The goal is to amass as many Volvo 240s as possible into one fleet. In 2014 no fewer than ten converged for the occasion, including Severson's Volvo 240, which he adorned with a giant pair of glittery gold glasses. The Pancake Master sat on the roof in a sombrero and played "Spanish Eyes" on the accordion as his friend took the wheel.
(Severson later parked his car blocks away with the glasses still on the windshield. A police officer left him a parking ticket, but when Severson opened the envelope, he discovered that an appreciative stranger had stuffed cash in it to cover his fine. "Some Cherokee do-gooder saved me a much needed $10!" he says.)
Regulars concur that some of the most bewildering floats have been mounted by artist Mike Stasny. One year, Stasny and some colleagues played keyboards while wearing hulking, hideous monster masks.
"Those were truly frightening," remembers Fordyce.
The second year, Stasny and his fellow musicians in the band MSIF sported formal attire. Then they filled transparent nylon onesies with balloons. Once inflated, they attached those balloon-bodies to their heads, onesies bobbing in the breeze while the musicians gyrated and jammed on a tractor and trailer.
"People were like, 'What is this?'" recalls Sarah Paulsen.
Stasny, who relocated to Georgia, was floored by how "exquisitely fun" the parade turned out to be: "There's people constantly cheering, then right before it gets old for them, you move onto the next group of people. So it's like a standing ovation for you the entire time. It's so beautiful and overwhelming, it's hard to grasp how fun it is until you're in it."
Shelly Everetts agrees. She's been a resident of south St. Louis for almost two decades. Her house sits down the block from CAMP, which holds singing and costume workshops for local kids during the month before the parade. On a recent Sunday, Everetts brought her nine-year-old daughter K.K. and six-year-old son Jaquan to the workshops.
Everetts herself helped lead the parade last year.
"I have a great time! Ooh!" she says. "I want to be in the front again!" Asked what her costume would be this year, she replies, "I'm wearing myself!"
Celia Shacklett, the guitar-wielding maestro of the Footbeat Choir, says her most vivid parade memory involved Everetts' daughter.
"Sometimes it feels like you're out there exposed, and you don't know exactly what you're doing," Shacklett says. "I remember in 2013, this little girl, K.K., she came up beside me and put her hand on the small of my back and walked next to me. She can't possibly know what it felt like to have this little hand on my back supporting me. I'll never forget that."
Shacklett says that Footbeat Choir has an unofficial anthem: "Cielito Lindo."
"It's our theme song," she explains. "We wanted to make that nod to Mexican culture. Everybody can sing it together. It's perfect for us."
"Cielito Lindo"
The Original and Translated Chorus
Ayy ay ay ay, Canta, y no llores! Porque cantando se alegran, Cielito lindo, los corazones!
Ayy ay ay ay, Sing, don't cry! Because singing, pretty little darling, Makes people's hearts happy!
---
---
People's Joy Parade Specs
Starting Point: The parking lot of El Leñador at Michigan Avenue and Cherokee Street

Lineup Time: Noonish (but come earlier if you want your face painted, or glittered or befeathered)

Departure Time: 1:11 p.m.

Route: The parade leaves the lot, travels east on Cherokee, turns north to Utah Street, goes east again for a few blocks, then back down to Cherokee with the finish at Texas Avenue

Approximate Distance: 0.7 miles

Recent Participation: 300 to 500 souls (and growing)

Cost: Free! (Though donations are accepted)

Giant Scary Puppets Welcome? Yes
Editor's note: A previous version of this story was corrected to better reflect Rob Severson's nickname and his car's choice of eyewear. He is "The Pancake Master," not the "Pancake Man," and his Volvo wore gold glasses, not brown ones.