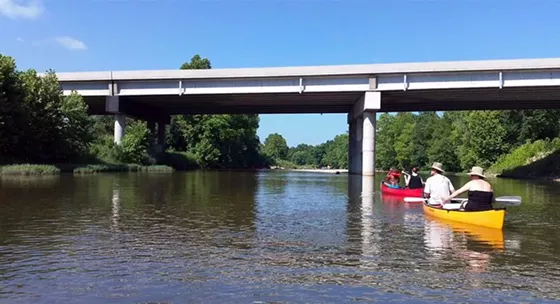 Flickr via Doug Wertman
Everyone loves a good float trip, and Governor Jay Nixon is no exception.
There was a bit of interesting Missouri audit news this week, and (thank goodness) it had nothing to do with rumored bigotry or suicide.
Instead, an audit released Wednesday revealed that Governor Jay Nixon's office has been spreading its expenses to other agencies, seemingly to cover the fact that the Office of the Governor burns through cash faster than the Cubs burn through optimism. According to the report, between July 2011 and June 2014, fourteen state agencies paid at least $948,000 worth of personnel and travel costs for employees of Nixon's office and mansion.
However, the most interesting part in the report described how Nixon's office expensed $1,300 to take the guv'nor, his wife and four staffers on a one-day float trip.
See also: Audit: Missouri's New $5.6 Million Airplane Used By Gov. Jay Nixon Was Wasteful Purchase
Here's how the audit report described the float trip. (Emphasis ours.)
The Governor's office paid costs associated with a float trip that did not appear necessary to the operation of the office or reasonable use of state funds.

In August 2011, the Governor's office paid expenses totaling at least $1,300 for a 1-day float trip, attended by the Governor, the First Lady, and 4 Governor's office employees. Costs of the trip included about $1,090 for lodging, $75 for transportation, $25 for meal reimbursements, and $114 for canoe rental. The Deputy Chief of Staff indicated the purpose of the trip was to promote Missouri tourism; however, the Governor's office maintained no documentation supporting the business purpose of the trip and it is questionable whether the trip was an effective means of marketing Missouri.
In response to the audit, Nixon's office tried pulling the old "If we string together a bunch of official-sounding gibberish, you have to believe us" trick. Its formal response included in the audit featured this chestnut:
"On occasion, circumstances require some deviations from the policy, but efforts to ensure the most cost-effective means are implemented. The office will continue to ensure that such instances are appropriately handled."
What makes this even weirder is that Nixon clearly knows how to pass off a vacation as an official state expense, because he took a similarly questionable float trip just one year before. However, in 2010 his office had the sense to send out press releases claiming the trip was meant to promote awareness about litter and pollution in Missouri waterways; the office also sent along a photographer, who filled two Flickr albums with shots of Nixon happily fishing, posing with staff members and hanging out with his wife.
As flimsy as the 2010 explanation sounds, it worked on the state auditor's office: an audit covering January 2009 through June 2011 makes no mention of Nixon's 2010 float trip.
The lesson for Nixon, obviously, is that the next time he wants Missourians to pick up the tab for a family float trip, he needs to invent promotional bullshit before he gets audited.
Follow Danny Wicentowski on Twitter at @D_Towski. E-mail the author at Danny.Wicentowski@RiverfrontTimes.com