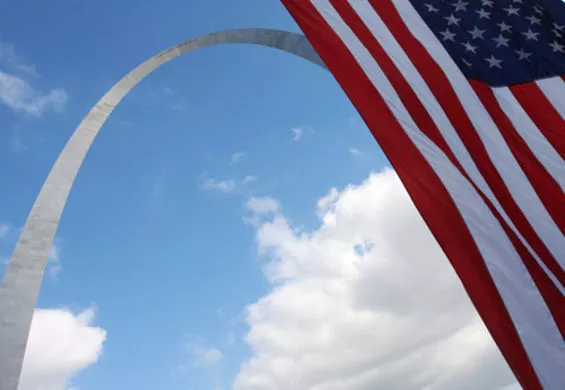 Photo by Lyle Whitworth
A "perfect road trip" that skips St. Louis? It's positively un-American.
You probably saw some variation of the map that made its way across Facebook in recent weeks: Someone claimed to have come up with a road trip that hit "all the major landmarks." Sharing commenced!
The map that had social media buzzing.
Sure enough, the map showed a trek from Washington, D.C., to Los Angeles, hitting points like Chicago and Minneapolis and San Antonio along the way.
But it didn't just miss New England. It also missed the middle of the country -- Missouri, Kentucky, West Virginia and Kansas went completely untouched.
And, yes, it missed St. Louis!
Snopes.com has now stepped in to set the record straight. That map you shared on Facebook does not hit all the major landmarks. It merely follows the route taken by a photographer named Brian DeFreese, whose stated goal was "to travel to as many states as he could while visiting friends and family members, not just to hit 'all the major landmarks' in the U.S,'" per Snopes.
The Facebook hive mind got it wrong, again.
The good news? The map's viral spread led to an actual computer scientist named Randy Olson using data to determine the very best route to see all 50 states -- and as many highlights as possible along the way.
Even better news? Olson's map does not give short shrift to so-called flyover country. It does not skip Missouri.
via Randy Olson
The actual perfect road trip, which Randy Olson determined using data analysis.
Sure, it doesn't touch down on every major city in the U.S. Los Angeles, for one, did not make the cut, nor did Phoenix or Houston.
But St. Louis? It's right smack-dab in the middle of this one. No skipping a view of the Arch if you approach these things scientifically!
Once again, it's a victory for science. And St. Louis.