Jessica Lussenhop
ACLU's executive director Jeffrey Mittman and former Pine Lawn mayor Adrian Wright.
At a press conference this morning, former Pine Lawn mayor Adrian Wright announced that he is suing the city, disgraced former mayor Sylvester Caldwell, and former Pine Lawn police officer Jarred Anderson for using the city's police force to intimidate and embarrass him for political gain. The ACLU of Missouri is representing Wright, with help from the St. Louis chapter of the NAACP.
Wright was mayor of Pine Lawn until 2005, and has been a vocal critic of Caldwell for many years. Caldwell resigned in April after pleading guilty to extortion for demanding bribes in exchange for city contracts.
"I think you'll be shocked to find out what happened to Mr. Wright," said Jeffrey Mittman, executive director of the ACLU of Missouri.
What happened in Wright's case is indicative of the habitual abuse of power by police in Pine Lawn, much of it at the behest of Caldwell, Mittman said.
"Ferguson and Pine Lawn are not alone," Mittman said. "We will be providing the proof."
While the press conference cited many instances of corruption in Pine Lawn, the lawsuit centers on the April 13, 2012, arrest of Wright, and the saga of re-arrest and humiliation that followed. At the time, Wright was supporting Caldwell's opponent, Nakisha Ford, in the 2013 mayoral elections.
According to the court filing, Wright was nearly home when he came to a complete stop at a three-way intersection. Moments later, after he'd pulled into his driveway, officer Anderson "began screaming expletives at Wright and falsely accused Wright of running the stop sign."
From the suit:
Anderson told Wright to get on the ground. As a result of his advanced age and physical limitations, Wright was unable to get on the ground and informed Anderson of this fact. Anderson then un-holstered his Taser and threatened to tase Wright if he did not get on the ground...Anderson then placed Wright in handcuffs.
Wright was charged with failure to stop, failure to yield to police, resisting arrest, obstructing justice and assaulting a police officer. When he was released two hours later with a $750 bond, a news crew from KMOV was waiting for him along with Caldwell. The station ran with a story that cited multiple police sources claiming that Wright "threw a punch at an officer." (This is all that appears online of that piece.)
In March 2013, Caldwell published a newsletter meant to look like an edition of the St. Louis Evening Whirl called The Pine Lawn Evening World. It contained a "story" titled, "Ex-Mayor Arrested for Assault!"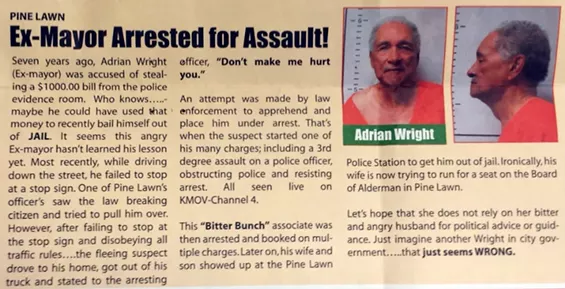 Although the charges stemming from the traffic stop were dropped, the city reinstated them twice, leading to Wright being re-arrested. They were finally thrown out for good after the third dismissal. The suit calls these actions a violation of Wright's first and fourth amendment rights, and requests damages as well as "an injunction requiring Defendant City of Pine Lawn to develop and implement adequate training programs for its police officers about rights under the First, Fourth, and Fourteenth Amendments."
"His reputation has been ruined. We want justice on his behalf," said Mittman. "While Mayor Caldwell is gone, the police department is still there. The practices and procedures are still in place."
NAACP St. Louis chapter president Adolphus Pruitt wanted to make it clear that behind the suit are years of resident complaints about the city's police department.
"We have a minimum of 200 to 350 written complaints from the citizens of Pine Lawn," he said. "They are harassed at their homes, being harassed at the city, being harassed just walking down the street, by direct order or policy directly pushed by the mayor, as the sole police commissioner.
"This is a clear example of how this power can go astray and wreak havoc on these citizens."
A spokesman for Pine Lawn declined to comment, saying he didn't know enough about the lawsuit yet.
Mittman also used the press conference to fire a warning shot at any other small municipalities who've operated similarly over the years.
"The NAACP and the ACLU will be working to find any municipality where this is going on," he said. "This has got to stop for the people of St. Louis County."
Read the whole suit below:
ACLU Sues Pine Lawn, Sylvester Caldwell, Former Police Chief
Email the author at Jessica.Lussenhop@RiverfrontTimes.com.