Courtesy of Flickr/Lance McCord
Pissed about a parking ticket? Former St. Louis City Counselor Eric Banks has filed a class-action lawsuit against the city in circuit court, challenging its parking enforcement practices as a violation of constitutional rights. The suit seeks to represent anyone who received a citation for parking at an expired meter -- and was found liable after enduring the city's administrative hearing process.
Those hearings are the main issue in Banks' lawsuit. As the attorney describes it, he arrived for a hearing after getting a parking ticket he was convinced was unfair -- only to be told by the hearing officer that, unless he had evidence that the parking meter in question was broken at the time of citation, the officer would rule against him.
Then the officer did just that, even though the city hadn't bothered to send anyone to testify on its behalf, and even though Banks believed he'd identified procedural errors. The burden was entirely on Banks.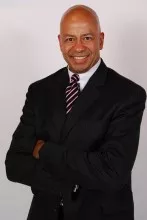 What made the matter more galling is that Banks had attempted to get information showing the meter was defective -- but the city told him the records he'd requested would cost $1,700.
"People are calling me Don Quixote on this one," Banks says, ruefully. "I'm going after the windmill."
Banks' quest began last May, when he arrived for a Mound City Bar Association meeting downtown at 6:10 p.m. He says he put more than enough money in the meter, but when he returned to his car, he saw he'd been ticketed at 6:56 p.m. When he wrote to the city asking for the ticket to be dismissed, he received a form letter informing him of a hearing date in June.
As Banks describes it, the hearing itself was a joke. He'd been told to expect to be in the office "up to 30 minutes from your scheduled time" -- yet his hearing didn't start until an hour and fifteen minutes passed. He watched as other people contesting their tickets ran back outside to feed their meters, desperate to avoid getting another ticket while they fought the first one.
"It is Plaintiff's understanding, based on the behavior of the citizens when they left the hearing room, that the Hearing Examiners ruled against every citizen who appealed his or her parking ticket and had his or her hearing that day," he writes.
A city spokeswoman did not return Daily RFT's call for comment yesterday.
At every step along the way, Banks' story seems to prove the adage that you can't fight city hall. After the hearing officer summarily ruled against him, Banks filed an application to appeal, which cost $181. But the city filed a motion to dismiss -- and even though Banks believed he'd reached an agreement with the city attorney to push back the court date until after he could perform discovery, the hearing went on without him present. Naturally, the judge ruled against him.
A long-time St. Louis attorney, Banks served as the city counselor under Mayor Clarence Harmon, running the city law department from 1997 to 1999.
That position, he acknowledges, "does give me unique insight into how these things are handled. I did some soul-searching: 'Did stuff like this go on during my watch?' I decided the answer was 'probably' -- but I didn't know about it."
The suit argues that the city suffers from systemic abuses.
"Unfortunately," Banks writes, "Ferguson, Missouri, does not have a monopoly on abusing those who live, work or visit that City. For the reasons set forth in this lawsuit, the City of St. Louis has a policy and practice of annually stealing thousands of dollars by improperly issuing parking citations and circumventing substantive and procedural due process when citizens try to stand up for their rights."
If Banks wins, he requests that any repayment for attorney's fees (typically the biggest payout in any class-action suit) goes Legal Services of Eastern Missouri, the ArchCity Defenders or another organization chosen by the court.
"This is not about getting a bunch of money," he says. "This is about bringing about policy change."