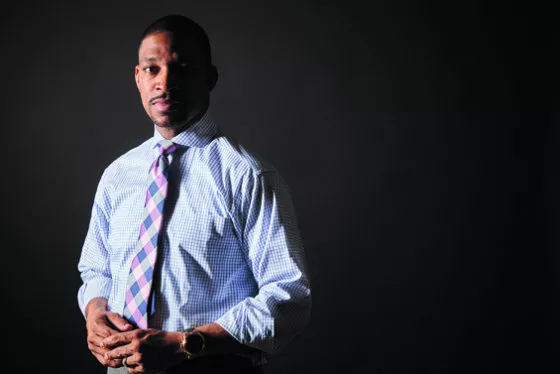 Steve Truesdell
Ferguson Commission co-chair Starsky Wilson.
A petite young woman stands at the back of a convention hall in a line of people behind a microphone. Her brown hair is partially dyed red, an artistic touch that contrasts with the McDonald's uniform she wears for her semi-regular five-hour shifts.
She approaches the podium and faces the members of the Ferguson Commission, the sixteen-member body tasked by Missouri governor Jay Nixon with confronting the St. Louis region's most intractable social and economic problems in the aftermath of the killing of Michael Brown. It's a Monday night in February, and in the large college conference hall, about 100 people stare at her back. A few scribble notes on legal pads.
"My name is Danielle Polk...I'm one of your young ladies that works at the Ferguson McDonald's in the middle of Ferguson on West Florissant," she says. "I was actually one of the individuals that was affected when the Mike Brown incident," her voice breaks, "happened."
She continues, but the words begin to tumble over each other.
"I had to walk two-and-a-half hours to get to work because I didn't have any money, I couldn't pay my electric bill, I couldn't pay my gas bill nor my rent, OK? I saw my paycheck, it was less than $100, and I have a newborn, OK? When I first had my newborn, I had to leave off of maternity leave in two weeks, I couldn't stay with my daughter, now I have to wake up at four o'clock in the morning to drive my daughter outside in this miserable weather right now, she's only six months. She doesn't even know what's going on in this world."
Her two-minute time limit comes and goes. No one stops her.
"I was also one of the people that had to wake up on Christmas 2014, and Thanksgiving, and tell my kids, 'I can't give you anything,'" Polk continues.
She gasps between words. Someone wraps an arm around her shoulders. She starts listing her expenses against the utter paltriness of her $7.80 an hour: $35 for diapers, the babysitter, the thrift-store crib. She's 27 years old, and she's been working at McDonald's since she was 16.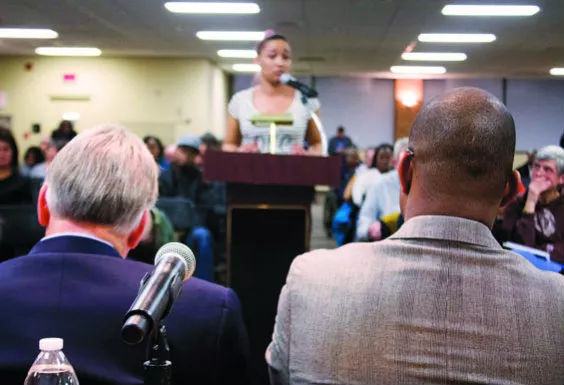 Danny Wicentowski
Danielle Polk addresses the commission.
From his spot in the middle of the row of chairs, directly facing the podium, Reverend Starsky Wilson -- the co-chair of the commission -- digs his elbows into his thighs as he listens. He clasps his hands and rests his fingers on his lips.
"Today I owe rent," she says. "I don't know what I'm going to do."
After eight minutes, she finally stops and leaves the podium. There is a smattering of hesitant applause. The next person steps up.
"My name is --"
"Hold on," says Wilson.
He stands up and walks toward the podium with his own microphone. He has a thin, perfectly groomed mustache, and square-frame glasses. His outfit is, as always, tailored and harmonious: A light gray suit with a white pocket square.
"Thank you for sharing your story," he says in a deep baritone. "Someone needed to hear it. And our commitment is to continue to share your story, Danielle. Thank you, we love you, and we will not let you down."
From the back of the room, Polk says, "Thank you, sir."
Wilson sits back down and listens to the rest of the line -- the ex-con who wants funding for a children's welfare nonprofit, a well-known activist urging the Federal Reserve Bank to distribute low interest loans to municipalities, a former cop railing against the school system. After the meeting's conclusion, he and the other commissioners arrange for Polk's $300 rent to be paid.
"We can help the people in front of us, and we have," Wilson says. "You can't help each Danielle, but you can impact every Danielle by focusing on policy."
Five months have passed since Wilson accepted Governor Jay Nixon's appointment to the Ferguson Commission. He's a pastor who was often seen on the frontlines of the Ferguson protests, but he's also the CEO of the Deaconess Foundation, a 126-year-old health and children's advocacy organization that's doled out millions of dollars in grants. He co-chairs the commission with a man from a very different background -- Rich McClure, an experienced Republican operative and businessman.
Yet Nixon didn't task the commission with something as minute as paying a woman's rent. They were gathered that night to begin to divine a broad solution to St. Louis' collection of racial and socioeconomic woes.
"The men and women selected to serve on this commission must be willing to come together in good faith, endure the fierce crucible of public opinion and lead the hard work of change," Nixon said on the day he announced the group's formation. "This work is not for the faint of heart."
And yet, the commission has no power on its own -- the members only have Nixon's promise that their recommendations and research will be seriously heeded.
"My urgent worry is that it gets caught up in politics and bureaucracy," says Wilson. "My ultimate worry is that we don't honor that this should be a moment of historic transition and change. If we don't honor that, we don't get this back for three generations. The only possibility we have as a region to be a first-class city, a first-rate metropolitan area, is that we learn the lessons of Ferguson."
---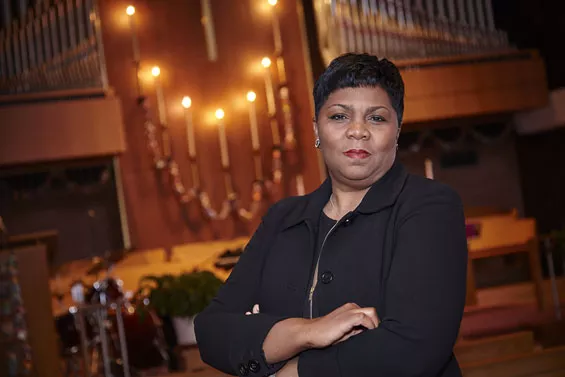 Steve Truesdell
Rev. Traci Blackmon
On August 10, 2014, the day after Michael Brown was shot, Wilson was on a plane to Durham, North Carolina, for a weeklong conference. He could only watch television reports from the ground about the mass gatherings, the looted stores and the tear-gas canisters arching through the sky above West Florissant Avenue.
When he returned, Wilson convened meetings between clergy members and civic organizations and, with the help of the United Way, began providing emergency services to residents who suddenly found their town had transformed into a military-style occupation. On August 20, Wilson and Deaconess announced a $100,000 grant to fund the burgeoning youth protest movements that had only just begun making coalitions and demands for sweeping change in Ferguson and St. Louis.
At the same time, Wilson hit the streets to join the protesters.
"I first seen him when he was out in Ferguson," says Rasheen Aldridge, an organizer with Young Activists United and the youngest member of the Ferguson Commission. "He was out there at the late nights, out in front of the Ferguson Police Department, being supportive and making sure the young people were being protected while they peacefully protested. He constantly showed up."
Reverend Traci Blackmon, arguably the most visible and vocal clergy member on the ground during the early Ferguson protests, remembers how Wilson bounced between his roles as nonprofit CEO and demonstrator in those early months.
"I've seen him out there in a hoodie, and I've seen him out there in a three-piece suit," she recalls.
But for Wilson, making the leap to co-chairing the Ferguson Commission was fraught with tension, and there were plenty of reasons for him to avoid the role.
Nixon remains a reviled character among many activists. The governor's doughy face graced numerous signs as marchers demanded he do more than issue curfews or call in the National Guard.
Nixon's role in the commission, therefore, was an immediate source of mistrust when he announced the initiative in October. By executive order, Nixon charged the commission with coming up with policy recommendations and a final report due by September 15, 2015.
Observers wondered if this was merely a gesture. Commissions -- while often called in the wake of a national crisis, such as after the Rodney King riots in LA -- are often an ineffectual, bureaucratic method for politicians to appear to be taking action. As one activist put it, they are the "place where movements die."
"If you get a lot of people from a lot of the same mold, who all serve on the same boards together, I don't know if you're going to make a lot of progress," St. Louis alderman Antonio French worried at the time.
Nixon's announcement of the commission came on October 21. The next day, he called Wilson.
The governor made no overt promises, Wilson says, but he did affirm that the commission would have the weight of Nixon's office behind it, not to mention some state funding. Still, Wilson worried; he knew the protesters he'd spent days standing with in the streets remained bitter toward Nixon, especially for his decision not to appoint a special prosecutor to investigate Brown's killing.
"I was concerned about the relationships I'd already built on the ground, and whether those relationships were sustained, and whether they would understand what I was doing," he says.
There were more meetings and calls with Nixon. Wilson reached out to McClure. In late October, the two men went out to dinner with their wives. They talked about the commission; the couples prayed together. Eventually Wilson and McClure added their names to the application pool and were appointed on November 18.
"You should know that this is personal for him," says Blackmon, who now co-chairs the Ferguson Commission's work group on municipal courts and governance. "If there were no commission he would still be doing this work. That's what makes him the perfect person to be leading this charge."
---
On a Sunday in February, Wilson stands at the pulpit before a mostly black congregation, 86 in all, who've braved the day's bitter wind to make it to Saint John's United Church of Christ in north St. Louis. Draped in green robes, he's reaching the crux of a thunderous sermon on the Old Testament story of Joseph, a godly man sold into slavery in Egypt, who became second-in-command to pharaoh himself. Yet, Wilson says, Joseph never let himself forget his roots.
"He knew what we need to know," says Wilson, "that elevation, even to the right hand of pharaoh, does not constitute liberation."
The crowd murmurs back approvingly as Wilson's voice rises.
"You can't underwrite the uprising, and you can't sponsor the struggle, and you ain't never going to find freedom while you're on pharaoh's payroll!"
A few parishioners leap to their feet, clapping and shouting, "Yes!"
This kind of energy defined Wilson from birth -- it even earned him his unique first name. His mother, feeling her child kicking and moving in her belly, named him after the rough-and-tumble fictional cop from the 1970s television series Starksy & Hutch. As a grade-schooler, the name mortified him.
"Once I knew you could change your name, I decided I would," says Wilson, who started introducing himself by his middle name, Darrell. "By the tenth or eleventh grade, I realized no one ever forgot my name. It's worked out over the years."
He grew up in the Oak Cliff area of Dallas, Texas, a predominately black neighborhood that, during his adolescence, still clung to a legacy of segregated school systems and street crime. He was the third of five siblings raised by a single mother, and though he attended programs for gifted students from an early age, he wasn't able to fully escape the violence in his own community: His uncle was gunned down when Wilson was in middle school. A few years later, a drug dealer shot up a house where Wilson's older brother happened to be visiting at the time, killing him.
"[Violence] caused shifts in my life," he says.
Wilson's wife, LaToya, is a dentist at St. Louis Children's Hospital, and she credits her husband's humble (and sometimes traumatic) upbringing for building the foundation for his future role as a community leader.
"He has seen what it takes to keep a family together, to thrive despite the economic circumstances and challenges. I think that's something that has motivated him to try to change the community around him, so that everybody has an opportunity to thrive," she says.
Indeed, it was around the time of those tragedies that Wilson decided he wanted to find a way to help people.
"I always figured I was heading to law school, to work in government and help people," he says. "I thought government was how you do it."
But after Wilson's first year as a political science student at Xavier University in New Orleans, he began to feel inexorably drawn toward ministry. He took up studying nonprofit management and entered the ministry. He became officially ordained in 2002.
When Wilson moved to St. Louis in 2000 along with his young wife, he met Don Calloway, a law student who quickly became Wilson's confidant and frequent debate partner.
"He's able to take very specific situations and break them down systemically," says Calloway. "He's a master of thought process."
Those skills landed Wilson the top job at Deaconess Foundation in 2011, an organization that lists more than $50 million in assets and distributed $2.6 million in grants during 2014, mostly to youth health services and education. In 2012, Wilson led the organization's pivot toward what he calls "community capacity building," a sweeping series of programs and alliances that he hopes will build up leadership and new local institutions in St. Louis' most resource-strapped areas.
It's this kind of organizational know-how that Calloway sees in Wilson's handling of the Ferguson Commission. It's not just his connections, Calloway says, but his seemingly unshakable calm in the face of a dishearteningly complex set of social, economic and racial inequities.
"He realizes that he's in a unique position. It's a tremendous weight," says Calloway. "I think he wouldn't have taken it to put out a report to serve as an advisory document to be thrown on a pile of advisory documents."
---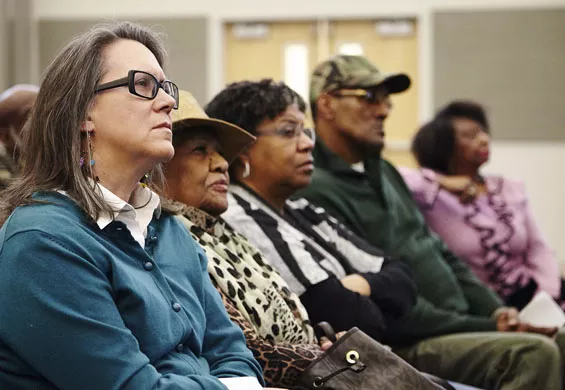 Steve Truesdell
The audience at a Ferguson Commission meeting.
As Wilson feared, the Ferguson Commission got off to rough start.
Its first public meeting convened eight days after the grand jury decided not to indict former Ferguson police officer Darren Wilson in Brown's killing. Audience members aired their frustrations (after sitting through three hours of interminable proceedings and introductions) by shouting down the commissioners and demanding their turn to speak. The second one went even worse.
St. Louis Metropolitan Police Chief Sam Dotson took the stand, in the aftermath of massive protests in the Shaw neighborhood.
"Fuck the police!" activists screamed in his face. "What about the tear gas?"
"We're...bringing opportunities to diversify and bring you people," Dotson said at one point, sweeping his left hand in an inclusive gesture, "African Americans, new Americans, LGBT, we bring new groups..."
"You people? You people?" one man jeered as the crowd erupted. "You hear yourself, you racist fuck?"
Wilson managed to regain some manner of control, directing questions to commissioner Brittany Packnett -- who then proceeded to grill Dotson on his officers' use of tear gas against protesters.
But Wilson says he sees tangible progress after eight full commission meetings and thirteen working groups. Public input at the Ferguson Commission meetings frequently touched on the predatory system of municipal courts that seemed designed to bleed residents dry in order to fill city coffers. Wilson and McClure petitioned Missouri attorney general Chris Koster to do something about cities that flout the state's Macks Creek Law, which caps the percentage of revenue a city can raise through traffic tickets at 30 percent. The two stood on either side of Koster during the press conference announcing a lawsuit against thirteen scofflaw cities including Normandy, Vinita Terrace and Pagedale. All but one city, Hillsdale, has since filed corrected reports showing they complied with the 30 percent limit, though the Missouri legislature is now considering a bill that would lower the cap to 10 percent.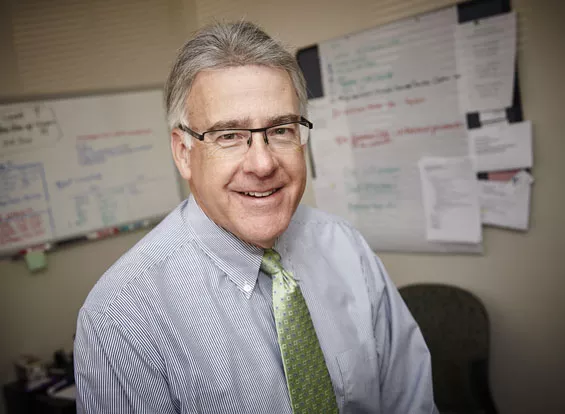 Steve Truesdell
Rich McClure
The commission has also produced a document titled "100 Days of Learning," which outlined the commission's progress and the steps yet to be tackled. Drawing from existing research and community input, the report paints a chilling picture of inequality, such as how some impoverished, largely black ZIP codes are separated from their affluent white neighbors by a mere handful of miles, yet show an eighteen-year difference in life expectancy.
"People needed to be listened to," Wilson says. "This seems aspirational, but I think the Ferguson Commission is part riot commission, part truth commission, part community think tank. That's the work."
But the work is only getting harder and more complicated, and some of Wilson's worries are coming true. The commission is slated to receive nearly $1 million in state funds, which means it's technically a state agency and subject to the state's bidding laws. That got the commission in trouble in late January when news broke that a consultant agency received a $38,000 contract without first going through the competitive-bidding process. "I didn't sign up to be a state bureaucrat," says Wilson. "We've had great help from the office of the administration to make sure we get to those compliances, but no one signed up for that. We signed up so the community could reconcile some of its challenges."
Despite the brief flash of negative coverage, the commission meetings have managed to attract a fairly consistent audience, usually between 100 and 200 people, including police officers, city mayors, lawyers, teachers, nonprofit leaders and youth activists. The bitterness of the first meetings has given way to the commission's collective push for comprehensive study. But there's also a growing sense of urgency that the commission cannot end its work with a nicely organized report left on Nixon's desk.
"There has to be some monitoring body or vehicle left behind in order to measure, on some scorecard, the community versus the recommendations. We're committed that there must be something," says Wilson from his twelfth-floor office overlooking downtown. "We just haven't figured out what that looks like yet."
He insists that the Ferguson Commission's September 15 report won't be the true endgame of the commission's work. But he hopes it can provide something of a road map toward closing the economic, educational and healthcare gaps in St. Louis and be a guidebook that can be used in future incidents in other cities and states.
"The great hope is that all this work is going to benefit the children of our community more than it will benefit anyone else," he says. "We need to be clear that the success or failure of the region in this moment will be written over the course of the next twenty years."
Editor's note: We made a number of small changes to this story after publication to correct errors. Rasheed Aldridge is an organizer with Young Activists United, not Millennial Activists United. Traci Blackmon co-chairs the working group on Municipal Courts and Governance, not policing.
Several errors concerned Starsky Wilson, whose brother was killed in a house he was visiting, not staying at. Wilson was attending a conference during the week Michael Brown was shot, but it was not a preacher's conference, as we reported. Wilson was a political science student when he felt himself drawn toward the ministry, and ultimately was ordained in 2002, not 2006. Finally, there were 86 people in attendance on the day we watched Wilson address St. John's United Church of Christ, not 30. We regret the errors. Follow Danny Wicentowski on Twitter at @D_Towski. E-mail the author at Danny.Wicentowski@RiverfrontTimes.com