Welcome, St. Louis, to another glorious summer of Cardinals baseball. Opening day is Monday, April 13, when our beloved Redbirds take on the Brewers, and over the next six months we'll be riding the highs and suffering the lows along with Molina, Wainwright, Adams and the rest of the boys.
Because we will spend so much time during the season obsessing over the players, we wanted to pause for a moment to celebrate you, the fans. We've profiled the craziest, most superstitious and most dedicated Cards devotees we could find, and proved once again that St. Louisans truly are the Best Fans in Baseball.
Suck it, Deadspin. And let's play ball!
---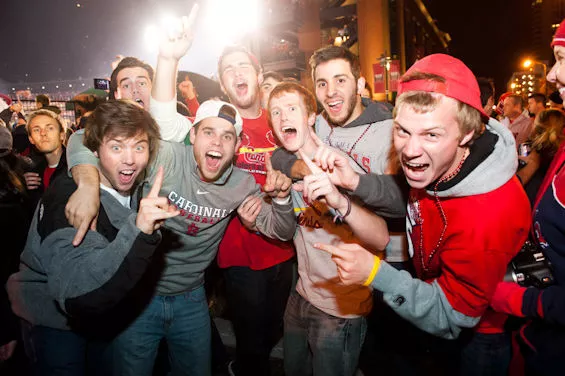 Baseball players are some of the world's most superstitious athletes. From playoff beards to ritual diets to unwashed jockstraps, these guys believe just about anything can be lucky (or unlucky). The fans are no different, and we set out to find out how far they go to give the Cardinals a supernatural edge on the competition.
We put out the call to Redbird boosters all over the country and collected some crazy tales. Here we present the winners of our Best Fanatic in Baseball contest.
Winner: Jordan Hebrank
It was the overalls' fault.
When Jordan Hebrank, a Webster Groves High School graduate and lifelong Cardinals fan, saw them at the store, she was certain they'd be lucky. They were brightly striped red and white, perfect for game days.
"My family's very sports-oriented. We were just born to be Cardinals fans," she says. "I've gone to every game possible."
Her fanaticism for the team was solidified when she went away to college in Florida. Far from the Midwest at a school populated mostly by East Coasters, she often found herself the only Cardinals fan in a sea of Red Sox and Yankee followers.
"I get so much hatred," says the 21-year-old environmental studies major. "I'm like, 'You guys are just jealous.'"
Hebrank was away at school during the 2013 World Series against the Boston Red Sox, and on October 30, the day of Game 6, she knew exactly what she had to do: bust out those lucky overalls. Confidence soaring, she told everyone -- including her best friend, a Bostonian -- that she was so confident in her beloved Redbirds that she was willing to double down in epic fashion.
"Whoever's team lost would get a tattoo of the winning team," Hebrank wrote in her original email to Riverfront Times. "I died at the thought of my friend with a STL tattoo."
"You're going to end up with a Red Sox tattoo," the friend countered.
As historians of that series well know, it turned out the overalls were very, very unlucky. A week later the friends found themselves at a local tattoo parlor. The tattoo artist was delighted -- he said he'd just inked a Cardinals logo on another luckless baseball fan. The Boston fan's mother offered to pay to have the Sox logo lasered off later on, but Hebrank had a better idea -- she would get the tattoo, a simple "Sox," inside her lower lip.
"The 'O' hit a nerve -- that's the one that made me tear up," she says.
Hebrank had done her homework. According to some websites, a tattoo on the inside of her mouth would fade naturally. The tattoo artist estimated six to eight months. But now, almost two years later, she's still branded.
"It's still looking good -- brand-new," she says. "Whenever I see someone with a Red Sox hat, I'm like, 'Hey, your team sucks, but I have a Sox tattoo, so props to you.'" The tattoo comes with some perks. Hebrank found it a handy tool for getting free beers in Boston. And she's shelved those cursed overalls for good -- they're obviously the reason we lost the 2013 World Series.
In honor of her title Best Fanatic in Baseball, Hebrank is going to the season opener on Monday, April 13, courtesy of Riverfront Times. Have fun, Jordan!
Runner-Up: Matthew Golden
Compared to our winner, runner-up Matthew Golden of Davenport, Iowa, has paid a considerably lesser price for his fandom. Rather, his new girlfriend will be paying for it. Golden tells us she didn't know about his special Redbirds ritual until he told her he was entering this contest. It involves, as so many Cardinals superstitions do, some very poor hygiene.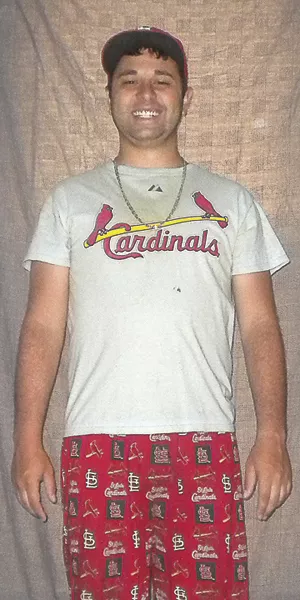 "Game 1 of the NLDS, I put on these pajama pants," he recalls of the 2011 season. "Five games later, it was Chris Carpenter versus Roy Halladay, and I kind of realized: This could be a lucky outfit."
The full outfit is a pair of Cardinals logo-print pajama bottoms, a baby-blue Cardinals T-shirt, a red cap and a silver rope chain. And since that fateful series in 2011, the entire ensemble has gone unwashed.
"I must explain that this outfit only gets used for Opening Day, all playoff games and important regular-season games, so perhaps it's not as stinky as it could be," Golden said in his entry. "But my girlfriend is somewhat disgusted by my dedication."
After seeing photos of the outfit -- which he estimates has seen 30 to 40 wears -- we tend to agree with her.
But to Golden, this is not a casual ritual. He truly believes that the sullied uniform holds some special power, as the Cardinals "seem to do something crazy" every time he puts it on. He even hangs it up at the front of his closet so that he sees it every day. He remembers watching one playoff game with a group of buddies.
"My friends all know about it, and they were mocking me for the first six innings when we were down. And then we had a comeback, and they all looked at me," Golden recalls. "One of them said, 'Well, maybe it is real.'"
And a Few More for Good Luck...
"Starting on opening day -- if we win -- I try to stick to doing all of the same things. If I wore my hair straight, I don't wear it curly on game days. If I took a certain way to work, I'll continue to go that direction. If I go to a game and it's a winner, I have to take all those same things with me, down to whether or not I take my glove..... Until they lose. Then it becomes a contrived (OCD fueled) effort of figuring out my own perfect combination of what to do/what not to do in order to make them win or lose." -- Amy Jo Plummer
"I always put on my left shoe before my right shoe. If I forget and put the right one on first in error, I start all over! It works! I started doing this in 2011." -- Mary Clausen (mlbvoice.com)
"Every time it rained where I live in Alaska, the Cardinals won. So the days that it wouldn't rain I would go outside in my Cards gear and perform a makeshift rain dance. It worked some times, even if it didn't rain that day. Coincidence? Probably. But I have to try something being thousands of miles away." -- Cody Lintez
---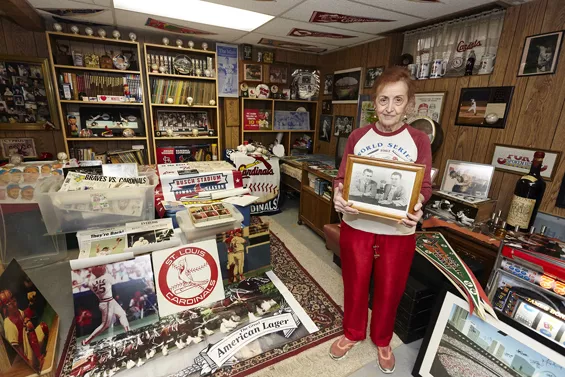 Steve Truesdell
Athena "Tina" Miller in her basement in south city.
Lady in Red
Dressed head to toe in red, Athena "Tina" Miller pats the plastic rump of a Spuds MacKenzie figure and takes in her collection of Cardinals memorabilia -- at least, what she's currently got in her basement. There are more boxes in the garage, the stuff she's given away over the years and the items that have already migrated into her college-age grandson's possession. Eventually, she says, the Stan Musial baseballs, the autographed jerseys, the black-and-white photographs signed "To Tina," will all go to him. But for now, it's all neatly assembled in the south-city home she shares with her husband.
"Harry Caray's my favorite guy; there, Bob Costas," she says in a thick Greek accent. "These are all baseball pictures that, for me, it's my life, you know?"
After more than 50 years as a Cardinals fan and 32 spent behind the bar at the recently shuttered Missouri Bar & Grille downtown, Miller has lots of stories. Many are from the bar's heyday, when it was the go-to spot for St. Louis' newspaper reporters, sports commentators, umpires and players. Like how she used to quickly swap out Whitey Herzog's cocktail for a Bud anytime someone came around with a camera, because of his endorsement deal with Anheuser-Busch. Or the night San Francisco Giants managers Bruce Bochy and Brian Sabean picked up everyone's tab. Or the time she got in a huge argument with Ted Williams because he wouldn't sign her baseball.
But the 78-year-old is not a name-dropper or the type to get starstruck. The only thing she speaks about with true reverence is the game itself.
"I love baseball," she says. "I was watching three games today."
Miller got hooked not long after she emigrated from Athens, Greece, in 1960. She met her husband in a bowling alley and has spent the last three decades making a marriage out of her love of baseball and her career in the service industry. In addition to slinging suds at MoBar, she'd worked at the stadium, first as a waitress, then as an usher (because she only had to work every other inning and could watch the game as she made her rounds). She recalls the time a girlfriend who worked at the old ballpark had her come to the kitchen to peel potatoes and onions in exchange for the chance to sneak into the game around the fourth inning.
"There were tears from the onions, I peel onions and peel onions," she recalls. "It was impossible to complain. I was gonna watch a free game."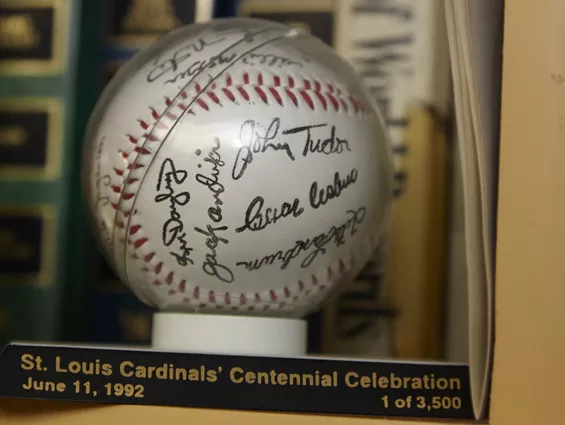 According to some of her regulars, her knowledge of the game is expansive and thorough.
"We used to have The Baseball Encyclopedia behind the bar -- Tina knows most of that stuff," says Mark Ogier, a MoBar regular for the last 30 years who calls Miller "the godmother of Washington Avenue."
Miller's style was to hang back, he recalls, listening to two guys ramble on about some stat or how one game went down.
"She'll sit there and let you get out far enough on the tree limb and then say, 'No, no, no,'" says Ogier. "She just has a huge lexicon of that information."
Her collection of Cardinals memorabilia began to grow as she became more and more well-known from the bar. Her interest, says Post-Dispatch columnist and friend Bill McClellan, wasn't about money or a desire to rub elbows with celebrities. The collection grew organically thanks to Miller's popularity among her customers.
"Tina just always knew how to handle people and make everybody feel welcome and important. She's just a terrific person," McClellan says. "[The owner] might have asked for stuff just to put it on the walls, but Athena wouldn't -- people would just give stuff to Athena...she was the heart and soul of the Grille."
Her talent for making people feel at home is remembered by many sports figures from the '80s and '90s who still keep in touch.
"A sports writer from Philadelphia wrote me, 'Athena, we lost Nick,'" Miller says, referring to the recent death of long-time Giants beat reporter Nick Peters. "It's like a family -- they would come from the airport, they wouldn't even go to the hotel."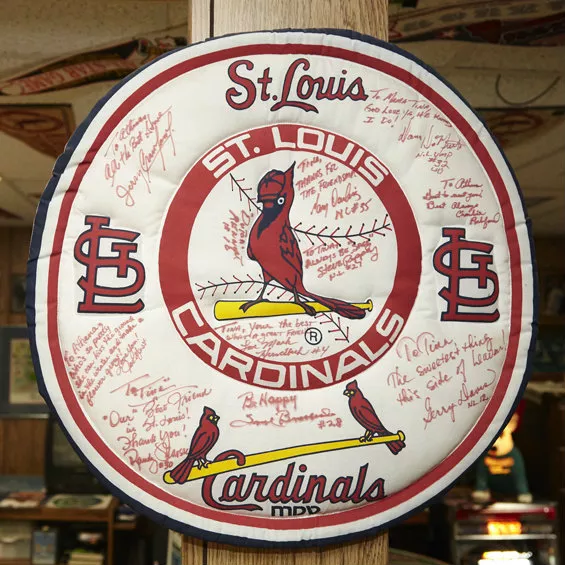 Steve Truesdell
A seat cushion signed by the umpires.
Unfortunately, MoBar closed abruptly in February, and Miller lost the job she loved so dearly. The owner, Trifon Panopoulos, died in 2013 without leaving a will, and the bar fell victim to an ongoing family dispute over his estate. Now the "Missouri" from the gigantic "Missouri Bar & Grille" neon sign which once hung above her station has been added to her collection, even though half of the M snapped off and was lost.
Miller isn't interested in retirement; rather, she's training at three different bars around town, getting used to the newer computer systems. She still goes to bed at 5 or 6 a.m. and rises in the afternoon.
And of course, she's still madly in love with the Cardinals and with baseball. She and her husband have four DVRs in the house so that they don't miss a single game. She devours any news online or in print about baseball. And she'll be at Busch Stadium all summer, without having to peel a single potato.
"We got a good team," she says. "One of the best pitchers -- I have a good feeling it's going to be a good year."
-- Jessica Lussenhop
---
Steve Truesdell
"Max Power" takes a lap.
Running Man
It's the bottom of the eighth in the first of a four-game series. The Cardinals are losing by four runs to the Philadelphia Phillies, and it's not looking good. This is precisely the time that the Rally Runner feels he's needed most.
He jogs back and forth on Clark Avenue outside of Busch Stadium, sweat dripping down his face and darkening the chest and armpits of his custom jersey, a No. 12 with "Rally Runner" stenciled on the back. He whips through another lap along the north end of the ballpark, sprinting past vendors and weaving his lanky, six-foot-five-inch frame between fans, juking like a running back to avoid patrons exiting the pubs across the street. The Rally Runner returns a few high-fives, never slowing a step, and a smile flashes briefly across his red-painted face.
"There are games when everything is just dead, and you can feel that nothing is going to happen," he says later. "That's when I stand up, and I'm like, 'Fuck no, we're going to fucking go out here, and we're going to wake up the Cardinals' spirit somehow.'"
That's no gameday rah-rah platitude. The Rally Runner, a 35-year-old delivery driver from Soulard, believes in his heart that he can help the Cardinals win. He just has to keep running, creating a kind of spiritual energy he believes the players can utilize on the field.
There's a sudden roar from the stadium crowd -- third baseman Matt Carpenter has singled to right field, bringing shortstop Jhonny Peralta home, and the Cards are, finally, on the scoreboard. But they're still losing 4-1, and so the Rally Runner soldiers on.
Joe the Balloon Man, a Busch Stadium staple who makes balloon animals for kids, watches from the sidewalk. He says he started seeing the red-clad figure back in 2012.
"When I first saw him, I didn't know what he was doing. I just saw him running back and forth," he says, just as the Rally Runner passes again. "I thought he was crazy. In a good way."
Like Joe and the spandex-wearing St. Louis Superman, the Rally Runner is one of the more memorable characters hanging around the stadium on game day. The Runner, who also introduces himself in a deep, halting voice as "Max Power," has cultivated a singular mystique: He's there at virtually every home game, seldom speaks and mostly keeps to himself. He doesn't take time off when the team travels to other cities; during the away games he's still there, outside an empty Busch Stadium, running.
A shy man by nature, Power is cautious when it comes to discussing his reasons for running around outside Busch Stadium in red face paint. Basically, he says, the idea came to him in 2011, shortly after the World Series win. He had already been a Cardinals fan for more than a decade, but something changed in him after the magical postseason, the Game 6 comeback and the life the pennant brought to the city.
"I had these visions of running for the Cardinals. I didn't know what it meant," he says. "I felt like I had a connection. I kept having visions that I should run at the stadium."
It wasn't until the 2012 playoffs that he finally followed through on the impulse. After running during the team's epic, six-run comeback in Game 5 of the National League Championship Series, he was hooked.
"I see myself as an unseen player," he says on the walk back to where he parked his scooter, shortly after three Cardinals batters strike out at the top of the ninth, one after the other. The losses are always painful, he says, but it doesn't seem to faze him.
"First off, I understand that it's a long season, I know that losing happens. The whole point of me running is to run the whole year, so that I can help them win the World Series. If the Cardinals are losing, I never give up. I keep my faith, keep visualizing them winning and coming back. I've had a lot of success," he insists.
Power takes detailed notes on each run, and by his count he "ran for the Cardinals" during 142 games last season, including the postseason. On most game days he arrives around the sixth inning, when the team most needs a spiritual boost, he says. Though he claims not to be much of a statistics guy, at our request Power went through his journal entries and crunched some numbers.
According to his calculations, in 2014 he ran during 511 regular-season innings, during which the Cardinals batted in 243 runs. That works out to one score every 2.1 innings. The ratio was even better in 2013, when he ran during 322 innings over 98 games; during that time the Cardinals scored 173 runs, resulting in a run every 1.86 innings. In contrast, over the last two seasons, during the 937 innings when Power was otherwise occupied with delivering Chinese food or sick, the Cardinals only scored one run every 2.49 innings.
"As I suspected," Power says, "when I run, the Cardinals are better."
Amateur Sabermetics aside, it's not always a picnic. He says he's suffered sprains, back injuries, bashed toes and countless blisters. But he believes it's all worth it.
"I'm always praying," he says. "I just have all the faith in the world that we're going to turn this game around."
-- Danny Wicentowski