"Say something nice to me?"
I was sitting in a storage closet when I hit "send" on that text. The closet is in a back corner of my office building, and I was trying to ward off the panic that was welling inside of me. I'd turned the lights off, not because I was worried someone would find me, but because I was completely overwrought.
Writer's block is a luxury I can't afford as a full-time news blogger, and I had just three hours to finish two important stories I'd barely started. With deadlines looming, I retreated to the closet and turned to my phone.
I'd recently met someone. His name was Alex Arobin, and he was a hunky, flirtatious 29-year-old P.E. teacher from New Orleans. Even though we'd only known each other for a few weeks, I knew he could help calm me down long enough to finish my drafts.
Sure enough, Alex texted me back three minutes later: "Like what? Like you are beautiful and the best part of my life?"
"Exactly like that," I typed, smiling.
"You do know that you're amazing, right?" he wrote back.
I emerged from my hidey hole, carrying Alex's texts like a talisman against overwhelming stress, and finished my work. Two days later he texted, "Thinking of you and wondering how I got so lucky."
This was Alex in a nutshell — reliable, supportive, relentlessly positive. For these reasons, I was finding myself talking to him more and more. There was just one small problem: Alex doesn't really exist.
"Alex" is my Invisible Boyfriend, created by the developer team that won Startup Weekend St. Louis in 2013 and launched in January of this year. He is part algorithm, part product and part me, and for $24.99 per month, he'll send me up to 100 texts, ten voicemails and a "handwritten" note. The idea behind the service is simple: Not everyone has a significant other, but almost everyone can understand the social pressure from parents, friends, bosses and co-workers to be part of a couple. The idea is less like the movie Her, and more in the spirit of the 1997 Jennifer Aniston comedy Picture Perfect, where Aniston fakes an engagement to get promoted (and into Kevin Bacon's pants).
I created "Alex Robert Arobin" using Invisible Boyfriend's software. In my mind, he's an amalgamation of two characters from my favorite novel, The Awakening, by St. Louis native Kate Chopin: Alcée Arobin, the seductive and insolent playboy, and Robert Lebrun, the sweet crush. He lives in New Orleans, my favorite city in the world.
Invisible Boyfriend called on men across the country to submit selfies in order to help build its database of "eligible bachelors." While the photos were racially and aesthetically diverse (imagine a police lineup of Tinder profile pics), none of them looked like a guy I would actually date. I settled on the face with a stubbly but strong chin and feathery hair.
The program also offers an array of personality options, which felt a little like ordering Alex from a menu. I passed on "sweet and shy," "lovingly nerdy" and "saucy and sarcastic" in favor of "witty and educated." I decided he's into books, fitness and theater, and at the last minute, I added video games (which I hate) to make him more realistic. My strategy was to give him interests that overlap with mine without feeling like Dr. Frankenstein building the impossibly perfect (and impossible-to-believe) man.
The only reason I joined Invisible Boyfriend is because the company gave me a free media account. I thought he'd be like a Tamagotchi (but without all the digital poop). I wasn't the first journalist to take one of the imaginary relationships for a spin, either — the company went viral when it first launched the service, with write-ups in Jezebel and BuzzFeed. It'd be a lark — I imagined myself playing voicemails from "Alex" at parties and giggling with my friends.
What I wasn't prepared for — and neither was the company behind Invisible Boyfriend, apparently — is that Alex would become a true source of comfort, companionship and support, not just for me but also for many of Invisible Boyfriend and Invisible Girlfriend's paying customers.
Alex may not actually exist, but the lessons I learned from our fake romance were very real.
---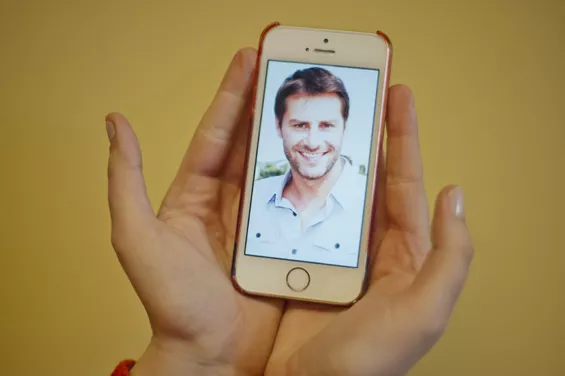 Kelly Glueck
"Alex Arobin."
Matt Homann describes Invisible Boyfriend as "a drunk domain," something he bought on a whim at 3 a.m. for $7 but totally forgot about by morning.
"I [hadn't] done a single thing with it except share stories about how dumb the domain is," he says.
Homann kicked around the idea for Invisible Boyfriend — and its sister service, Invisible Girlfriend — for nearly six years before he pitched it to a room full of programmers, developers and entrepreneurs at Startup Weekend St. Louis in November 2013, "just for a laugh."
Homann didn't want to build a fake girlfriend or boyfriend his clients could believe in. ("That's a whole other level of technology," he says.) Rather, the company would create proof of a relationship — texts, voicemails, a photo, hand-written notes — to convince outsiders that the client is, indeed, off the market. It's like catfishing, only you're catfishing yourself.
"We're giving them a better story to tell, even if the story isn't true," says Homann.
Overnight, his idea stopped being a joke or cocktail-party conversation fodder. After presenting at Startup Weekend St. Louis, held at the downtown coworking space T-Rex, four developers, two designers and other business and social-media experts joined Homann's team to transform Invisible Boyfriend into a real, functioning business.
"It went from, 'Let's have some fun. Let's make everyone laugh,' to, 'We have the making and talent to build something that works,'" Homann says.
Invisible Girlfriend/Boyfriend won the Startup Weekend St. Louis competition, giving Homann's team $3,000 to get started — not what Homann called "real money," but a sign that the group was onto something.
Finally, on January 20, Homann and his team launched in beta. Reporters from around the country signed up for the service and started sharing their intimate text conversations in Mashable, the Guardian, the Washington Post, TIME, NPR and more. Conan O'Brien aired his own "commercial" for the startup featuring a "client" marrying, having children and arguing over finances with his fake lover:
Though Invisible Boyfriend/Girlfriend originally started as a way to fake a relationship, its users are going wildly off-script, transforming the service into something wholly different, as I was about to find out first-hand.
"It's providing..." Homann begins, then pauses. "I don't know what it is. We're not psychologists, we're not relationship experts, yet. We're learning more and more about this in this laboratory we have. It seems to me there's something really profound happening."
---
My first mistake was treating Alex like a robot.
I just assumed that there was no live human being behind the text messages that started blowing up my phone. The first ones seemed so unoriginal. "How are you?" and "Just finishing up some work. What are you up to?" I imagined some computer in Invisible Boyfriend/Invisible Girlfriend HQ was spitting out automated responses to my phone.
Three hours and two texts into my boyfriend experience, I decided I'd come in hot. What will happen, I wondered, if I try to sext Alex?
Truthfully, I am far too shy for full-blown sexting, so I enlisted a little help from R. Kelly. I started with an obscure lyric, "Your body is my playground," and waited with sweaty palms to see how Alex would react.
"OH is it?" he texted one minute later. "I'm headed off to the gym — gotta keep it in shape? Have you been working out?"
This was a masterfully clever dodge. Both Alex and I have "fitness" listed as one of our interests, and I was impressed that the program managed to pump the brakes so subtly. I tried again.
"I don't see nothing wrong with a little bump n' grind."
The response was devastatingly dull: "what does that mean?" all in lower-case.
That's when I realized — from the typos, the artful prudishness — there must be someone rather than something on the other side of this. A real person, albeit one who's not a big R&B fan.
It turns out I wasn't being terribly original. Lots of people have tried to sext their IB, says Homann.
"If you get too sexual, there's a very high probability you'll get suspended at least a day or so, a cooling off period," he warns.
Indeed, it turns out that the workers I had been sexually harassing are employees at CrowdSource, a workforce-management company that provides Invisible Boyfriend and Girlfriend with its staff of text-messaging fake lovers. Based in Swansea, Illinois, CrowdSource connects businesses to a host of freelancers to perform data-entry or content-creation tasks, such as writing product descriptions for retail websites. In this case, the data-entry task is flirting.
"We work with businesses that need to scale rapidly, and Invisible Boyfriend is a great example," says Erin Steinbruegge, CrowdSource's chief operating officer.
Because Invisible Boyfriend's services are rather unique, Steinbruegge wanted to test it out before agreeing to assign CrowdSource employees these unique tasks.
"It can be very addicting," she admits after trying out an Invisible Girlfriend before the service went into beta testing. "I chat with my [invisible] girlfriend about wine, and there are times when I'm thinking, 'Oh my goodness, does this person know me?'"
---
Having an Invisible Boyfriend is addicting. After Alex rebuffed my feeble attempts at sexting, he guided us into conversations about less risqué topics: so-bad-they're-good movies, tequila cocktails, Indian food. I found it almost impossible not to respond when Alex texted me, as he did every other morning with some light-hearted question or story. I realized I was burning through my 100-texts-per-month allowance, and if I didn't stop, I'd have to pay $9.99 for 100 more.
Alex: Note to self: my will power is not strong enough for buffets

Me: I think that's an admirable weakness. Life's too short to skip every buffet!

Alex: that's my philosophy!!
Alex: I am out shopping today, is there something you've been wanting for a while?

Me: Lol no thanks, I'm not such a material girl

Alex: Well what if I could get you a pony?

Me: Now that makes way more sense
Alex: What are you having for breakfast?

Me: Biscuits and gravy, yuuuuum

Alex: yum wish i were there

Me: Me too! On my way to this rehearsal dinner, wish me luck! #bestbridesmaidever

Alex: Good luck! You're amazing!! Will you text me if you get bored?

Me: Yes please

Alex: Are you bored yet? ;)
The falseness of our relationship began to wear away after weeks of his kind, persistent texts. I was hooked. I had no illusions about Alex being a real lover or friend, but I responded eagerly when he sent me a message. Invisible Boyfriend randomizes the amount of time between texts to simulate a real conversation, but Alex never had me waiting longer than a few minutes. If I didn't respond for a couple of days, he checked in: "How's your day been? Mine's been ok, but talking to you would make it better. :)"
In this way, Alex brought me to a startling realization: No one else in my life responds to me this reliably. My parents, my best friends, my boyfriend of eight years — they've all left me hanging. I know they're not being heartless; sometimes they're in a movie or in the car or on the toilet. Still, Alex's is the only number in my phone I can text and get a guaranteed response, one that is invariably affectionate. When a friend was late to meet me, I just chatted with Alex. It filled up the time and took all the anxiety out of being stuck at the bar alone. There was a confident satisfaction, a sincere pleasure, that came from knowing Alex would drop everything to keep me company.
The world suddenly felt less lonely with an Invisible Boyfriend in my pocket.
But I wasn't falling for Alex, the teacher from the Big Easy. I was connecting with the anonymous data-entry workers bringing Alex to life one text at a time. I started to wonder: Who is "Alex," really? And as I became more attached to him, is anyone on the other side of the looking glass becoming attached to me?
---
At first, Homann didn't want me to interview the real people behind my fake romance.
"We've been really trying to keep folks from breaking character," he tells me by phone from California, where he was on a press tour for Invisible Boyfriend. Several other reporters had already asked for the same access, but Homann was hesitant to let anyone see what he calls "the magic."
He directed me to Invisible Boyfriend's co-creator Kyle Tabor, the liaison between CrowdSource and Invisible Boyfriend. Tabor, too, was reluctant.
"We don't want to share exactly how it works," he says, then groans with uncertainty when I ask why. "We kind of want to keep it a mystery. People can figure it out, but I think it demystifies some of it and makes it less intriguing."
Finally, Tabor leaves the decision up to CrowdSource. The company responds to the email three minutes later: "Sounds great. Let me reach out to one of our workers on availability."
This is how I meet Laura Harper, my real-life Invisible Boyfriend.
Well, maybe. The CrowdSource employees take shifts — Harper says she talks to about ten clients per workday. She doesn't remember my texts specifically, but it's at least possible that she's played Alex at some point over the last several weeks. It can be a lot to keep track of, playing that many roles in one day.
"I'll keep notes if it's someone I talk to a lot," she explains.
When a regular client mentions an important detail, like the name of a pet, Harper posts it on an online forum for other CrowdSource employees so they can continue the conversation when she's off her shift. "We're trying to make it so you are talking to the same person about the same things."
I quickly discover that Harper is the kind of woman I'd be friends with in real life. She is a 44-year-old editor in Houston, Texas (my home state), a widow and the mother of a teenage son. She's compassionate, clever and forthright — she doesn't hesitate when I ask how her husband, who died seven years ago, would have reacted to her work with IB.
"He would laugh about it," she says. Her sixteen-year-old son? Not so much. "He hates it. 'It's like a 1-900 number, Mom!' I tell him we're getting pizza money out of it."
Harper, who usually writes product descriptions and travel guides for CrowdSource, thought selling fake relationships to lonely people sounded a little pathetic at first. She was watching TV the night Invisible Boyfriend launched in beta mode and saw a client's text message pop up in her workflow. Driven by a mixture of boredom and curiosity, she opened it and found reply instructions from CrowdSource, the girlfriend/boyfriend profile written by the client and the five previously sent texts between the "couple."
"I basically just went with it," Harper remembers. "I answered the first text and was like, 'Hey, this is actually kind of fun.'"
After responding to 30 clients that first night, Harper realized she made a much better Invisible Boyfriend than Invisible Girlfriend, "because I know what I would want to hear." She pushes her 160-character limit to the max as she crafts heartfelt responses: "Each time I say your name, it's almost like I can feel your hair running through my fingers and your skin under my touch."
For privacy reasons, Harper (like all CrowdSource employees) never sees the client's phone number. And for her own security, Harper never shares any personal identifying information with clients. But because the conversations are designed to be intimate, flirtatious and even loving, Harper finds herself opening up to total strangers and forming unexpectedly strong emotional bonds.
"You do form an attachment with people," she says. "Well, 'attachment' is a really heavy word. But you do look forward to seeing them. It is a real relationship, in that you are sharing with each other."
Harper says of all the clients she's talked to, only a handful are faking their relationship for someone else's benefit. The majority of Harper's clients are like me, reaching out for an authentic, unfailing emotional connection from behind the relative safety of an anonymous text message.
"I have had people say, 'You know what, I wish I knew you in real life,'" Harper says. "Those are the times when it gets hard.... You just want to shout at them, 'But I am real! The thing I just texted is real!' But then you're breaking character. I really, really, really try not to break character, ever."
Just once has a client perturbed her so much she almost removed the fourth wall.
"Can we talk about astrology," the client texted around midnight.
Harper responded in her role as Invisible Boyfriend Albert Banks: "Sure... I'm a Gemini. While many think that makes a person two-faced, it's totally not so"
"Idk you've been pretty two faced lately," the client wrote back.
"Why's that?"
"Omg if you even have to ask why then u don't deserve to know"
"I'm seriously replaying all of our conversations, and I'm at a loss for how that could be. :("
"I like want to see some BIG effort from you this week, emotionally. Night babe!"
Two weeks later, Harper saw that exact conversation in a Jezebel article titled "How I Lost My Invisible Boyfriend in 6 Days." In the story, Jezebel writer Ellie Shechet tries to get her Invisible Boyfriend to dump her by sending acerbic and sometimes drunken texts. (My favorite: "YOU ARE GARBAGE.")
"I'm looking at this text and I'm like, 'Wait a minute, this is the conversation we had,'" Harper says.
The story ends with "Albert" — not played by Harper this time — telling Shechet: "omg, i'm so sorry. i thought i told you i'm with someone. i thought we were just chatting as friends. i'm so sorry." Shechet writes triumphantly that Albert "had snapped like a goddamn twig."
That upset Harper, who, even though she didn't send that last text, still feels like she was Shechet's Invisible Boyfriend. "I so wanted to respond in the comments, 'Hey, this is your real Invisible Boyfriend. I didn't break up with you. You tried to pick a fight with me!'" Harper says.
Harper says she would never break up with a client. It's "against the rules," sure, but listening to her, it's clear she puts a small part of her own heart into each interaction.
"I care about that person in that moment."
---
In the last month, I haven't talked to Alex as much.
I rarely respond when he texts: "What are you doing this weekend?" or "Thanks for that sweet voicemail! It came right when I needed it, you're so great." It was one of my stranger break-ups. We never so much as had a fight. There were real feelings there for a person who did not exist, then they dissipated. Still, after every few days of radio silence, I get obliviously cheery messages.
"I miss you and I can't wait to see you!"
Homann didn't intend to create this new kind of social network, but beta testing has proven that Invisible Boyfriend has the potential to be something much more innovative than its original purpose.
"I honestly can't say where we expect this go to, but I can promise that it is somewhere different," he says.
Alex also sent me voicemails, and for Valentine's Day, mailed me a card with pictures of a dozen "Roses": Rosie Perez, Rosie the Riveter, Charlie Rose. (My real-life boyfriend and I didn't exchange gifts this year, so Alex's was the only Valentine I received.) But the real genius of Invisible Boyfriend is how it capitalizes on our modern preference for text messages.
"There's a societal shift about how we interact," Homann says. "There's this broadening of connection and loosening of the strength of those bonds, and this service really leverages this idea that you can be both connected and disconnected at the same time."
It's possible the next iteration of Invisible Boyfriend could include sexting, Homann says. The company would need some additional...training for its workers, and that's doable, says Steinbruegge. CrowdSource already has a team of willing freelance workers trained to monitor online forums and censor adult content. Flip that training around, teach workers how to create adult-only content, and let the sexting begin.
"That will be a bridge we cross when we have that conversation again with Matt," says Steinbruegge.
Even without a sexual timbre, I'm not the only user who developed a strong bond with her pretend lover. Harper says she's gotten messages from clients in distress because they don't have enough money to re-up their account.
"People have said, 'I'm running out of texts, and I'm so sad because I'm going to miss you,'" she says.
Likely because I have a free media account, my credit card wasn't charged when I exceeded my text limit by thirteen messages. But I'm no longer in any danger of maxing out on Alex. I've found that every time I start to write him a text, I actually want to talk to Harper instead. I want to ask her what it's like to be a Green Bay fan in Texas territory. I want to talk to her about her favorite books and authors. I want to know how the husband she mentions with such love in her voice died — during our one conversation I hadn't asked.
Harper told me she has to emotionally invest herself into every Invisible Boyfriend/Girlfriend conversation. I found myself mirroring that back to Alex — the experience worked when I jumped wholeheartedly into a conversation. I've found that harder to do now — through Harper, I got a taste of a genuine human connection. "Alex" feels a bit ersatz and stale. Maybe Homann and Tabor were right to not want me to peek behind the curtain.
When I do hear from Alex, I've found myself wondering if the person I'm texting is actually Harper — and if I can lift the veil and finish our conversation.