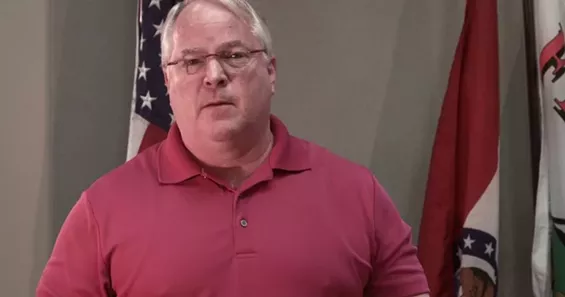 Ferguson police chief Thomas Jackson released this apology video seven weeks after the shooting of Michael Brown.
After five years as the chief of the Ferguson Police Department, Thomas Jackson announced his resignation this week.
The excoriated chief headed the department as the U.S. Department of Justice found a "pattern of unconstitutional policing" as well as procedures that prioritized bringing in revenue over providing security.
Jackson will stay on as chief until March 19 and then will receive about $96,000, his annual salary, in severance pay. He is the sixth Ferguson official to leave after the justice department report.
See also: 30 Shameful Stories About Ferguson Police from the Department of Justice Report
In honor of Jackson's imminent departure, Daily RFT looks back at some of his best worst moments:
The Silence
Jackson's resignation is the first time the police chief has made a peep since the justice department's release of its scathing 102-page report a week ago. Despite receiving advance notice of the report's findings, Jackson declined all interview requests after its release and failed to show up to Ferguson mayor James Knowles' press conference, where Knowles announced disciplinary actions against three employees associated with racist emails revealed in the report.
"The poor mayor," CNN's Anderson Cooper said Friday. "He's the one in front of the camera. The chief is running away like a cockroach."
Jackson, whose resignation doesn't take effect until March 19, did not even show up to the press conference announcing his resignation.
The Apology Video
When Jackson wasn't being obtusely silent, he made some bizarre and half-baked PR moves, like the apology video he released seven weeks after the police shooting that killed unarmed teen Michael Brown.
See also: Ferguson Police Chief Apologizes to Brown Family, Protesters: "I Feel Responsible"
On paper, Jackson's apology reads as sincere and direct. He apologizes both to the Brown family and to protesters in Ferguson.
"Please know that the investigating police never intended disrespect to Michael, to the Brown family, the Canfield neighborhood or the African American community," Jackson says in the video. "If that is the way it appeared to you or anyone else at the time, I personally apologize for that."
But the video's poor production cast Jackson, literally, in a bad light, which, combined with Jackson's ruddy complexion and crimson polo, make him look like an awkward, throbbing whitehead begging to be popped. The video conceived by Devin James -- who was fired from managing Ferguson's PR when news broke he was convicted for fatally shooting an unarmed man in 2004 -- makes Jackson seem agitated and overly concerned with his overnight ignominy.
Plus, the apology came nearly two months after Brown's death.
"Had it come weeks earlier, perhaps [the apology video] could have been the start of a much-needed reconciliation process in Ferguson," the Washington Post reported.
Instead, as Ferguson Democratic committeewoman Patricia Bynes
put it,
it was "too little too late."
The Clusterfuck
Jackson wasn't done after that apology video. In a one-two punch of ineptitude, Jackson, again dressed in plain clothes, attempted to join the protesters who'd gathered in Ferguson to demand Jackson's resignation.
Jackson accepted a clergy member's offer to march with the protesters, apparently as a way to show solidarity and humility. But Jackson obviously hadn't consulted police officials tasked with securing the city he'd lost control of. With Jackson suddenly engulfed by a furious clusterfuck of a crowd that had been calling for his resignation for weeks, riot police burst into the crowd, creating a panicked frenzy and leading to four arrests. "I don't think he was marching with the protesters more than 30 seconds before the riot cops came out into the crowd and tried to get themselves closer to him and protect him," said alderman
Antonio French to NBC News
. "Just them being out there pushing started stuff -- it's a complete misread of the situation. His very presence agitated the crowd."
Continue to the next page for more "highlights" from Chief Jackson's time in Ferguson. The Denial
Once he was thrust into the national spotlight, Jackson never quite lost the deer-in-the-headlights look from his face, especially when he was talking about his mostly white police department's relationship with the two-thirds black population of Ferguson. In case you've already forgotten it, it's the look he gives Missouri senator Maria Chappelle-Nadal when she asks him if she'll be tear-gassed again during protests: As protesters called out Ferguson police for racially biased practices -- allegations later supported by an in-depth justice department investigation -- Jackson's strategy was to deny, deny, deny. "There is not a racial problem in the police department," said
Jackson in an interview with CBS News.
The Release of Darren Wilson's Name
Chad Garrison
Chief Tom Jackson releases the name of Darren Wilson, the officer who fatally shot Michael Brown, to the media.
After Michael Brown was shot to death near his grandmother's apartment, his family and Ferguson residents demanded the name of the officer responsible for his death. At first, Chief Jackson refused, saying they couldn't release the name due to the pending investigation.
Jackson then agreed to release the officer's name on Monday, August 11, two days after Brown's death, but he quickly changed his mind, citing threats to the officer's life. Protesters demanded the officers name during a week of tumultuous, riotous protests.
When Jackson finally decided to release Darren Wilson's name on Friday, August 15 -- a date the Guardian newspaper would later call "Jackson's worst day" -- he also made the bumbling, miscalculated decision to release evidence that Brown was involved in a strong-arm robbery minutes before the shooting.
Jackson, visibly shaking, dumped the evidence onto the crowd of more than 150 journalists gathered in the burnt-out husk of the QuikTrip and unceremoniously scurried away, leaving reporters and protesters alike bewildered and upset. The dual release, along with the timeline provided by Jackson, incorrectly implied that Wilson knew Brown was a robbery suspect when he stopped him. Brown's family accused Jackson of attempting to demonize their lost loved one.
"Michael Brown's family is beyond outraged at the devious way the police chief has chosen to disseminate piecemeal information in a manner intended to assassinate the character of their son, following such a brutal assassination of his person in broad daylight," the family said in a statement. After six hours of anger and confusion, Jackson
finally re-emerged to explain.
The robbery, he said, was not related to the shooting. Wilson initially stopped Brown for blocking the road, not for stealing cigarillos.
So if the robbery and the shooting weren't directly related, why release the information without explanation or finesse at a highly anticipated press conference? Jackson's answer revealed his utter lack of leadership or understanding: "Because the press asked for it."
Jackson later apologized for the "communications breakdown," and said he should have alerted Missouri Highway Patrol captain Ron Johnson, who'd newly accepted command of Ferguson protest security. "I think that information should have come out in a different way," Johnson said.
Follow Lindsay Toler on Twitter at @StLouisLindsay. E-mail the author at [email protected].