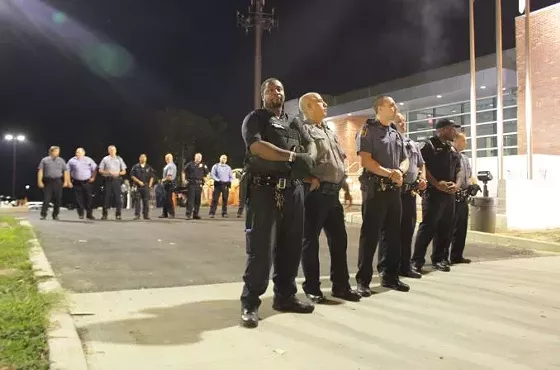 Danny Wicentowski
In this photo from late September, officers stand guard outside the Ferguson Police Department.
Two police officers were wounded early Thursday morning after being struck by gunfire near the Ferguson Police Department.
One of the officers, from the Webster Groves department, is a 32-year-old, 7-year veteran of law enforcement, according to a press release. The other officer is a 41-year-old,14-year veteran from the St. Louis County department.
The Webster Groves officer was shot in the face, while the St. Louis County officer was shot in the shoulder. Officials described the injuries as non life-threatening, although both officers are being treated at Barnes-Jewish Hospital and are in serious condition.
Update, 9:15 a.m.: St. Louis County Police Chief Jon Belmar updated media on the shooting at a press conference this morning.
The Webster Groves officer was shot in his cheek, and the bullet is still lodged in his head behind his right ear, Belmar said at the press conference. The St. Louis County officer was struck in the shoulder, and the bullet exited his back between his scapula and his spine.
"You need to know these two officers took a very hard hit," Belmar said. "We're lucky, by God's grace, we didn't lose two officers last night.
Jessica Lussenhop
St. Louis County Police Chief Jon Belmar and County Executive Steve Stenger update media on the shooting.
When asked if police have any leads on the shooters, Belmar said investigators have some "perhaps leads." The shooter or shooters likely used a handgun, not a rifle, and fired from 125 yards away. Police found shell casings but aren't positive they are related to this shooting.
"My officers tell me that when this happened, when they heard the shots, that they saw muzzle flashes," Belmar said. "You can actually hear those shots singing."
Belmar said the officers' families were able to meet them at the hospital.
"My officer was in a tremendous amount of pain," Belmar said about the wounded St. Louis County officer.
Belmar called the shooting "an ambush," saying he'll re-evaluate his safety plan for future Ferguson protest security.
"This is really an ambush, is what it is," Belmar said. "You can't see it coming. You're basically defenseless. That is something that is very difficult to guard against when you have a group of officers standing in a large group."
Our original story follows below.
The gunfire followed a night of renewed protests outside the Ferguson Police Department. Bradley Rayford, a freelance videographer who has reported extensively from Ferguson, said he saw three or four muzzle flashes coming from the top of a tree-shaded hill on Tiffin Avenue, which intersects with South Florissant Road, where the police department is located.
For reference, here's a map showing the area around Ferguson Police Department. Police investigators were later photographed collecting evidence at the top of Tiffin Avenue.
See also: City Manager, 4 More Ferguson Employees Ousted After DOJ Report
Rayford, who has covered Ferguson for Daily RFT, was standing with a group of journalists outside the police department, near a line of officers, when the shots rang out.
"The protest was dying down, the protesters were leaving, the cops were leaving, and all of a sudden we saw what all of us thought were fireworks from the top of the street," Rayford said. "We ducked down, we saw a cop on the ground who was hit by a bullet, and the cops started getting more of their riot gear on, they got their rifles out."
Rayford said it was too dark to see the shooter.
A livestreamer, Heather DeMian, was also the scene of the protest and streaming when gunfire broke out.
No suspects have yet been identified in the shootings.
In comments to the St. Louis Post-Dispatch, St. Louis County police chief Jon Belmar said he believed the officers were targeted, but that he could not say if the shooting was directly linked to the protests.
"I don't know who did the shooting, to be honest with you, but somehow they were embedded in that group of folks," Belmar said.
Belmar has called a press conference for 9 a.m. today. We'll update this breaking story as we know more.
Reporter Lindsay Toler contributed to this story.
Follow Danny Wicentowski on Twitter at @D_Towski. E-mail the author at Danny.Wicentowski@RiverfrontTimes.com