Illustration by Louisa Bertman
Angel Charlene Stewart stands at the guard station in the visiting room of the Iowa Correctional Institution for Women, twisting a lanyard around her fingers. She's anxious. She just found out she's got unexpected visitors in the lobby. "Lawyers from Missouri" is all the male guard tells her.
When the heavy electronic doors from the waiting room slide open, she sees three people -- the members of the Women Initiate Legal Lifelines to Other Women, or WILLOW Project, who've just made the five-hour drive from St. Louis to the prison in Mitchellville, Iowa. Even though Anne Geraghty-Rathert, the attorney who founded the project, has been representing Stewart for four years, Stewart hadn't automatically assumed it would be her.
"He didn't say, 'Your lawyers,' he said, 'Lawyers are here from Missouri,'" Stewart says, once they're all seated around a table in a private room. "I said, 'I'm passing out right now.'"
Stewart is terrified of Missouri.
She had lived her whole life in Des Moines, and only set foot across Iowa's southern border twice: once when she was driven to a remote Missouri farm at the end of a horrifying crime spree, and once more to visit a courthouse in Clark County in the far northeast tip of the state where she pleaded guilty to first-degree kidnapping. She took the deal when she was 21 years old, after the Clark County prosecutor threatened to pursue the death penalty. As Stewart sees it, Missouri is the state that tried to kill her.
A thin 41-year-old with a handsome face and dark, chin-length hair, Stewart is charming if a bit shy. But it's also immediately clear that there's something a little off, something childlike about her.
"This clemency thing has just got me scared," she tells Geraghty-Rathert. "Really, I don't know what a clemency is. And everybody says it's like a pardon. Well, OK, I don't even know what a pardon is."
"Maybe that'll make you less nervous, if you know what we're talking about," says Geraghty-Rathert.
"I said, 'These lawyers think they're going to handcuff me and throw me in the back of a truck,'" says Stewart.
"No, no --"
"I'm fallin' out."
"You know we would never do that."
Jessica Lussenhop
Anne Geraghty-Rathert and Stewart.
Stewart listens attentively as Geraghty-Rathert explains her predicament once more. She is serving two concurrent life sentences for first-degree kidnapping: one without the possibility of parole in Iowa and one with parole in Missouri. Despite the fact that she told the police who arrested her in 1994 that she was beaten, and her life -- and that of her one-and-a-half-year-old child -- threatened if she did not participate in the crimes, she was charged the same as her much older, male co-defendants who orchestrated the kidnapping and murder of two elderly women. Neither the threats nor the violence against Stewart were used as a defense strategy by her attorneys. Now, she's trying to convince the governors of two states to grant her clemency, which is an executive power to pardon, lessen or change an inmate's prison sentence.
But Stewart recently gained some powerful new allies. Last October she became one of fourteen women whose cases are now part of the Community Coalition for Clemency, a group of politicians, lawyers, judges and activists putting pressure on Missouri Governor Jay Nixon to reconsider the prison sentences of women who committed their crimes while the victims of physical and/or sexual violence. Geraghty-Rathert applied on Stewart's behalf to Nixon, who throughout six years in office has rarely exercised this power, even as the list of over 2,200 inmate applicants continues to grow.
Still, Stewart is wracked with guilt. Her mind slips fluidly between the present and memories of the day that Phyllis King and Clara Baker died at the hands of Stewart's "boyfriend," a 68-year-old career criminal who terrified her.
"I was so scared. All those things I did was horrible. Horrible," she says. "It wasn't even me."
"It wasn't you, Angel. It wasn't," says Eileen McManmon, a WILLOW paralegal. "You were forced to do these things. It's so not fair that you are here. We see that. We see that you're a good person."
"I'm just scared. I got this clemency, and I don't even know --"
"That hasn't happened, it's just something we're talking about now," says McManmon.
"I think about the other ladies," Stewart continues, referring to the other women represented by the Community Coalition for Clemency. "Some of those women need a second chance. I mean, yeah, I may need a second chance, but if I could and I got a clemency, I would probably pass it off to one of those ladies you told me about...I mean, those ladies don't deserve to do the rest of their life in prison."
"Neither do you," says McManmon.
---
Donna Biernacki shot her husband after she said he physically and sexually abused her and her daughters for years. Amelia Bird is serving two life sentences after an ex-boyfriend shot her allegedly abusive father. Amanda Busse's father and husband were charged in a murder that her brother implicated her in three years after the fact -- a charge he later recanted. The Community Coalition for Clemency stories are all different, with one sad similarity.
"All the women had abuse in their lives," says professor John Ammann of the Saint Louis University Law Clinic, one of the coalition's founders. "Frankly, nobody helped them."
The objective of the coalition is not only to represent women whose cases involved domestic violence or abuse, but also "victims of our over-sentencing, our aggressive sentencing and the injustices of the criminal-justice system," says Ammann. Four of the women in its caseload are over the age of 65 and have already served more than 30 years.
Members of the coalition include former Missouri governor Bob Holden, who granted 37 clemencies in his single term from 2001 to 2005. His predecessor John Ashcroft approved 30 clemencies; Holden's successor Matt Blunt issued 16. Between 1999 and 2010, Missouri governors including Holden granted 6 clemencies to women who killed their abusers.
"I wanted them to stand for something," says Holden. "I wanted them to send a message about certain issues, and that's what I tried to do."
By contrast, at the time that the coalition launched, Nixon had commuted one sentence during his two terms in office, from a death sentence to life in prison. Three months later -- perhaps under pressure to appear more progressive on criminal-justice issues following the unrest in Ferguson -- he pardoned nine Missourians. However, none of the nine were in prison, and many of their offenses were minor crimes, such as marijuana possession. One man was convicted for stealing a five-gallon jug half filled with change.
Abby Gillardi
The members of the WILLOW Project: Anne Geraghty-Rathert, Eileen McManmon and Shane Kincaid.
"I would say the majority of clemencies were granted in the '90s, then the whole notion of clemency sort of hit a pause due to some celebrated granting of pardons to financiers and political partners," says Colleen Coble, CEO of the Missouri Coalition Against Domestic & Sexual Violence. "These aren't political cases. They are clear-cut granting of mercy for those who were convicted for crimes they may not have been charged with today, or who received disparate charges and sentences because of their gender."
In a time when there seems to be a sea change in attitudes toward incarceration, Coble argues, politicians' attitudes about clemency should change also.
"It is the legal authority and obligation for a governor to consider requests for mercy and clemency. It is a part of the system," she says. "I think people view it as something extraordinary, on the margins of our system. And it is not."
That's important in cases such as Stewart's, that don't fit some of the more familiar post-conviction relief narratives. There is no exonerating DNA evidence or recanted eyewitness testimony. In Stewart's case, her abuser didn't end up dead, so she's an odd fit for a battered woman's defense.
Stewart and many other members of the coalition have exhausted their legal options. All that's left is clemency, and -- in a sense -- to convince the governor through "legally based stories," as Coble puts it. Stewart's case is one of the most bizarre, both in the severity of the crimes she was a part of and also in the way she was brushed aside by authorities. That's painfully clear in one note found in her file, written by some unknown court bureaucrat: "She is a nobody case."
"As unique and strange as the problems of [Stewart's] case and the mismanagement of it, as unique as that is to her, the universality of it is the complete isolation and desperation of a person for whom there is no way out," says Geraghty-Rathert. "Nobody had any awareness, nobody gave a shit about domestic violence, nobody was willing to hear it. It's a different world now, and I think they need to hear the story."
---
The Osceola motel where the police chase ended.
At about 4:45 a.m. on June 28, 1994, Officer Randy Hollinger was driving his squad car down the streets of tiny Osceola, Iowa, when he spotted a tan Oldsmobile in the parking lot of a low-budget motel. The plates matched a vehicle suspected in the disappearance of two elderly women in the Des Moines area two days earlier. The car's owner: Garland "Craig" Shaffer.
Once the Osceola police and the Iowa State Patrol surrounded the motel, a dispatcher called Shaffer's room and told the person who answered that everyone had to come out. Steven Dale Bradley -- a 32-year-old with a long rap sheet who had just finished a ten-year sentence for a violent robbery -- emerged and was handcuffed on the ground. Next emerged Shaffer, a tall, disheveled 68-year-old with salt-and-pepper hair and a substantial gut, and a 16-year-old girl named Angel Chamberlain. Finally came Stewart, cradling an infant in her arms.
At least, that's what the Osceola arrest report says happened. Hollinger remembers that the two men pushed the girls out the door first, almost using them as a shield. Stewart says she remembers leaving first, too, and running to the police with her son, 18-month-old Shane, and Chamberlain.
"What struck me, basically, was the difference in ages," recalls former Osceola police chief Stephen Niebur, who was also at the scene. "What were these young girls doing with these guys?"
When Des Moines Police Department detectives arrived in Osceola, they interviewed Stewart first. In a chilly courtroom, Senior Officer R. Roth uncuffed her and offered her a cup of coffee.
"Who's Shaffer to you?" he asked.
"Uh, boyfriend," she answered.
"Do you like him?" asked Roth.
"Yeah. Sometimes," she said.
"What times is it you don't like him?"
"When he's mad...he scares me."
Stewart slowly revealed that Shaffer hit her when he was angry, and that he had done it more than once. But she was evasive when Roth asked her where she was the night the two women went missing.
"You know," said Roth, "I was scared to put out this information that we were looking for you. Why? Because I felt something was going to happen to you, to Shane, and to that other girl. You've got to tell us the truth, OK? What you know, and be honest with us. We're here to help you."
"I'm sorry. It's I'm scared of him," said Stewart.
"You have every right to be," said Roth. "If you don't tell us the truth, OK, I'm going to tell you, he's going to walk, OK? And that puts you in harm's way."
"Just don't let me go back with Shaffer," she begged the officers later. "He's going to kill me. I mean that. My baby -- please don't let me go back with him."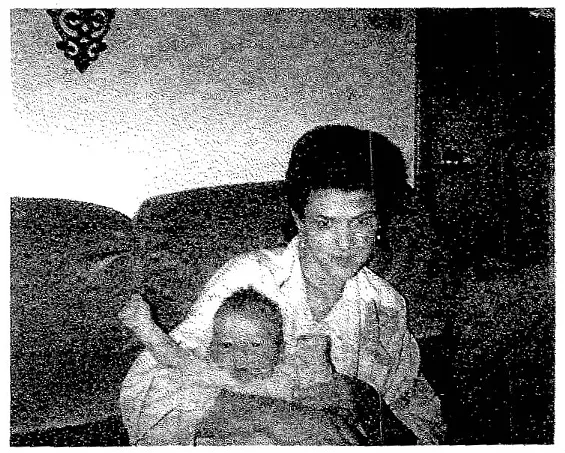 Angel Stewart and a relative's baby in an undated photo.
What came out of Stewart's and the other three interviews painted a disturbing picture of the previous three weeks. Before it all started, Stewart was living in a poor, racially mixed part of Des Moines with her mother. Her father, Charles -- a mechanic -- had left the family and remarried. Angel began running away, partying with people she met on the streets. Although many described Angel as "slow" -- she dropped out of school in the tenth grade, could barely read and had the emotional maturity of a child -- she was beautiful.
"My mind didn't develop with my body," says Stewart.
She had her first son when she was about sixteen, and Shane when she was eighteen. Rosalee Robb, Stewart's aunt, says she was never able to care properly for the first son, Sean, and that Stewart's father and mother, Linda, mostly took care of him, despite Linda's own mysterious, undiagnosed mental ailments. It was a chaotic home environment that Angel often tried to escape from. She also carries harrowing memories of living with her father before he moved out.
"Putting his hands on my mom and me. That's why I can't stand him no more," she says. "I'm still scared of him to this day."
At some point during this tumultuous time, Stewart met Chamberlain, and the two Angels became friendly. Chamberlain was also a runaway.
"We would listen to music or dye my hair," Chamberlain recalls of her friendship with Stewart. "She was nice to me. She seemed like a kind-hearted person."
One day, Stewart told Chamberlain that she'd found them a ride to Ames, Iowa (the purpose is no longer clear). Stewart said she'd met a guy -- Steven Bradley -- who had a truck. When they went to meet him, he brought them to the apartment where he was crashing. That's where they met Garland Shaffer. Bradley and Shaffer served time in prison together and had just recently begun sharing Shaffer's one-bedroom apartment on the second floor of a duplex. Shaffer worked as a handyman for his landlord, and he had money to spend on the two young girls who suddenly appeared on his front step.
"He let us use his phone, let us spend his money like it wasn't nothing, bought us clothes," recalls Stewart. "He was nice to us before he changed."
The "change" apparently happened the day that Stewart and Chamberlain awoke to find Shaffer and Bradley were gone, the front door padlocked from the outside.
"We panicked," says Chamberlain. "We tried to climb out of the windows. There was a very steep drop off of the roof. She and I were talking about whether or not we were going to jump off. That's when they came home."
According to both Chamberlain and Stewart, Shaffer flew into a rage, telling them, "if we ever tried to leave again they were going to kill us."
Both women say at this point they became captives, kept in separate rooms. Stewart was now Shaffer's girlfriend; Chamberlain belonged to Bradley. Over the next several days, the apartment went from a party pad to something more like a dungeon. Shaffer was drunk almost constantly. Stewart says she was beaten repeatedly with various implements. Chamberlain still can't bring herself to speak about the things Bradley did to her.
"He abused me quite a lot," she says. "There was a lot of physical and sexual abuse."
It's unclear whether Shaffer raped Stewart. In his first interview with police, he claimed that because of a prostate surgery he "ain't been to bed with a woman in ten or twelve years," but that "if I could have, I would have. I'd have been right there every day." Stewart says that Shaffer wanted her to prostitute herself for money. And even if the abuse did not take the form of intercourse, what was happening in the apartment was sadistic. Chamberlain told the police that Bradley used boards, whips and chains on her. Stewart says that one night, Shaffer tied her to a chair, naked, and beat her with a horse whip for some minor infraction. Investigators later found the padlock fixed on the outside of the door, and recovered the whip, two long-bladed knives and a .38 snubnose revolver.
"He had a needle, and he tried to sew my mouth shut," Chamberlain sobbed to Des Moines police in her first interview.
All the while, Stewart says, she was kept separate from her son. Shaffer controlled when he ate and bathed, she says, sometimes giving him liquor.
"They threatened her son, and that was the way to get her," confirms Chamberlain.

From a 2012 affidavit given by Steven Bradley.
Shaffer hid the telephone, but the women were allowed some contact with the outside world, a fact that would ultimately hurt their cases. It was also what brought the situation to a head. Shaffer allowed Stewart to call her mother, who said there'd been disapproving gossip floating around the neighborhood about Shaffer's relationship with such young women. The main complainant was an 82-year-old widow who lived alone: Phyllis King.
"She called this Angel's mother. Called Angel's mother and run me down like a dog. I ain't never done nothing to her," Shaffer told Des Moines police after his arrest. "I said, 'Look, ma'am, you make me do something to you now.'"
Shaffer loaded Bradley, Stewart and Chamberlain into his car and drove them all to King's house. After he instructed the girls to call for King, Shaffer charged up her porch and started banging on the windows. Bradley threw a brick through the glass. A friend of King's who lived across the street, 79-year-old Clara Baker, ran over threatening to call the police. For her concern, she was forced into Shaffer's Oldsmobile at gunpoint along with King. The first clue that something was amiss was when neighbors noticed Baker's groceries abandoned in the back seat of her car.
Back in the apartment, Shaffer cornered Stewart and Baker in the garage. He began to strangle Baker with an extension cord, pausing to tell Stewart to grab one end of it and pull.
"[Shaffer] made her do it," Bradley told police. "Then it was not working or something, and he told me that he had to break her neck."
Shaffer told police that while Stewart was standing there with him, he killed Baker after several attempts. He drove her body to a random Iowa interstate, then hid her underneath a chair off the side of the road.
King's death was even more cruel. Shaffer lured her back into the car by telling her he was taking her home. Sitting in between Chamberlain and Stewart, who was holding her son, Shaffer drove King to a remote rural location, somewhere just north of Kahoka, Missouri, where Shaffer said he was born. When they came to a wooded area with a ravine, Shaffer and Bradley dragged King from the car. Shaffer grabbed a two-by-four.
"The lady did not die immediately," says Kahoka police chief Bill Conger, who was a sheriff's deputy at the time. "She was bludgeoned to death, which is just a gruesome scene."
Conger recalls being startled by the trail of blood when they lit up the woods with Luminol.
By the time the foursome made it to the hotel in Osceola, Shaffer was threatening to kill the whole group, including the baby. But the police, using tips from Baker's and King's neighbors, were closing in.
Once in custody, Shaffer was matter-of-fact about his role in the murders.
"I'm not going to lie about none of it, I'm going to tell you I did kill that little old lady," he told Des Moines police officers. "I don't care, you know. Myself, it means nothing to me. I wouldn't give a damn if I get executed...I'll take the whole rap."
---
From June 30, 1994, edition of The Des Moines Register.
If Shaffer comes across as cartoonishly evil in these stories, consider this -- he had already been convicted of doing something similar to another teenage girl. According to news reports, Shaffer told his previous victim that he was a pimp and wanted to "put her out on the street." Instead, he and an accomplice kidnapped her, drove her to a vacant lot and took turns raping her. He dragged her through the brush by a cord tied around her neck and beat her, the victim told police. Shaffer pleaded guilty to third-degree sexual assault and was sentenced to ten years in prison. He also had yet another rape and kidnapping charge on his record.
Though it was reported in the daily newspapers, no one seemed to notice the similarities between those victims and the two young women who'd just been arrested with him. The murders shocked the Des Moines community in their senselessness, and Baker and King were eulogized as "two sweet little old ladies." The governor at the time used the deaths as evidence that Iowa needed to bring back the death penalty. Perhaps as a result, Stewart and Chamberlain were treated as accomplices, even though investigators were initially sympathetic to them and Bradley corroborated important parts of their story.
"He told his girlfriend, after he smacked her in the motel...'I'll kill both of you,'" Bradley told police. "He did threaten to kill everybody at least twice."
And while Shaffer is listed as a career highlight for the lawyers and law-enforcement officers who brought him to justice, no one brags about the convictions of Angel Stewart and Angel Chamberlain.
"Even though they found my blood in the apartment and they had the gun and they had statements from [Shaffer] taking responsibility for everything, I spent ten years of my life in prison," says Chamberlain, who was tried as an adult but got a lighter sentence. "Just for being there."
Stewart's case was more problematic, because she admitted she'd pulled the extension cord on Baker's neck and held a gun on both women. But she always insisted it was because Shaffer threatened to kill her and her son.
"My son was one years old when he had a gun held to his head, and I was told, 'You will do what I say or I will kill your son.' What mother ain't going to do that?" says Stewart. "I sacrificed my whole life for my son."
Her Iowa public defender Bob Powers was not lying down on the job. He was preparing a vigorous defense strategy, but while it mentioned Stewart's fear of Shaffer, it was almost a side note in a larger argument about whether or not Stewart was properly Mirandized, whether or not she could read, and whether or not it was legal to arrest her as a material witness, then use the information she provided to convict her. The threats to her baby are largely absent.
"It was a totally different legal world as far as how they would use evidence of abuse," says Geraghty-Rathert.
Two different psychiatric experts evaluated Stewart, one for the defense and one for the state. Though both concluded that Stewart had an IQ somewhere in the area of 65 to 70 ("mildly retarded," they wrote at the time), the state's doctor concluded that she was "as canny as any 'con' [he had] ever interviewed" and that she was a "cunning, manipulative liar," according to court filings.
A note found in Stewart's file.
While Powers was preparing to defend Stewart at trial in Iowa, the prosecutor in Clark County, H. Scott Summers, announced he would charge all four with murder and kidnapping, and ask a Missouri jury to consider the death penalty. Stewart says Powers (who could not be reached for comment; he no longer works as a public defender in Des Moines) advised that she take a plea deal for life in prison for kidnapping in both Iowa and Missouri. Terrified of receiving a death sentence, Stewart made her second trip to Missouri. She met with her Clark County public defender for about an hour. In his notes about her, he wrote "client pathetic 20 y.o. w/f low IQ."
"You are able to read, is that true?" the judge asked Stewart as she prepared to enter her guilty plea.
"A little bit," she said.
"OK," he continued. "I noticed that you are accompanied today by someone. Is this a relative of yours?"
"No."
"Is that a friend of yours?"
"No." Stewart then agreed to spend the rest of her life in prison.
"I've done a lot of murder trials," recalls James Campbell, the court reporter who transcribed the plea proceeding. "I felt very sorry for Angel. I've kind of been around, in my life as a young man, around women who are battered and they're such victims...I got that impression of Angel."
John Sarcone, the Polk County, Iowa, prosecutor who convicted Shaffer, Bradley, Chamberlain and Stewart, is still in office. He feels much the same way he felt in 1994 about Stewart's story and her petition for clemency.
"Angel Stewart is not an angel," he says. "She knew right from wrong, there's no question about that. She was maybe a little bit slow on the uptake on things, but as I remember she was involved in the strangling of one of the women. She also participated in the kidnapping, you know, there was no attempt by her to run away and tell the neighbors, to call somebody."
Summers, the former Clark County prosecutor, says he relied on Iowa authorities for a bulk of the investigation. But neither Summers nor Sarcone remember the threats to Stewart's son being raised as an explanation for her behavior.
"Nothing that I recall whatsoever came up about Angel being anything but a willing participant," says Summers. "I had no idea or indication that she was not acting of her own accord."
---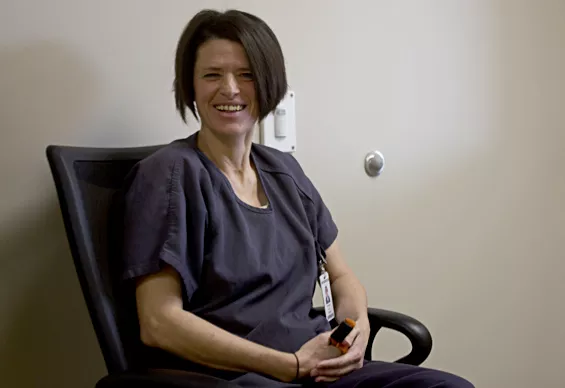 Jessica Lussenhop
Angel Stewart in a visiting room at the Iowa Correctional Institution for Women.
After the visit with Stewart, Geraghty-Rathert, McManmon and another paralegal, Shane Kincaid, drove around an unfamiliar Des Moines neighborhood, looking for a house they think might belong to Stewart's son, Shane -- now a 22-year-old man. They met him back in 2013, but he's since changed phone numbers and addresses. An ex-girlfriend gave them a general area where she believes he's living -- a house she described as having a lot of vans parked out front.
"Vans!" yells McManmon from the back seat, pointing to a small house, and Geraghty-Rathert pulls over on a snow-covered side street. They write down the address and return to their hotel. Weeks later, Shane Stewart called.
After he was whisked away by the Osceola police in 1994, Shane went to live with his grandma, Stewart's mother Linda. When she died he was fourteen, and he was sent to live with distant relatives. He remembers those years were hard, and he was getting into a lot of fights. People told him he'd likely end up dead or in prison.
"I didn't grow up in a very good place. I got picked on a lot," he recalls. "It was tough. I've been through a lot. It just got easier as time went on."
Today, he's a full-time welder, living in Des Moines with his biological father and working six days a week at a job he says he enjoys.
He has good memories of visiting his mother in prison, back when his grandmother used to take him. The last time he saw Angel, he thinks he was about ten years old.
"She was very emotional at first because she didn't raise me. She did what she did because of the love she had for me," he says. "The first time I saw her it was the happiest moment I had. Nothing else mattered except seeing my mom."
It's been years since Shane went to visit his mother, in part due to his transient childhood, and now in part because of his intense work schedule. But it may also be because he didn't always understand what had happened in those weeks back in 1994. But he is now very supportive of her release.
The WILLOW Project attorneys remind Stewart of this on their next visit to the Mitchellville prison. According to them, she has only recently stopped talking about him as if he is still a baby.
"Don't think your son does not think of you. He does," says McManmon.
"You've seen the pictures, so you know he's very pretty just like you," says Geraghty-Rathert.
"I just miss him," says Stewart, tearfully. "People weren't telling him the truth. He probably thought it was my fault."
Stewart's son and her attorneys are not the only ones who support her bid for clemency. Though he didn't respond further to interview requests, Bradley wrote Riverfront Times one letter from the Anamosa, Iowa, penitentiary that begins, "YES ANGEL SHOULD BE SET FREE." Chamberlain, now a married mother of two who speaks to at-risk youth about her experience in prison, agrees as well.
Shaffer did not respond to repeated requests for comment. Today, at 89, he is likely the oldest inmate in the Iowa prison system. There is a brief glimpse of him in the Oscar-nominated documentary short "Prison Terminal," about the hospice unit of the Iowa State Penitentiary. He was best friends with the film's protagonist, Jack Hall, and sits in silence for a few moments by Hall's bedside in the film. The director, Edgar Barens, says Shaffer never opened up, and only begrudgingly signed the waiver after Hall died. It's not unreasonable to think Shaffer will die in the same hospice wing.
Officer Hollinger, the man who arrested Stewart in 1994, would like to see her go home. After he left the Osceola Police Department, he became a corrections officer at Mitchellville, and after fifteen and a half years there, got to know her well. He says she thanked him for arresting her and saving Shane's life.
"I think that she deserves a second chance...I don't think she's going to be a menace on society," he says. "I would probably say that it'd be very crucial for her to continue some kind of therapy when and if she gets out."
That's exactly what Geraghty-Rathert and the attorney representing Stewart on the Iowa side say will be arranged for her, likely in some kind of group-home setting, should she be granted clemency. Because the clemency process in Iowa is more clearly defined -- all applications must be reviewed and answered in 90 days -- it would in theory make sense to apply there first. However, if Stewart were to receive clemency in Iowa, she would be immediately shipped to a Missouri prison, something she calls a "nightmare." It's also a prospect Saint Louis University School of Law dean Michael Wolff finds preposterous.
"There's no good reason to keep her in a Missouri prison if Iowa says she's been corrected. Why are we going to drag her into Missouri and spend the money on her? I don't see the point," he says.
It's an argument Stewart's attorneys are hoping Nixon finds compelling when they visit his office on March 13 to advocate for their clients. Many of the clemency-coalition members say they are cautiously optimistic that such meetings are even happening in Jefferson City. (Nixon's office would not comment on the clemency coalition or on Stewart's case but to say that it is "under review.")
As for Stewart, if nothing else she's happy just to have visitors and letters after many years of silence from the outside world. Although she's terrified of many things, she emphasizes that she wants the chance to live a free life, and to mentor troubled teenagers like she once was.
"God brought you all to me," she says to the WILLOW Project members before they leave. "I just look at you guys as angels."
Everyone at the table is in tears.
"We're not angels," says Geraghty-Rathert.
"You guys are angels because you're here, you know what I'm going through, you understand," she chokes out. "I been thinking about you guys all night and thanking God -- someone is finally looking at me."
To learn more about the WILLOW Project visit their website or Facebook page.
Email the author at Jessica.Lussenhop@RiverfrontTimes.com.