Courtesy of James Schottel
Henry Davis, after being beaten by Ferguson police, who later charged him with property damage for bleeding on officers' uniforms.
The U.S. Department of Justice's scathing report on abuses and racial discrimination in the Ferguson Police Department surprised St. Louis attorney James Schottel, but not for the reasons you'd think.
Unnecessary beatings, unwarranted arrests, severe force escalation, racial bias, disappearing paperwork and evidence -- the justice department's findings are old news to Schottel, whose client Henry Davis was mistakenly arrested in 2009, beaten by Ferguson police and then charged with property damage for bleeding on the officers' uniforms.
"Whatever happens in Ferguson doesn't surprise me," Schottel tells Daily RFT. "What I uncovered when I took the deposition of the prior [Ferguson police] chief [Thomas Moonier], there were problems there for years that were leading up to" the August 9 shooting of Michael Brown.
What did surprise Schottel is that his client's story isn't one of the dozens of stories the justice department shared in the 102-page report released this week to illustrate the extent of police misconduct in Ferguson.
"I thought they'd at least have a little bit in there," says Schottel, who represents Davis in a civil rights lawsuit against Ferguson Police. Schottel even called the justice department about the case when it opened the investigation in August. "But then as I read [the report], I thought, 'Welp, they've pretty much covered everything that happened in my case.'"
See also: Ferguson Police Tolerate Sexual Harassment of Female Officers: Justice Department
Ferguson police arrested Davis, a 52-year-old welder, while he was sitting in his car on September 20, 2009. Davis, who lived in St. Peters, later said that he'd missed the exit for St. Charles County and pulled off the highway into Ferguson's jurisdiction because of heavy rain.
An officer arrested Davis, who is black, on a warrant intended for another Henry Davis with a different middle name and social security number. A booking officer later noted that Davis was taller than the man police were looking for, according to Davis' lawsuit.
"I said, 'I told you guys it wasn't me,'" Davis later testified, according to the Daily Beast, which first reported the alleged beating.
But police weren't letting Davis off that easy. Officers escorted him to cell No. 3, where he found a man was already sleeping on the cell's cot. He asked for one of the sleeping mats he saw off to the side.
"Because it's three in the morning," he later testified. "Who going to sleep on a cement floor?"
But the officers didn't get him a mat. Instead, they rushed into the cell, handcuffed him, punched him in the head and body, and kicked him in the forehead, Davis claims.
"I thought they was gonna kill me," Davis tells NPR. A doctor at SSM St. Joseph Health Center who treated him days later diagnosed him with a concussion and a facial laceration. "I didn't know what they was trying to do. Because I didn't put up no struggle or nothing for them to come here and do that to me."
Police tell a different story. An attorney representing Ferguson and the officers named in Davis' lawsuit said Davis was defiant, refused to enter the cell and struck one of the officers in the face, breaking his nose. Davis says he never hit an officer but only raised his arms above his head to protect himself.
No one will ever know what really happened. Police said they accidentally taped over the security footage that would have shown the beating.
Find out how Ferguson police ended up charging Davis with property damage for bleeding on their uniforms on the next page. This rapid escalation in force seems typical for Ferguson police, who are "quick to escalate encounters with subjects they perceive to be disobeying their orders or resisting arrest," according to the justice department report. Almost 90 percent of police force is used against blacks, sometimes in a "punitive and retaliatory" fashion.
Ferguson police "supervisors seem to believe that any level of resistance justifies any level of force," the justice department's report says.
Bleeding profusely after the beating, Davis was taken to Christian Hospital, where he refused treatment until someone took a picture of his injuries. No one at the hospital obliged, so Davis returned to jail, where he eventually paid $3,000 in fees and was released on lesser charges.
Davis was originally charged with five offenses: driving while intoxicated, speeding, failure to drive in a single lane, no proof of insurance and failure to obey a police officer. The justice department's report notes that Ferguson police tend to target blacks with multiple citations more than whites. According to the report, "between October 2012 to July 2014, 38 black individuals received four citations during a single incident, compared with only two white individuals; and while 35 black individuals received five or more citations at once, not a single white person did."
And one of those charges, "failure to obey," is sketchy, the justice department said. "Officers rely heavily on the municipal 'Failure to Comply' charge" -- a violation of Section 29-16, which Ferguson police also call "failure to obey" -- "which appears to be facially unconstitutional in part, and is frequently abused in practice," reads the report. Use of the "failure to obey" charge seems influenced by a suspect's race. African Americans, who make up 67 percent of the population, account for 89 percent of failure to obey charges, the justice department found.
But after officers beat Davis, they charged him with four counts of property damage. Why? Because he bled on their uniforms.
Here's a copy of one of the police complaints: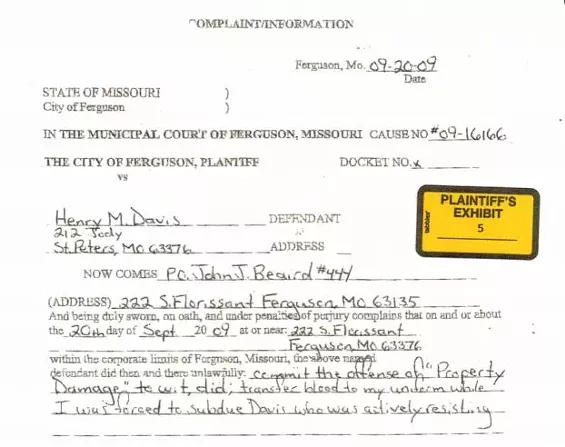 Courtesy of James Schottel
But things get weird when Schottel, Davis' lawyer, later deposed Officer John Beaird, who filed the four property damage complaints. Beaird denies ever having blood on his uniform, meaning he either lied when he filed the property-damage complaints or he lied during the deposition.
Here's what Beaird said, according to the Daily Beast:
"After Mr. Davis was detained, did you have any blood on you?" asked Davis' lawyer, James Schottel.

"No, sir," Beaird replied.

Schottel showed Beaird a copy of the "property damage" complaint.

"Is that your signature as complainant?" the lawyer asked.

"It is, sir," the cop said.

"And what do you allege that Mr. Davis did unlawfully in this one?" the lawyer asked.

"Transferred blood to my uniform while Davis was resisting," the cop said.

"And didn't I ask you earlier in this deposition if Mr. Davis got blood on your uniform?"

"You did, sir."

"And didn't you respond no?"

"Correct. I did."
Davis filed a civil-rights case against Ferguson, Beaird and the three other officers who participated in the beating, including current Ferguson councilwoman Kim Tihen.
The case was thrown out last year when a judge ruled that Davis' injuries weren't severe enough to warrant punishing the officers, but Schottel says he hopes the justice department's report will help his appeal, which could go on the docket as early as next month.
"[The justice department] didn't name him by name, but there's lots of things they pointed out that would apply to our case," Schottel says.
Even Schottel admits the justice department's findings were more widespread and systematic than he'd guessed, but he's still not surprised after his experience working with Davis.
"This is typical Ferguson," Schottel says.
Follow Lindsay Toler on Twitter at @StLouisLindsay. E-mail the author at Lindsay.Toler@RiverfrontTimes.com.