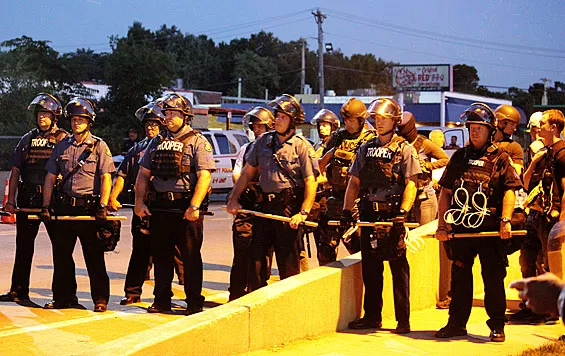 Danny Wicentowski
The Department of Justice says it found evidence that the Ferguson Police Department "tolerates sexual harassment by male officers."
Buried in footnote No. 61 of the Department of Justice's damning report on the Ferguson Police Department's widespread problems with racial bias, investigators say they also found evidence that the department tolerates sexual harassment of female officers by male officers.
The footnote follows a section about the lack of diversity on Ferguson's police force. Only 4 of Ferguson's 54 sworn officers are African American, despite the city's two-thirds black population. Adding more black officers, coupled with other widespread reforms of the police department, "has the potential to increase community confidence in the police department," according to the justice department's 102-page report.
The report goes into detail about the factors that could prevent black candidates from seeking jobs with the Ferguson police, including racial stereotypes held by police and court officials illustrated through racially insensitive emails.
(For example, an October 2011 email sent by an unidentified current Ferguson official includes a photo of "a bare-chested group of dancing women, apparently in Africa, with the caption, 'Michelle Obama's High School Reunion,'" according to the report.)
See also: And Now, Two (Not) Hilarious Racist Jokes from Ferguson Officials' Emails
While the justice department's report focuses on racial bias and diversity in Ferguson, footnote No. 61 explains that it also found troubling patterns of gender bias at the police department. From the report:
While not the focus of our investigation, the information we reviewed indicated that Ferguson's efforts to retain qualified female and black officers may be compromised by the same biases we saw more broadly in the department. In particular, while the focus of our investigation did not permit us to reach a conclusive finding, we found evidence that (Ferguson Police Department) tolerates sexual harassment by male officers, and has responded poorly to allegations of sexual harassment that have been made by female officers.
The report makes no effort to describe allegations of sexual harassment, but investigators say increasing gender diversity on the force could be "critical" to improving the department overall.
See also: 30 Shameful Stories About Ferguson Police from the Department of Justice Report
"Diversity of all types -- including race, ethnicity, sex, national origin, religion, sexual orientation and gender identity -- can be beneficial both to police community relationships and the culture of the law enforcement agency," according to the report. "Increasing gender and sexual orientation diversity in policing in particular may be critical in re-making internal police culture and creating new assumptions about what makes policing effective."
Federal investigators launched the probe into Ferguson police tactics soon after the August 9 shooting of Michael Brown, reviewing hundreds of interviews and 35,000 pages of police records.
Follow Lindsay Toler on Twitter at @StLouisLindsay. E-mail the author at Lindsay.Toler@RiverfrontTimes.com.