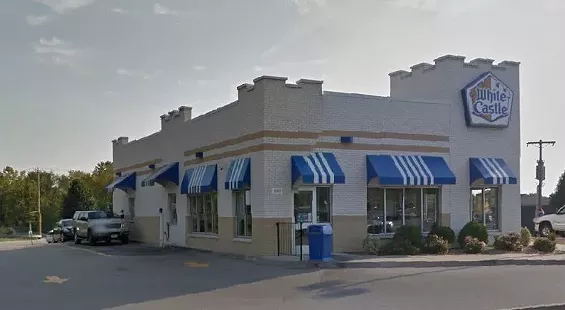 Google Maps
The white driver got ticked off when a black driver got to the White Castle drive-through line before him.
A white motorist shouting the N-word and threatening two black women in the White Castle drive-through line told her he wasn't afraid of their threat to contact police because he's white.
"I'm white. Call them twice, bitch," the driver shouted at the black woman and teenager from his white truck.
Mariah Stewart, a local journalist who covers Ferguson for the Huffington Post, witnessed the Monday night exchange at the fast food restaurant in Florissant on North Lindbergh Boulevard, where she was getting food with her six-year-old daughter.
"I've never experienced something on that level of nastiness," Stewart tells Daily RFT. "It was really alarming. You just didn't know what his actions were going to be."
Stewart says the driver, who appeared intoxicated, was angry because the black driver got to the drive-through line before he did. He first yelled at her, "Why don't you watch where the fuck you're going next time?"
See also: Man Brings Beer to Downtown St. Louis White Castle, Gets Kicked Out, Stabs Customer
Stewart couldn't hear how the woman responded, but she heard him call her the N-word and scream, "That's all you people know to fucking do is yell and fight. You want some of this?"
"He was basically challenging her," Stewart says.
When the woman threatened to call police, the driver started circling her in the parking lot and yelling threats at her.
"In light of everything that's happened here in our region, I was just really scared of what was about to occur," says Stewart, who was also in the drive-through line ahead of the commotion. "I just thought, 'What if this man just decides to shoot this woman?'" Stewart has been covering protests, police and race issues in Ferguson since the August 9 shooting of Michael Brown. The Huffington Post crowdsourced $40,000 to keep her on as a Ferguson reporting fellow. Before the incident on Monday night, Stewart was covering a Ferguson Commission meeting about race relations.
Stewart, who is originally from St. Charles, says she moved with her young daughter to Florissant because the city's diversity and tolerance, but Monday night proved that violent racism is "unavoidable."
"[My daughter] didn't want to look back because she was scared," Stewart says. "She started crying. She was worried about the women in the car. It took a toll on her." White Castle vice president Jamie Richardson says he's reviewing security-tape footage to identify the driver.
"We're just really sickened by it," Richardson tells Daily RFT about the incident.
Richardson says the restaurant wasn't aware of the incident until Stewart tweeted about it. "We're grateful she was looking out for our customers," he says. No staff members reported being threatened by the driver on Monday, Richardson says.
Richardson says he's not aware of a police investigation into the incident, and a call to Florissant police was not immediately returned.
Update, 9:20 a.m.: Florissant Police say they were not called to the White Castle on Monday and are not investigating.
Follow Lindsay Toler on Twitter at @StLouisLindsay. E-mail the author at Lindsay.Toler@RiverfrontTimes.com.