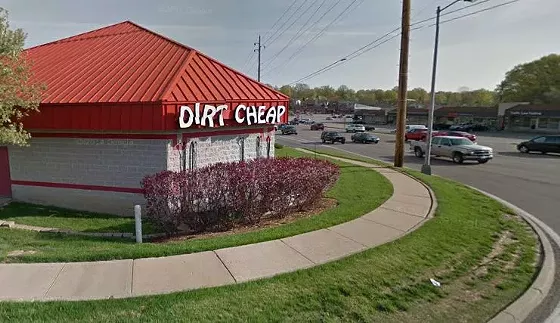 Google Maps
Need police assistance? Just run into a Dirt Cheap liquor store and start screaming for help.
For more than a year, Norman R. Campbell, a twenty-year veteran of the St. Louis County Police Department, was working hard and hardly working.
Yes, at the same time.
That's the conclusion of a police investigation into Campbell's on-the-job performance, which resulted yesterday in a felony charge for stealing $5,899.78 from the department. According to a police spokesperson, Campbell is accused of secretly working security for Dirt Cheap Company, the local liquor-store chain known for its wacky commercials, at the same time he was supposed to be on duty as commander of the county police's Dellwood detail.
See also: Cops Charged With Stealing Heroin, Selling to Drug Dealer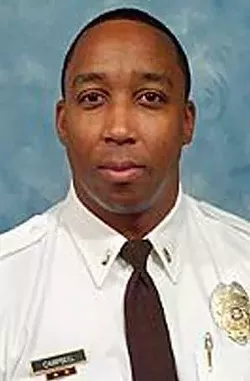 Campbell became commander of the Dellwood detail in July 2013, but the job seemingly wasn't enough. Investigators later determined that from January 10, 2014, to February 5, 2015, Campbell moonlighted at Dirt Cheap on 47 separate occasions while he was still on the clock as a cop.
According to salary records, the county paid Campbell $66,435.20 in 2014, at $31.94 per hour.
"While this is certainly troubling, it is our responsibility to ensure we maintain the integrity of the St. Louis County Police Department," Police Chief Jon Belmar said in a statement. "I want to make sure this does not reflect on the hundreds of police officers who represent our department with the utmost integrity on a daily basis."
Campbell's lawyer, Neil Bruntrager, told the St. Louis Post-Dispatch that the criminal charge is a "misunderstanding." Commanders, he said, are given "flex hours" in lieu of overtime, and those flex hours can be used however they want.
"We think they are incorrect about this, and had he been given the opportunity to explain, that we think this could have been resolved, but they leapt to conclusions that are not supported by the evidence," Bruntrager said.
Follow Danny Wicentowski on Twitter at @D_Towski. E-mail the author at Danny.Wicentowski@RiverfrontTimes.com